With the remaining pumpkin I made these and my granddaughter thought the mini 'pies' were the best. Add whipping cream and you have your very own pie.
30 tart shells (frozen ones work well)
2 large eggs
remaining canned pumpkin from muffin recipe
1/2 cup sugar
pinch of salt
1 tsp. cinnamon
1/2 tsp. nutmeg
1/4 tsp. ginger
1/4 tsp. cloves
1 1/4 cups evaporated milk
whipped cream for topping
Beat the eggs well with a whisk and then add all the remining ingredients until well blended. Place the shells on baking trays and fill each shell equally. It takes a touch less than 1/4 cup measure.
Bake for 25-28 minutes in a 375 degree oven until the crust turns a nice golden colour.
When cool (if you can really wait that long), add a generous splash of whipped cream and let the world go by. More tea?
Note: This is the best and most economical way to use up a can of pure pumpkin and have no waste – just joy.
Anyone who knows me or has followed me over the years, knows at this time of year, I do up trays for give away.  Don makes his Tourtiere pies and sausage rolls and I do the baking on Nov 11. We also pause at 11 a.m. in respect for our freedom then keep going.
This is the list this year. When done, pictures will appear.
Christmas Gumdrop cake
Whipped Shortbread
Pecan Shortbread
Butter Tarts
Citrus Cocada
Citrus Lace Cookies
Raspberry Meringues
Pralines
Spiced Nuts
Nuts and Bolts
Belem Tarts
New Christmas Cake
Lemon Shortbread
Mincemeat Tarts
WHEW!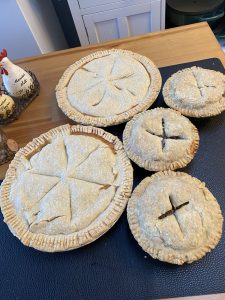 I love butter tarts with pecans and this is just slightly different. Try it and see if  you can keep any leftovers….nope! can't be done.
1/2 cup softened butter
1/4 cup sugar
1/2 egg, beaten (not kidding)
1 1/2 tsp. light cream
1/2 tsp. pure vanilla extract
pinch of salt
1 1/2 cups flour
1/3 cup ground pecans
To make this pastry, cream together the butter and sugar. When light and fluffy add the cream, vanilla and pinch of salt. Mix well. Fold in the flour and ground pecans to form a dough. Form into a ball. Pat into the bottom and sides of a 9 or 10 inch spring form pan.
Bake for about 15-18 minutes or until golden in a 375 degree oven. Remove from the oven and cool on a rack.  Reduce the temperature to 325 degrees.
2/3 cup dark maple syrup
1/2 cup brown sugar
3 eggs
1 1/2 cups coarsely chopped pecans
2 tbsp. butter
In a saucepan, heat the syrup with the brown sugar until it has dissolved. Remove from heat and cool slightly.
Beat in the eggs, pecans and butter. When the butter has completely melted, pour into the crust. Bake for 20-28 minutes or until it is firm to the touch.
I bought some fresh blueberries on Sunday and was pondering what to make. I made fresh blackberry muffins this morning for our workers in the bathroom (changing tub for shower) and they need their energy. So…… of course, tarts.
Make the pastry of your choice (or store bought if you can't ).
3 eggs
2 cups sugar
1/2 cup flour
1/3 cup evaporated milk
2 tsp. vanilla
1 tbsp. lime juice
pinch of salt
5 1/2 cups blueberries
In a large bowl whip the eggs and add the sugar, flour, milk, vanilla, lime juice and salt, mixing well. Gently fold in the blueberries. Pour in the tart crusts.
Topping
1/2 cup flour
1/4 cup packed dark brown sugar
1/4 cup cold butter
I tsp. grated lime zest
In a small bowl, combine the flour, lime zest and sugar mixing well. Cut in the cold butter until crumble. Sprinkle over each tart and bake for 25-35 minutes in a 350 oven. Cool on a wire rack.
Our kids have informed us they are all coming out for our anniversary this summer and since several of the girls LOVE chocolate, this would have to be made. Also, I have a granddaughter with serious nut allergies and I would make one with and one without the nuts. (What a Grandby I am).
2 sheets of frozen all-butter puff pastry
flour for dusting
2 large eggs, divided, each one lightly beaten
coarse sanding sugar
2 cups sugar, divided
1 cup water divided
1 cup whipping cream, divided
4 tbsp. unsalted butter, divided
1 ounce dark chocolate, finely chopped
1 ounce milk chocolate, finely chopped
1/2 cup pecans, finely chopped and toasted
flaky salt
edible gold flakes
chocolate sprinkles
Whipped cream
This is for two 'different' tarts; hence the reason for everything being doubled, I will start with the first one.
Preheat oven to 425 degrees.
Unfold 1 sheet of the dough on a floured sheet of parchment paper. Roll out to a 10 x 15 inch rectangle. Transfer the sheet with the parchment paper to a baking sheet. Fold the edges to form a 1 inch border. Pierce bottom of pastry with a fork. Brush border with an egg wash and sprinkle with sanding sugar. Freeze until firm (about 15 minutes).
Repeat this procedure with the 2nd sheet of pastry and refrigerate the same way.
Bake the shells until puffed and golden. This could take 23-25 minutes. Press down the base of the shell with an offset spatula. Leave the border alone. Set of a wire rack to cool completely.
1. Dark Chocolate With Nuts
Combine the sugar and water in a small saucepan on medium heat, stirring occasionally until the sugar has dissolved. Have a pastry brush with water handy to brush down the sides so the sugar won't set up crystals on the sides. Let the syrup come to a boil, without stirring. You want a dark amber colour (10-11 minutes). Remove from heat.
Slowly add the cream as it will spatter. Add the butter and chocolate, stirring until completely smooth. Pour this on the cooled shell and spread to cover the bottom. Sprinkle with  pecans, salt flakes and refrigerate until this sets up.
2. Milk Chocolate With Chocolate Sprinkles and Edible Gold Flakes
Repeat the steps above up to pouring the chocolate on the shell and spreading to cover. Sprinkle with chocolate sprinkles and, this is an option, sprinkle with some edible gold flakes.
When ready to serve, whip some whipped cream  with a touch of icing sugar to sweeten and set out in a bowl for everyone to help themselves.
Damn, they are going to love me now. I called it 'cupboard love' when my daughter wad growing up.
Now that everything is in order, holidays finished and school-work schedules are back on track you might want a really easy dessert to make for a fun night with the family. Make it for a Saturday game night. It will even work with pizza if that is your norm.
24 chocolate Oreo cookies
4 tbsp. room temperature butter-not margarine
1 pkg. Chocolate Mousse mix (I know!)
1/2 cup caramel topping
2 large bananas
Preheat oven to 350 degrees. In a food processor, pulse the cookies for 2-3 minutes until fine crumbs form. Add the butter, pulse only 4 -5 times until well combined.
Press the crumbs into the bottoms and sides of 6 buttered 4 3/4 inch tart pans. Place on a baking sheet and bake for 8 minutes. Let cool completely.
Prepare the mousse mix, reducing the milk amount to 3/4 cup. Stir in the caramel topping.
Slice the bananas and line each tart, top with the mousse mixture and garnish, of course, with whipping cream. To raise the bar a little, make it chocolate whipping cream or grated chocolate.
This is a little whimsy but a great treat just the same.
This is a recipe I love to use with my Christmas baking. Don thinks it should be made much more often but……
This has the option of using golden raisins, chopped pecans or even using both. The choice is yours. To make 30 tarts, just double the ingredients.
1/2 cup butter
1 cup dark brown sugar
2 large eggs
1/2 cup pure maple syrup
1 tsp. really good vanilla
pinch of salt
1 tbsp. lemon juice
chopped pecans and/or golden raisins (as many you would like to have)
Let the butter and sugar come to the boil and whisk in the next 5 ingredients. Make sure all is well combined.
Cover the bottom of the pastry tart shells (yours or the frozen forms) with chopped pecans, raisins or both and pour the syrup over each one to just below the top edge of the pastry.
Bake in a 400 degree oven for 10 minutes. Turn down the temperature to 375 and bake a further 10-15 minutes.
Let cool in the pan before removing.
If you sample now, you had better start another recipe 'cuz you will devour these up and then you will know why I don't make them all the time.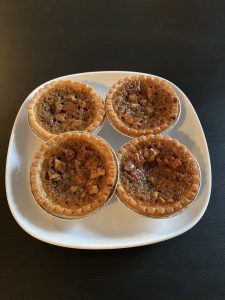 This will make even a person who doesn't care for chocolate, melt! Oh my, is there such a person? Nah!
Tart Shells
1 1/3 cup flour
2 tbsp. sugar
2 tbsp. baking chocolate powder (unsweetened)
1/3 cup cold and cubed butter
1/4 cup 35-36% whipping cream
In a food processor, combine the flour, sugar and chocolate powder and sprinkle the cubed butter in. Pulse until it becomes fine crumbs and drizzle in the whipping cream until it all comes together. Squeeze tablespoons of dough into a ball and press into 1  1/4 inch mini tart pans. Prick dough with a toothpick and refrigerate for 15 minutes. Preheat oven to 350 degrees.
Filling
1/4 cup finely chopped hazelnuts, divided
2/3 cup whipping cream
1 egg
3 oz. bittersweet chocolate, chopped
1 tsp. vanilla
In a small saucepan heat the cream until just steaming. In a bowl, whisk the egg and gradually pour in half of the cream whisking constantly. Whisk the egg mixture back into the saucepan. Making sure to continue stirring, cook until slightly thickened and almost to the boil. Remove from heat and stir in the chocolate and vanilla. Stir until well blended and smooth.
Bake tart shells for 12-14 minutes or until firm. Let  cool in the pan until firm enough to handle. Remove from pan. Sprinkle 1/2 of the nuts in the bottom of the tarts and spoon in the chocolate mixture. Finish off with the remaining nuts and serve warm.
One bite and you will be hooked and will not want to share……but you must. These are heaven sent!
Running out of ideas Mom? Holidays too long? This will make you a hero in the eyes of the young.
24 oreo cookies
4 tbsp. butter, room temperature
1 pkg. vanilla mousse mix
1/ 4 cup caramel topping
2 large bananas, thinly sliced
Heat oven to 350 degrees. Process the cookies in your food processor for 2 minutes until fine crumbs form.
Add the butter and pulse 5 times, until combined. Press the crumbs into the sides and bottoms of 4 inch tart pans. Bake these for 8 minutes.
After they have completely cooled, prepare the mousse mix as stated in the intructions on pkg. Reduce the amount of milk to only 3/4 cup. Stir in the caramel topping.
Line the bottoms of the tarts with banana slices, top with the caramel mousse mixture. If this isn't enough, top with whipped cream and drizzle even more caramel sauce over the op.
What can I say? Yup! You did it again.
With the warmer weather coming (in our case – HOT), I look for light and easy to prepare desserts. Okay….sometimes I do. This is too easy and your children could whip this one up.
1 box of puff pastry, thawed
1 large egg, lightly beaten
Sanding sugar for sprinkling
3 cups of fruit – here you can use a mixture OR use three different types so you can try one of each. i.e. raspberries, strawberries, mango, peaches etc. Cut berries in half and the stone fruits in thin slices.
3 tbsp. honey
3 tsp. fig balsamic vinegar
3 cups whipped cream, sweetened
Preheat oven to 400 degrees. Unfold puff pastry onto parchment lined baking sheets and cut each sheet into 4 squares. With a paring knife, CAREFULLY and lightly score a border 1/2 inch from edges.  Brush the border with the egg wash and sprinkle the sanding sugar on the edges. Freeze for 10 minutes. Bake for 15 minutes until puffed up and golden in colour.
Let these cool and gently push down the centers to flatten. Combine the fruits separately and add the sugar and vinegar, scant pinch of salt. Let stand for 15 minutes. Fill the centers of the pastry with the cream and then add the fruit on top. Beautiful to look at, wonderful to taste.
Oh yeah….take a bow.
This is one I will make for sure this for my give-away trays. Absolutely the VERY BEST tarts. Unbelieveable how good they are. This is my favourite Maple Tart recipe EVER.
2 sheets frozen puff pastry, thawed
2 pkgs. Philadelphia cream cheese
1/2 cup sugar
1/4 cup pure maple syrup (don't cheat here)
2 cups whipping cream
1/4 cups pecans, toasted and chopped fine
Preparation: Preheat oven to 350 degrees. Starting from the short end of the rolled out pastry, cut into twelve equal circles. Flatten each circle with a rolling pin to make four inch shells. In a twelve cup greased muffin tin center the pastry and gently push in. Blind bake according to directions and let cool.
Mix all the ingredients except the whipping cream and cream together until smooth. Whip the cream to soft peaks and gently fold into the mixture.
Sprinkle a spoonful of pecans in the bottom of the tart shell and spoon the cheese mixture into each shell. Chill for at least four hours. Before serving, drizzle with a small amount of maple syrup and pecan halves.
So delicious, there won't be leftovers.
This quickly became  my #1 choice for holiday baking. (Actually tasting one tart did it). The picture is BEFORE the sugar topping. Read this through.
3 egg yolks
2 eggs
2 sheets of puff pastry, thawed
2 cups half and half cream
2/3 cup sugar
2 tbsp. cornstarch
1 tbsp. unsalted butter
2 tsp. clear vanilla
1 whole nutmeg
Preheat oven to 375 degrees.  You will need a mini (24) tart pan. Starting from the rolled out pastry, cut into 24 equal circles.  Flatten each circle with a rolling pin to make 3 inch circles.  Grease every cup and carefully fit the pastry in.
Whisk the eggs, cream, sugar and cornstarch in a bowl set over a pot of simmering water.  With a wooden spoon, stir until it is thick enough to coat the back of a metal spoon. Remove from heat.  Whisk in the butter and vanilla. Strain into a clean bowl making sure to set a piece of wax paper directly ON the surface top of the custard.  Chill completely.
Spoon an equal amount of custard into each shell.  Grate the nutmeg lightly over the tarts.  Bake for roughly 15-20 minutes until the pastry is a light golden colour. Now broil for two minutes until the tops get browned. Be very careful not to burn.  Cool for 5 minutes and carefully transfer to a rack.
You are able to do the recipe twice as far as the filling goes.  You will definitely need both sheets of pastry.  There will be enough to spare to make about 5-7 more tarts.
Now, when we were in Portugal, in Belem, these are a most famous pastry and the line ups outside the store attest to this. What I  found was they add a 'creme brulee' topping. So – sprinkle sugar on top of the baked tart and, using your baking torch, melt the sugar so you get a light crust on top. Better yet, have these warm. OMG! OMG! are they ever good.
Absolutely a fabulous item to put on the trays or just for your holiday celebrations.