This is a simple but amazing appetizer to make and enjoy on your deck this summer. I use the brown and white button mushrooms (the really nice large size) but you can use whatever mushrooms you like. Try to avoid the tiny ones for fear you would over cook them.
1 lb. mushrooms
1/4 cup butter
1/2 tsp. lemon zest
2 tsp. freshly squeezed lemon juice
3 tbsp. olive oil
2 tbsp. finely minced shallot
1/2 tsp. minced garlic
pinch of salt
pinch of pepper
2 tbsp. fresh parsley, finely chopped
Artisanal bread, toasted
To begin, brush the mushrooms to remove any debris, remove the stems and cut each mushroom in as equal a size as you can and set aside.
In a large frypan, melt together the butter, lemon zest and juice. Stir in the mushrooms and toss them in the pan to coat. Cover and let cook for about 5 minutes. Remove the lid and add the olive oil. Increase the heat and cook for about 2 minutes.
Reduce the heat to low and cook, stirring occasionally, for about 15 minutes. Stir in the shallot, garlic salt and pepper and cook for about 4-5 minutes until they become tender and have softened.
Remove from the heat, add the salt and pepper. Toast your bread and sprinkle the mushrooms with the chopped parsley leaves. Enjoy!
It is truly a different way to serve mushrooms but is truly fantastic to consume.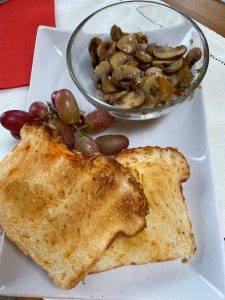 What a special treat for your Mother on her great day. It is simple, delicious and with a glass of her favourite wine will show her just how special she is and how lucky you are to have her with you.
Get ready!
16 oz. pizza dough, pre-made
5-6 roasted garlic cloves, mashed to a paste
1 shallot, sliced
1 cup goat cheese, crumbled
1/3 cup pecan pieces
1/2 cup cranberry sauce (whole)
3-4 thyme leaves
1 cup cooked baby shrimp (no shell or tails)
2 tbsp. olive oil
1 – 2 tbsp. honey
salt and pepper to taste
Preheat oven to 350 degrees and line a baking sheet with parchment paper. Set baking sheet aside.
On a floured surface, roll out the pizza dough to a 1/4 inch thickness. Transfer to the baking dish and bake for about 6-8 minutes. It should be cooked but not browned.
Spread the garlic cloves that have been mashed over the surface of the dough and then add the shallot slices, cheese and pecans evenly on top. Using a teaspoon, drop dollops of cranberry sauce over the surface. Bake now for about 10 minutes until it is golden brown and bubbling.
Sprinkle the surface with the honey, oil, thyme leaves and baby shrimp. Slice and serve immediately on a pretty plate, glass of wine and a smile.
Everybody has a favourite recipe or food they state is "The Best". Well, recipe readers, this is one you absolutely MUST make and try. It IS, by far, THE best you will ever eat. Don made these for our appetizer for Easter. OMGoodness!
12 large, white mushrooms, stems and gills removed
24 medium size frozen shrimp, tails removed and cleaned
1/2 cup cream cheese, softened
1/2 tsp. Worcestershire sauce
pinch of garlic powder
1 dash hot sauce
1 cup Pepper Jack cheese, grated
Spray a 9 x 13 inch baking dish, set aside.
Fill a saucepan with water and simmer the mushroom caps over a medium heat for about 2 minutes until they begin to soften. Remove the mushrooms with a slotted spoon, drain and cool down, hollow side down, on paper towels for approximately 15-17 minutes.
While the mushrooms are cooling on the paper towel and the mushroom water is still simmering, gently cook the shrimp until just pink. Mix the cream cheese, garlic powder, hot sauce together and add the shrimp, blending well.
Spoon about 2-3 teaspoons of the mixture into each cap and place 2 shrimp per cap. Now place, stuffing side up in the baking dish, sprinkle with the Pepper Jack cheese over each cap. Cover and refrigerate overnight to blend the flavours and firm up the stuffing.
Preheat oven to 400 degrees. Uncover the dish and bake the mushrooms in the oven for about 15 minutes until the cheese has browned and is bubbling.
Now the secret….this would feed 3 (4 each) or 4 (3 each).  NAH! We took the 4 each and revelled each and every bite. Oh me, Oh my….never have I tasted anything this good in an appetizer.
This is something to eat you either love or hate. This is quite tasty I am told. Our house has one of each of the above and I bet you can't guess which one I am.
This is also done for a friend of ours who, along with my husband, went from table to table on a vacation we were on, stealing the olives from everyone.
3 tbsp. really good quality olive oil
3 garlic cloves, grated
1 tsp. coriander seeds, crushed
1 large sprig rosemary
2 bay leaves
1/2 orange,  zested, in long strips with a swivel peeler
pinch of red pepper flakes
12 oz. mixed olives (Kalamata, Nicoise, etc) drained
1 tsp. Fennel seeds
Put the oil, garlic, coriander seeds, herbs, orange zest and pepper flakes in a skillet on medium heat, swirling the pan until all has become very fragrant.
Add the olives and cook, until the garlic is golden and the zest has started to curl. About 2-3 minutes longer.
Serve these warm as part of the Charcuterie board.
All credit for this recipe is from The Best of Bridge group. We have used this for years and as we are celebrating, with our kids and grandkids, our 30th Wedding Anniversary, I wanted to use it again. The  2020 Covid 19 year took a toll on everyone for sure.
2 lbs. Frozen Hash Browns
1 500 ml carton sour cream
2 tins cream of mushroom soup (Campbell's)
1/2 cup melted butter
2 cups of shredded cheddar cheese
light sprinkle of onion powder
parmesan cheese (or asiago)
Thaw the potatoes slightly for easier mixing. First mix the listed 6 ingredients and place in a 9″ x 13″ basking dish. Sprinkle the parmesan cheese on top and bake at 350 degrees for about 1 1/2 hours.
This will serve 8-10 people. Double it if there are more. I think I will.
Serving can be Brunch, Lunch or Dinner. Depends on you. But be sure to say "Thank you Ladies
Don made these and my goodness, they are truly awesome. If you make them once, you will definitely make them many more times.
20 very large white mushrooms, stems removed
12 medium shrimp, tails on
1/2 cup softened cream cheese
1/2 tsp. Worcestershire sauce
pinch of garlic powder
3/4 cup s grated Parmesan Cheese
Steam the shrimp for about 60 seconds, remove and let cool enough to remove the shell and tail. Lightly chop.
Lightly grease a 9 x 13 inch baking dish. Fill a saucepan with water and simmer the mushrooms caps over a medium heat for 2 minutes, until they begin to soften. Remove the mushrooms with a slotted spoon, drain and let cool, gill side down on paper towels for about 15 minutes.
While the caps are cooling down, combine the shrimp, cream cheese, Worcestershire sauce, garlic powder in a bowl and blend well. Spoon about 2 -3 tsp. of the mixture in each mushroom cavity in the baking dish and cover, placing in the refrigerator for about 3 hours to blend the flavours and firm up the stuffing.
Preheat the oven to 400 degrees. Uncover the dish and bake for about 15 minutes until the cheese is browned and bubbling.
Serve with a glass of chilled white wine, and a couple of other nibblers for a great start to Friday night.
Absolutely divine.
We could call this a special treat to enjoy when watching so much television during this stressful time but I will just tell you they are sooooo yummy. Here goes and I am sure you will make it again and again.
1 carton mushrooms
1 shallot, cut in half
1 clove garlic
1 tbsp. butter
350 g ground beef
1 1/2 tsp. fresh thyme, chopped
pinch of salt and pepper
1/2 cup dry white wine
2 sheets frozen butter puff pastry, thawed
1/3 cup duck or liver pate'
1 egg
In food processor, pulse together the mushrooms, shallot and garlic until finely chopped.
In a nonstick skillet, melt the butter over a medium temperature and cook the mushroom mixture until the shallot has softened (about 4 minutes). Now add the beef, 1/2 tsp. of the thyme, salt and pepper, cooking until the beef is no longer pink.
Pour in the wine, and cook stirring until no liquid remains (about 3 minutes).
Scrape into a bowl and let cool down to lukewarm. About 30 minutes. On a lightly floured surface, unroll 1 sheet of the pastry and cut into 16 squares. Press 1 square into each of a 16 mini muffin pan wells, leaving a bit on an overhang.
Spoon 1 tbsp. of the beef mixture into each well, top each one with pate and fold the overhang over the top of the filling.
Whisk the egg in some water and lightly brush over the pastry and now sprinkle the remaining thyme over the tops and bake in a 425 degree oven.  Run a knife around the edges to remove them easily from the pan. Serve warm.
It is not too late to make these and celebrate the New Year. Read it through and  you will see that it is not intimidating.
Filling
1/2 lb. ground pork
1/4 lb. shrimp, peeled, deveined and minced
2 water chestnuts, finely chopped
1 scallion, finely chopped
1 egg yolk, lightly beaten
3/4 tsp. white wine
pinch of garlic powder
Sauce for Dipping
4 tbsp. soy sauce
4 tbsp. rice wine vinegar
Make sure the won ton wrappers are at room temperature.
Combine the ingredients for the filling in a bowl and let rest for about 30 minutes.
Lay out 1 wrapper. Place 1/2 – 1 tbsp. filling on the wrapper. Fold the ends toward the middle and pinch to seal. Set aside on parchment paper. Continue until all the filling is used.
Combine the ingredients for the dipping sauce in a small saucepan and bring to the boil. Remove from the stove and cool to room temperature.
In a large frying pan, add a few inches of water. Place the dumplings in one layer in a
Chinese steamer. Place covered steamer in the frying pan and steam for 4-5 minutes or until cooked through.
Serve with the dipping sauce. Makes a great appetizer for 7-8 people.
*If you have a wok, that would be super as well to use.
What a wonderful new appetizer to serve family and company alike. It is so tasty and fresh. Serve with a colourful chilled salad, warm rolls and a chilled glass of your favourite brew.
1 potato peeled
1 can of canned salmon, drained, bones and skin removed
2 eggs, lightly beaten
2 tbsp. finely chopped pickle
1 cup panko crumbs
2 tbsp. vegetable oil
2 tbsp. freshly squeezed lime juice
zest from lime
pinch of pepper
Place the potato in a pot with water and boil until tender. Drain well and mash.
Add the salmon, stir in the eggs and pickle. Season with a pinch of pepper. Form into 6 equal patties. Roll in the panko crumbs to coat.
Heat a fry pan over medium heat, add 1 tbsp. oil and cook half of the salmon cakes. Cook until golden, a couple of minutes each side. Repeat with the remaining cakes. Serve warm with a salad, roll and beverage. Oh my Mama! This is so good.
We have a few friends who are olive crazy (you know who you are) and this should really tickle their fancy. Okay, that would also include my husband. Try it and you will see for yourself.
2 tbsp. olive oil
5 oz. chorizo sausage, sliced thin
1 cup Kalamata olives
1 cup brined black olives
1 cup large pitted green olives
1 clove garlic
1 tsp. hot pepper flakes
1/2 navel orange,  peeled and segmented, thinly sliced
1 tbsp. julienned sage leaves
1 tbsp. grated lemon zest
In a large frypan, heat the oil over a medium heat and add the sausage, cooking for about a minute, stirring to ensure even cooking.
Add all the ingredients EXCEPT the orange and sage leaves, stirring and cooking for about 4 minutes.
Stir in the orange slices and sage leaves, cooking only until the orange starts to break down and is heated through. Remove from heat, cover and let stand for about 8-10 minutes.
Serve warm with a sprinkling of the lemon zest, cocktail picks and napkins.
This would be a refreshing Appetizer to surprise your guests when they come for dinner. Try it and you will enjoy it as well.
1 tbsp. butter
 1/2″  lemongrass piece, smashed
3/4 cup leeks, cleaned well and thinly sliced
1 jalapeno chili, diced, seeds removed
1 tbsp. grated garlic
1/2 cup white wine
 2 cups fresh corn kernels
1 – 1 1/2 cups whipping cream
pinch of salt and pepper
2 lbs. fresh mussels
1 tbsp. finely chopped cilantro
1 Crusty loaf of bread
The first thing to make is your sauce. Heat a 5 quart casserole over medium heat and peel off the first 2 layers of the lemongrass and smash a little to release the juices. Add to the pot with all the leeks. Next add the chili and cook until the leeks are tender. This should take about 5-6 minutes.
Add the grated garlic and cook for just a minute. Now add the wine and cook until the liquid has reduced by one half.
Add the corn and cream to the pan, season with the salt and pepper and simmer only for about 5 minutes or until the corn is tender and the sauce will coat the back of a spoon. Set aside.
In a blender, remove close to one half of the sauce and process  until just at the chunky stage and return it the pot. Add the mussels and cook for about 6-8 minutes, making sure to shake the pot occasionally.
Remove any mussels that have not opened up and discard. Portion the mussels equally into bowls and spoon the extra sauce  over the mussels. Sprinkle with cilantro and serve with crusty bread.
Yup, you did it again!
We all want to 'up the ante' when company is expected. For a perfect appetizer, make this one up. Everyone will want the recipe and you can smile and then run to the kitchen to pat yourself on the back.
1/2 cup pecan halves
1 tsp. butter
2 tsp. sugar
1/4 tsp. paprika
1/8 tsp. cayenne pepper
light pinch of salt
2-3 large Bosc pears, washed, pat dry
1 tbsp. water
3 large endives, trimmed
4-5 oz. Balderson's aged cheddar cheese
Preheat oven to 400 degrees. Lay the pecans on a baking sheet and toast for only 5 minutes. Remove from the oven.
Transfer the nuts to a frying pan and add the butter, sugar, paprika, cayenne and salt. Toss until the butter and sugar melt and the seasoning has covered all the nuts. Remove to a paper towel to cool down. Chop the nuts up and set aside.
Now grate the pears, making sure to remove the seeds, core and stem. Heat a frying pan . Add the pears. Add the 1 tbsp. water and cook for about 3 minutes. Remove from heat, drain any excess liquid and let cool.
Peel the leaves off the endive and set out on a platter. Place a spoonful of the pears on each leaf and top with the chopped pecans and crumbled cheese.
Serve immediately with a glass of chilled……