This is a really nice way to up the ante on chicken for dinner. Don made this last night and it is delicious.
3/4 cup flour
1 tbsp. paprika
1  tsp. salt
1/2 tsp. pepper
3 – 3 1/2 lb. chicken, cut up
vegetable oil for skillet
pinch each of garlic powder and onion powder
1/2 tsp. Lawery's seasoning salt
1/3 tsp. baking powder
buttermilk for dredging
Dredge the chicken in buttermilk.
In a shallow dish, mix together the dry ingredients.
In a 12 inch nonstick skillet, heat about 2 cups of oil over a medium high heat. Cook the chicken, skin side down,  for about 10 minutes until a light brown. Reduce the heat to low and turn the chicken pieces over. Cook uncovered for about 20 minutes, without turning, until the juices in the thickest pieces, when cut to the bone, run clear. Test the temperature to 165 degrees.
Add some steamed baby potatoes, vegetable and a light salad. YUM!
As I am sure you are all aware that Don is the "Chef  of Chefs" and this dish is beyond anything.  Arroz Con Pollo has always been my favourite Mexican dish and boy oh boy did he do it up right. This is now on our list for 'do agains'.
2 cups uncooked instant rice
3 skinless chicken breasts, slice in half lengthwise, then in thirds
1/2 tsp. garlic powder
1/4 tsp. pepper
1/2 tsp salt
3/4 box of chicken broth (about 26 oz.)
1  8 oz. can tomato sauce
3/4 jar of  garlic Classico sauce (secret ingredient here)
1/2 finely chopped onion
1/4 cup loosely chopped fresh parley
1/2 tsp. chili powder
1/4 tsp. cumin
3/4 cup Mozzarella cheese
3/4 cup Cheddar cheese
Preheat oven to 350 degrees.
Spray a 13 x 9 baking dish with cooking spray (even a 14 x 10 Le Creuset casserole dish works well).
Add the rice to the baking dish. Sprinkle both sides of the chicken with garlic powder, salt and pepper and place evenly over the rice.
In a large bowl, combine the broth, tomato sauce, Classico sauce, onion, parsley, chili and cumin, stirring until well combined. Spoon over the chicken and rice, making sure to cover it all.
Cover with foil and bake until thermometer reads 165 degrees (about 60-70 minutes). Remove the foil, and sprinkle the cheeses over the surface. Bake uncovered until the cheese has melted and is starting to show a dark caramelized colour. this will take about 7 minutes.
Let stand a few minutes and serve.
I promise you, you will roll your eyes in pure delight.
Last night Don made the greatest meal. It was so yummy! I am sharing it now because we were too busy enjoying it last night. Sorry!
3 tbsp. olive oil
3 chicken breasts, cut up
3 chicken thighs, cut in half
1/2 cup flour
pinch of salt
pinch of pepper
touch of paprika
2 tbsp. oil
1 medium onion, chopped
1 garlic clove, minced
1 small red pepper, chopped
2 cups long grain rice
3 cups (approximately) chicken stock
1 heaping tbsp. tomato paste
pinch of oregano
pinch of salt
1 can of Juanita's Foods Mole
Heat the oil in a large skillet and dredge the chicken pieces in the flour, salt, pepper and paprika. Dust the excess off and cook in the skillet to brown. Cook only enough on each side to brown. Remove with a slotted spoon and set aside.
Add the uncooked rice to the skillet and stir to coat with the oil.  Add more oil if necessary. Don't stir too hard or it won't brown. When starting to brown, gently stir so more of the rice will brown.
Add the onion and garlic, cooking for about 4-5 minutes so the onion softens.
Now place the chicken pieces on top of the rice. Add the stock, paste, salt and oregano and pour over the chicken.
Cover the skillet and reduce the heat to low. Cook for about 25-30 minutes, depending on the type of rice. Fluff the rice with a fork.
Heat the mole in a saucepan and after each portion set out, spoon the sauce over the top. This is so yummy.
If you feel so inclined, make a Mexican cocktail or pour a glass of wine and simply enjoy. thanks Don.
*Picture will follow when we serve some leftovers. As I said, it is YUMMY.
Don't let the name fool you. It is a super, duper meal to prepare and consume. Don made this last night and OMG! It blew us away. Give it a go. It is easy to make and much easier to consume. Add a crisp green salad and you are a genius.
3 king size chicken breasts, skin removed,  cut in 3, lengthwise each one
2 cups long grain rice (long grain is the only rice that works with this)
two cans condensed mushroom soup
2 cups water
1 cup chicken broth
1 tbsp. dry onion soup mix
1 1/2 cups shredded cheddar cheese
Preheat oven to 400 degrees.  Now mix together the rice, soup, water, broth and soup mix until there are no lumps.
Pour this into a buttered 9 x 13 baking dish.
Place the chicken pieces on top making sure to cover them so they don't burn with the rice mixture. Cover with foil and cook for 65 minutes until rice is tender and the chicken is cooked through.
Remove from the oven and sprinkle the cheese on top. Simply let the casserole contents melt the cheese before serving.
OMG! Salad? Yes, please. Oh, would you like a glass of white wine? Of course, thank you.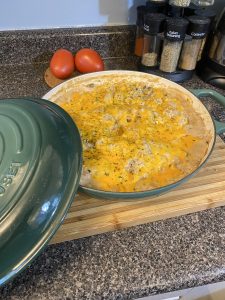 This sounds daunting but it is simply chicken that is marinated in yogurt and has a tomato cream sauce.
1 cup Greek yogurt, plain
1 tbsp. lemon juice
2 tsp. ground cumin
1 tsp. ground cinnamon
1 tsp. cayenne pepper
1 tsp. black pepper
1 tbsp. minced fresh ginger
3 tsp. salt, or to taste
3 boneless chicken breasts, skinless and cut in bite size pieces
long wooden skewers (soaked in water)
Tomato Cream Sauce
1 tsp. butter
1 garlic clove, minced
1 tsp. ground cumin
2 tsp. paprika
1 1/2 tsp. salt
1 can pure tomato sauce (8 oz.)
1 cup heavy whipping cream
chopped cilantro for garnish
In a large bowl combine the yogurt, lemon juice, and all spices. Stir in the chicken and set in refrigerator, covered, for 1 hour.
Preheat grill to a high heat and lightly oil the grill grate.
Thread the chicken on the skewers and discard the marinade. Grill only until the juices run clear. This should take about 5 minutes each side.
Now to the sauce.
Melt the butter in a large heavy skillet over a medium heat. Saute the garlic for about a minute and add the seasonings. Stir in the tomato sauce and cream. Simmer on a low heat until it thickens (20 minutes approximately).
Add the grilled chicken pieces and continue simmering for another 10 minutes.
Transfer to a serving dish and garnish with the cilantro (if using). Add a crisp green salad, dinner rolls and, of course, a glass of chilled wine wine.
Oh my! YUM!
This is a great dish to eat. If you wish to be really special, make the Mediterranean Salad at the same time.
3 tbsp. extra virgin olive oil
1 tbsp. lemon juice
2 garlic cloves, minced
1 tbsp. chopped Rosemary leaves
4 boneless chicken breasts
1 zucchini, halved, thinly sliced
1/2 Japanese eggplant, sliced in thin rounds
1 medium Roma Tomato, halved and thinly sliced
1/2 cup crumbled Feta cheese
Place the chicken on a cutting board and make 5 crosswise slits in each breast. Be careful not to cut straight through. Transfer these to a baking sheet that has parchment paper on the bottom.
Drizzle the Rosemary mixture over the chicken, making sure it gets into the slits. Stuff each slit with a slice of zucchini, eggplant and tomato, Sprinkle Feta on top and bake in the 400 temperature oven for about 25 minutes (make sure chicken is cooked through.
Serve warm on top of the salad,  also have warm brioche buns and a glass of chilled white wine.
Now what could be better?
Well, it won't be long before Easter and this might be a new way for the bird to taste, especially with you making the turkey broth first. Give this a read.
6-7 kg turkey, thawed (or fresh)
1/2 cup garlic butter, softened
pinch of salt and pepper
2 garlic heads, cut horizontally
2 tsp. canola oil
3 cups No Salt turkey broth **
1/4 cup flour
Making the Broth
1 turkey neck
1 onion, cut in quarters
2 bay leaves
ends/stems of celery, onion,
Cover the neck, onion, bay leaves and vegetable scraps in a saucepan. Bring to a boil with 4 cups of water in a large saucepan.  then simmer for 30 minutes. Strain well, discard the scraps, reserve the broth.
Now Back to Tom, the Turkey
Place oven rack to lowest level and preheat to 400 degrees. In a large roasting pan, place a rack as well. This makes for easier removal.
With paper towels, pat the turkey all over to absorb any moisture inside and out. In a bowl combine the butter, salt and paper and then rub the turkey all over. Tuck in the legs and tie the wings to keep close.
Rub the garlic halves with oil and wrap with tin foil  and place in the oven. Make sure it is well sealed. Bake garlic and turkey for one hour.
Reduce heat to 300 degrees. Remove the garlic from the oven and pour the reserved broth into the roasting pan. Continue baking for another hour and 40 minutes. Check to make sure the thermometer registers 170 degrees.
Transfer to a cutting board, loosely tent with tin foil and let stand for 30 minutes. While it is resting, skim the fat from the pan, and reserve, then pour the liquid into a measuring cup.
Squeeze the garlic pulp from the head and mash with a fork. Place the roasting pan on two burners and 2 tbsp. of the reserved fat and whisk the flour and garlic until smooth. When the flour starts to turn a light golden colour, gradually pour in the pan juice. This must be whisked continually until it thickens, 10-15 minutes. Serve with the sliced turkey and all the trimmings to the oohs and ahhs  of your guests.
I always have a package of these shells in the freezer and this is a wonderful way to use them and enjoy a great light lunch or dinner before going out for the evening.
1 cup chicken stock (homemade is best)
1 bay leaf
4 tbsp. butter
1 minced large shallot
1/2 – 3/4 cup chopped white mushrooms, trimmed and cleaned
1 tbsp. flour
2-3 tbsp. good white wine
2 cooked chicken breasts, skin removed
1/4 cup creme fraiche
1 tsp. mustard
salt and pepper to taste
1/4 cup chopped fresh parsley
6 Vol au Vent shells, baked as per instructions on package
In a saucepan, put in the stock and bay leaf and bring to the boil. Turn off the heat.
Melt the butter in a fry pan and cook the onions for a couple of minutes. Add the garlic and cook a further minute.
Add the mushrooms and cook until tender and golden in colour.
Sprinkle the flour  over and, stirring constantly, cook for a minute. Add the wine and continue cooking until it has all evaporated. Pour this into the stock and add the chicken breasts. Cook this for about 3-4 minutes, until thickened.
Stir in the remaining ingredients. Carefully spoon into the baked shells. If you wish, pour a glass of chilled white wine and Voila! a perfect meal.
Enjoy.
The days are finally in summer temperature mode and I thought this would help out for making a light supper to be enjoyed on the deck.
1/4 cup olive oil
3 tbsp. fig balsamic vinegar
1 tbsp. dried dill
1 minced garlic clove
pinch of pepper and crushed oregano
4 skinless, boneless chicken breasts
spring salad mix (about 7-8 cups)
1/3 cup seedless red grapes, halved
1/3 cup goat cheese, crumbled
1/4 cup toasted pistachios, chopped coarsely
Mix the first 6 ingredients in a jar with lid and shake well. Let stand for 1 -1  1/2 hours to allow them to mellow out.
Cook the chicken over the grill, uncovered for about 15 minutes, until tender and no longer pink. Cool slightly.
On 4 plates, arrange the salad greens, topping with the grapes, goat cheese and nuts. Slice each breast and arrange 1 per plate. Shake the dressing and drizzle over all.
Add a glass of your favourite chilled white wine and simply enjoy.
In the past, I have never warmed up to stuffed peppers. Maybe it was the texture or the flavors, I don't know BUT I do know this recipe put my head in a spin. All the while it was baking in the oven, I could swear the neighborhood was lining up at the front door. It is beyond fabulous. Give it a go!
1 lb. lean ground turkey
1 tsp. salt
1/2 tsp. pepper
1/2 grated onion
1 1/2 tsp. poultry seasoning
1 tbsp. chopped fresh parsley
1/2 cup sour cream
1 cup cooked rice (1/3 cup raw)
4 large peppers, cut in half, seeded
Cook the rice (1/3 cup rice and 2/3 cup water) and salt until done.
Spray a medium size roaster with non-stick spray and set aside.
Prepare the peppers by cutting half, removing the stems and all the seeds. Shave off the pointy top part so they sit better. Arrange in the roaster and set aside.
In a large bowl mix the turkey, seasonings, onion, sour cream and rice by hand and then fill the peppers equally.
Sauce
1 can condensed Campbell's tomato soup
1 can chicken broth (could use beef)
1 tbsp. tomato paste
salt and pepper to taste.
Pour the sauce over the peppers and bake in a 350 degree oven for about 75-90 minutes. When ready to take to the table, spoon all the sauce over the peppers. OMG! These are sooooo delicious.
Even if you don't care for bell peppers, you will love this recipe.
Here is a quick and easy dinner to make when the schedules make time a premium in your household or you want to impress company.
4 chicken breasts, boned
3 tbsp. butter
2 tbsp. grated onion
1 garlic clove, grated
1/4 cup Pinot Grigio wine
1/2 cup chicken broth
1/4 cup Pinot Grigio wine
1 pint sour cream
1/2 of 340g pkg. extra broad egg noodles
1 bunch of asparagus, cleaned and steamed
Melt the butter in a large frying pan and add the grated onion, garlic and brown the chicken breasts.
Place the chicken in a casserole dish, skin side up, and add the wine, onion and garlic. Cover and cook for 350 degrees in the oven for 30 minutes.
Remove the cover and cook a further 15 minutes.
In a small saucepan, add the remaining wine and sour cream, whisking together until smooth,. Heat through but do not boil.
Clean the asparagus and steam until done to your liking.
Distribute the cooked noodles equally on 4 plates, and top each one with a chicken breast. Cover each with lots of the delicious sauce and place a few spears of asparagus along side.
Watch your guests devour this up.
YUM!
With the festive season fast approaching, here is a recipe to help with the Buffet. It is made with leftover turkey (this makes it a great Boxing Day or New Year's Eve treat) and rice.
1 cup rice
pinch of salt
3 cups water
2 1/2 cups cooked turkey, diced
3 cups white mushrooms, cleaned and sliced, sauted in 2 tbsp. butter
1/2 pint of whipping cream
1 1/2 cups of turkey stock OR chicken stock
1 tbsp. grated onion
2 tbsp. diced pimento
pinch each of salt and pepper
3-4 tbsp. grated Tex Mex cheese (or more)
1 tbsp. butter
Preheat oven to 350 degrees.
Cook the rice until tender. Drain the rice, if needed and put in a large bowl.
Toss in the turkey and mushrooms. Add the whipping cream and stock, onion, pimento and salt and pepper, Mix this up and put into a buttered  baking dish and bake for approx. 1 hour.
YUM!