This is a bit unusual, perhaps, but oh so tasty. This would be a wonderful side dish for a barbecued steak.
1 lb. yellow fleshed potatoes
1/2 lb. carrots
2 cloves garlic, grated
2 tbsp. butter
2 tsp. creamy horseradish
1/2 cup sour cream
salt and pepper to taste
The potatoes and carrots should be peeled and cut into chunks. In a saucepan, cook the vegetables and the garlic until tender. This could take about 18 minutes. Drain really well.
In your electric mixer, combine the vegetables with the butter, creamy horseradish and sour cream until smooth. You may need to add a touch of milk to make the consistency you want. Add salt and pepper and serve with the steaks or ribs you have just taken off the barbecue.
Enjoy this dish.
These are absolutely lovely and delicious. The suggestion of these makes my mouth water.
2 lbs. Yukon gold potatoes
1/2 cup melted butter
1/4 cup grated onion
salt and pepper
Peel potatoes and slice paper thin. Generously butter a pie plate or muffin tins. Arrange the potatoes by overlapping each slice around the sides of the dish to form a firm wall. Cover the bottom with overlapping slices and then lightly brush with the butter, grated onion, salt and pepper. Repeat the layers until all ingredients are used.
Cover lightly with tin foil and bake at 400 degrees for 30 minutes. Remove the foil and bake another 30 minutes until the top is well browned. Remove from the oven and unmold.
This will make 6 servings.
This is a recipe I love to use with my Christmas baking. Don thinks it should be made much more often but……
This has the option of using golden raisins, chopped pecans or even using both. The choice is yours.
1/2 cup butter
1 cup dark brown sugar
2 large eggs
1/2 cup pure maple syrup
1 tsp. really good vanilla
pinch of salt
1 tbsp. lemon juice
chopped pecans and/or golden raisins (as many you would like to have)
Let the butter and sugar come to the boil and whisk in the next 5 ingredients. Make sure all is well combined.
Cover the bottom of the pastry tart shells (yours or the frozen forms) with chopped pecans, raisins or both and pour the syrup over each one to just below the top edge of the pastry.
Bake in a 400 degree oven for 10 minutes. Turn down the temperature to 375 and bake a further 10-15 minutes.
Let cool in the pan before removing.
If you sample now, you had better start another recipe 'cuz you will devour these up and then you will know why I don't make them all the time.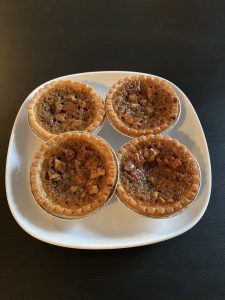 Okay, you know you are having company be it for Easter or perhaps at Spring break with the children. This, my friends is a wonderful way to serve biscuits with your breakfast fare. Goes really well with scrambled eggs and bacon. Add some chilled watermelon slices or berries, juice and coffee. There, I just gave you breakfast.
This can be made ahead, cut into rounds and chilled on a baking sheet for up to 2 hours.
2 cups flour
1 tbsp. baking powder
1 tbsp. Thyme, finely chopped
pinch of salt
1 large lemon*
1/2 cup unsalted butter, cold and cubed
1 cup plus more for glaze of buttermilk
Preheat oven to 425 degrees
Place the flour, baking powder, thyme and salt in a food processor. Finely grate the zest of the lemon and add to the mix. Pulse to incorporate.
Add the cold butter, a few pieces at a time, and pulse until it resembles coarse breadcrumbs. Place this in a bowl and squeeze 2 tbsp. of lemon juice into the buttermilk to make a slightly sticky dough.
On a floured surface, put out the dough and gently knead. Pat the dough into a 1/2 inch thick round disc. Use a floured 2  1/2 inch cookie cutter and cut 12 rounds, placing them on a parchment lined cookie sheet.
Brush the tops of the biscuits with some buttermilk and bake until the become puffed and golden (13-15 minutes). Serve on a plate with butter and preserves on the table. Oohh these make my mouth water they are so incredibly light, tasty and ever so yummy.
* it just may take another half or whole smaller lemon to make the 2 tbsp.
I have so many recipes for risotto and here is one more. This is a basic risotto and can be used at any time with anything. Darn….I'm hungary just thinking about it and, no, we don't make it as often as I would like. Thank goodness!
4 cups warmed chicken stock
2 tbsp. olive oil
2 tbsp. finely minced onions
1 cup Arborio rice (make sure it is a quality product)
2 tbsp. butter
2 tbsp. heavy whipping cream
1/2 tbsp.  chopped flat leaf parsley
1/4 – 1/3  cup grated Asiago cheese, plus extra for garnish
Black Truffle oil for drizzling
Keep the chicken stock simmering on the stove at a very low heat. In a heavy bottomed saucepan, heat the oil and add the onions and cook until golden in cololur. Add the rice and stir to coat each and every grain with the oil.
Begin the process (here, unplug the phone, pour a coffee, get a stool if needed but do not stop this process for 22  minutes EXACTLY).
Add 1 cup of the hot stock and use a wooden spoon to stir. Allow this liquid to be absorbed and then, by 1/2 cup measures, continue the process making sure the liquid is almost all absorbed before adding the next lot. Stirring constantly is the secret here.
With the last addition of liquid, add the butter and cream. This will become very creamy and now add the parsley. Remove from heat, top with freshly grated Asiago cheese and drizzle with the truffle oil.
I know,…..you're welcome. See? I didn't lie. Oh, please let me refresh your glass of wine.
Damn, you did it again!
IF you are looking for a nice spicy, salty butter on top of a grilled steak this is the one. It uses anchovies but I promise, it does NOT taste fishy.
1 stick unsalted butter, room temperature
2 anchovy fillets, minced
1 tbsp. spicy chili sauce
1 garlic clove, minced
sea salt
Using a fork, mash together the butter, anchovies, chili sauce, garlic and 1/2 tsp. salt. Keep refrigerated up to 1 week.
Simply cut slices off and place on top of a steak and let it melt.
This simply adds a deep, rich flavour to the taste of your steak.
Besides, would I lie? Nope!
What a fun way to fix that 'sweet-tooth' you all have but know that it is homemade with love, tastes fantastic and is easy to make. Give it a try. The flavours can be changed just by using the different coffee creamer flavourings out there. You know, the kind that you pour in, looks like cream but tastes like a fancy gourmet coffee.
3 tbsp. butter
1 cup whipping cream (36% if you can)
3/4 cup white sugar
1 1/2 cup dark brown sugar
2 tbsp corn syrup
1 tbsp. butter pecan coffee creamer
1/2 cup pecans, coarsely chopped
In a large pot, combine the butter, sugars, syrup. Stir to mix and bring to a boil. Simmer over medium heat until the candy thermometer reaches 241 degrees.
Immediately remove from the heat and add the creamer, but DO NOT stir. Leave for 20 minutes to room temperature.
Butter a 9 inch square pan. Here is where the fun begins.
Fill the sink with 2 inches cold water and put the pan inside and beat with a wooden spoon until it begins to thicken. Add the pecans and continue beating until it thickens and begins to lose its shine.
When no longer shiny, transfer to the prepared pan and smooth the top down. You will have to work equickly or the sugar will begin to crystalize.
Do not cut the squares until it has rested for 2 hours at room temperature.
Enjoy.
If you like sticky buns/cinnamon buns, then you will love this version of a coffee cake with the ooey-gooey sticky topping.
This cake has a super topping, a streusel middle and the texture of a coffee cake. Now, all you need is a pot of coffee and the day is, once again, wonderful.
1 cup plain Greek yogurt
3/4 tsp. baking soda
2 cups flour
1  1/2 tsp. baking powder
pinch of salt
2/3 cup butter
1 cup sugar
2 large eggs
1/2 tp. good quality vanilla extract
Preheat oven to 350 degrees. Grease a round cake pan (9 inch) with at least 2 inch high sides. Line the base with parchment paper.
Combine the yogurt and baking soda and set aside. In another bowl sift together the flour, baking powder and salt. In the electric mixer bowl cream the butter, sugar and eggs, beating well with each addition. Add the vanilla and now turn the speed to low. Add the flour and yogurt in alternating additions, ending with the flour.
Streusel
1/4 cup dark brown sugar
1/4 cup sugar
1/2 cup flour
1 tbsp. ground cinnamon
1/4 cup chilled butter, cut into pieces
In a bowl, combine the sugars, flour and cinnamon. Using a pastry blender cut in the butter until the mixture is crumbly.
Topping
1/3 cup butter, melted
1/3 cup corn syrup
1/4 cup brown sugar, packed
1 cup chopped pecans
In a saucepan melt the butter,  add corn syrup and sugar, whisking until smooth.
Spread the topping over the prepared cake pan base. Sprinkle the pecans evenly. Spread one half of the cake mixture over the base and sprinkle one half of the streusel evenly over that. Spread remaining batter over the streusel and sprinkle the remaining streusel mixture over the top.
Bake for 40-45 minutes until a toothpick, when tested, comes out clean. Co0l on a rack for about 4 minutes and run a small knife round the edges of the cake and remove cake from the pan.
Yum!
This is way too cool…You will definitely have a hit on your hands with this one. Summer evening patio get-together….okay, make it a light lunch by adding a salad. This is to die for.
6 tbsp. butter
2 medium russet potatoes
3 tbsp. cream cheese
3 tbsp. sour cream (not light)
6 oz. smoked trout, slices
lemon/lime wedges
Melt the butter in a sauepan over low heat. Remove from the heat and let the solids sink to the bottom. Now cool down. Skim off the foam. Carefully pour off the clarified butter, discarding the solids.
Preheat oven to 400 degrees. Slice the potatoes a little less than 1/8 inch thick and  lay on a paper towel. Heat the oven proof skillet, add 2 tbsp. clarified butter and swirl to coat the bottom. Arrange some of the potatoes in a concentric circle. Season with cracked pepper and repeat  the potatoes to form 2 more layers. Now pour 3 tbsp. of the clarified butter down the sides of the skillet, allowing it to seep under the potatoes.
This is where the fun begins. Brush the underside of a medium heavy skillet with clarified butter and set over the potatoes (to make a cover). Reduce the heat to medium and cook until crisp and golden in colour (ab out 6 minute).
Flip the potatoes using 2 metal spatulas. Cover with the skillet. Cook a further 4 minutes. Remove the top skillet and bake in the oven for about 8 minutes to crisp the  underside. Transfer to a rack to cool for 10 minutes.
Beat the sour cream and cream cheese until smooth and fluffy and spread over the potatoes. Top with the smoked trout slices and cut into wedges. Serve with lime or lemon wedges.
You will find that next time, simply double the recipe as there won't be any leftovers.
Remember to repeat the mantra "damn I can do this" and know you did a super job.
Yum!
If you are still in the planning stages for a celebration Buffet for Brunch, this is a wonderful addition. Easier than ever and so darn tasty. It could be a family favourite as well for Sunday dinners (do we still do that?)
24-30 mini yellow fleshed potatoes, scrubbed
 1-3 tbsp. butter, melted
 1 tbsp. dried fennel seeds, crushed
 1 tbsp. olive oil
 pinch of salt and pepper
In a saucepan cook the potatoes until tender – 10 minutes – or when a paring knife will pierce the potato. Drain and let cool. If making ahead refrigerate in a sealed container for no longer than a day.
Use a sharp knife and do not cut all the way through, slice in 1/4 inch slices across the width of the potatoes. Be sure to leave the bottom in tact or you will simply have the makings for scallop potatoes.
Melt the butter, oil and herbs together and toss the potatoes until coated.
Place on a parchment lined baking sheet and bake for about 1 hour in a 350 degree oven. They should be golden in colour and quite shrivelled.
Serve hot with the rest of the fare. In a word "Yummy".
Yeah, I know…they won't eat them but this will make a difference (just like Don's Special Beans does). It is so easy yet, tasty.
To serve 4:
6 medium carrots, halved lengthwise and cut into 1/2 inch pieces
 1 garlic clove
 2/3 cup chicken broth
 pinch of salt
 4 tbsp. heavy cream
 2 tsp. butter
 1 orange, grated and juiced
Simmer the carrots, garlic, broth and orange juice, covered until the carrots are tender (15 minutes).
Puree the carrots and 1/2 the broth with the cream and butter in a food processor until smooth. If too thick, add more broth.
Sprinkle the orange zest over the carrots and serve. Yum!
Lesson #1 – these are pronounced 'praw-leens' and got their humble beginnings in Louisiana  ( Marshal Luplesis-Praslin,1598-1695) from his butler, who had a recipe for almonds coated in sugar, used as a digestive aid. Later, when Louisiana was settled by the French colonists, they changed to pecans.
There are many recipes for this confection and the Creoles  take great pains to find perfection. The recipes are well kept secrets and are handed down generation to generation.
1 1/2 cup sugar
3/4 cup light brown sugar, packed
1/2 cup milk
6 tbsp. butter
1 1/2 cups roasted pecans (pronounced pee-cons)*
1 tsp. good quality vanilla
Combine all the ingredients and bring to the softball stage (238-240 degrees) stirring constantly. Remove from the heat.
Continue stirring until the mixture thickens (again – constantly stirring), becomes creamy and cloudy and the pecans stay suspended in the mixture. Spoon out on buttered waxed paper or parchment paper. When using waxed paper, be sure to have a newspaper underneath as the hot wax will transfer to whatever is underneath.
If you wish to make a praline sauce, simply add 1/2 cup of corn syrup to the mixture. You can change the flavour to chocolate, brandy, coffee, etc.)
This recipe will make 1-50 pralines, depending on size.
Just ask me…..they are quite the treat!
* our instructor said that pee-cans were something you needed in the middle of the night, so pronounce it correctly….please!  too funny.