I love butter tarts with pecans and this is just slightly different. Try it and see if  you can keep any leftovers….nope! can't be done.
1/2 cup softened butter
1/4 cup sugar
1/2 egg, beaten (not kidding)
1 1/2 tsp. light cream
1/2 tsp. pure vanilla extract
pinch of salt
1 1/2 cups flour
1/3 cup ground pecans
To make this pastry, cream together the butter and sugar. When light and fluffy add the cream, vanilla and pinch of salt. Mix well. Fold in the flour and ground pecans to form a dough. Form into a ball. Pat into the bottom and sides of a 9 or 10 inch spring form pan.
Bake for about 15-18 minutes or until golden in a 375 degree oven. Remove from the oven and cool on a rack.  Reduce the temperature to 325 degrees.
2/3 cup dark maple syrup
1/2 cup brown sugar
3 eggs
1 1/2 cups coarsely chopped pecans
2 tbsp. butter
In a saucepan, heat the syrup with the brown sugar until it has dissolved. Remove from heat and cool slightly.
Beat in the eggs, pecans and butter. When the butter has completely melted, pour into the crust. Bake for 20-28 minutes or until it is firm to the touch.
I love-love-love yams any way you can cook them but this is a really cool way.
4 medium yams, scrubbed clean
4-6 bacon slices,
1/2 cup sour cream
4 tbsp. butter, divided
4 tbsp. pure maple syrup for drizzling
Preheat oven to 400 degrees. Prink each yam with a fork and wrap tightly in foil and place on a baking sheet. Bake until they are fork tender. (35-45 minutes).  Make a large X  across the top of each one and scoop out the flesh carefully. Do not break the shell apart.
Cook the bacon until crisp and chop finely. Set aside.
Mix together the yam flesh and butter. Spoon back into the shell and top with a dollop of sour cream, bacon bits and drizzle maple syrup over each one.
Oh my goodness these are wonderful. Serve with a favourite fish or steak dish and a crisp salad. What more could you ask for?
This is a recipe I love to use with my Christmas baking. Don thinks it should be made much more often but……
This has the option of using golden raisins, chopped pecans or even using both. The choice is yours. To make 30 tarts, just double the ingredients.
1/2 cup butter
1 cup dark brown sugar
2 large eggs
1/2 cup pure maple syrup
1 tsp. really good vanilla
pinch of salt
1 tbsp. lemon juice
chopped pecans and/or golden raisins (as many you would like to have)
Let the butter and sugar come to the boil and whisk in the next 5 ingredients. Make sure all is well combined.
Cover the bottom of the pastry tart shells (yours or the frozen forms) with chopped pecans, raisins or both and pour the syrup over each one to just below the top edge of the pastry.
Bake in a 400 degree oven for 10 minutes. Turn down the temperature to 375 and bake a further 10-15 minutes.
Let cool in the pan before removing.
If you sample now, you had better start another recipe 'cuz you will devour these up and then you will know why I don't make them all the time.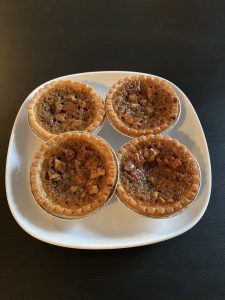 Everyone loves French toast and when served with crisp bacon nests topped with maple syrup (lots), you have a royal feast for sure.
6-8 bacon slices, thicker cut would hold up better**
1 tsp. coconut oil
6 large eggs
1 cup milk
1/2 cup whipping cream
2/3 packed brown sugar, divided
1 tsp. vanilla
1 tsp. nutmeg
pinch of salt
1 lb. egg bread loaf, cut into 1 inch thick slices
lots of maple syrup  (warmed)
Cook bacon in a large non-stick frying pan over a medium temperature until starting to crisp up. Cool Slightly. **if you run bacon under the cold water tap and shake off the excess before frying, they don 't curl  up. Just sayin'.
Line the bottom and sides of a slow cooker insert with a large piece of parchment. Brush with oil. Now twirl the bacon strips into nests and arrange on the bottom of the insert.
Beat the eggs with the milk and cream, 1/3 cup brown sugar, vanilla, nutmeg and salt in a large bowl. Beat until light and foamy. Dip each slice of bread in the egg mixture.
Divide the bread and brown sugar into 2 – 3 layers, 1 slice thick, depending on the size of your slow cooker. Place first layer of dipped bread over the bacon, sprinkle with brown sugar, then repeat with remaining bread and sugar. Cover and cook for 8 hours on low.
Preheat broiler. Using oven mitts to lift the parchment holding the French toast out of the slow cooker, flip bacon side up onto a buttered baking sheet, and broil in the oven until the bacon is crisp (2 min.). Transfer to a platter or cutting board.
Divide into 6 servings, serve with warmed maple syrup. Serve with fresh coffee, juice and WOW! you did it again.
Sorry for being late……fellows were here cleaning the windows and we were also shopping…but here we go.
3 oz. pancetta, chopped
2 tbsp. butter
2 – 1  1/2 lb. butternut squash. halved lengthwise, peeled, seeded and cut into 1/4 inch  pieces
1/2 cup water
3 tbsp. maple syrup
pinch of salt
1/4 cup unpeeled miniature clementines, cut in 1/2 inch wedges
1/2 cup orange juice
In a large skillet, cook the pancetta over a medium heat for about 6-7 minutes until crisp. Transfer to a paper towel, drain and set aside.  Reserve any drippings.
Add butter to the pan with the drippings. Add the squash and cook for 5 minutes until it just begins to soften. Carefully, add water, maple syrup and salt. Reduce the heat and simmer for 8 minutes, covered. Stir in the orange juice and clementines.
Increase the temperature to medium-high and cook, uncovered, for 6 minutes, until the squash is tender and the orange juice has reduced a little.
Remove from heat. Transfer to a serving dish and sprinkle the pancetta over the top.
This dish would be totally awesome with pork. And just in time for dinner. Hurray for me!
I must be in a 'square' mood these days. This should be Canada's icon for sure.
Shortbread base
1 cup flour
1/3 cup brown sugar, packed
1/4 cup chopped pecans
pinch of salt
1/4 tsp. baking powder
1/4 tsp. cinnamon
1/3 cup unsalted butter, room temperature
Preheat oven to 350 degrees. Grease and line a 9 inch square pan with parchment paper so it hangs over the sides.
Pulse flour, sugar, pecans, salt, baking powder and cinnamon in a food processor to combine. Add the butter and pulse until mixture is crumbly.
Press into the baking pan and bake for 20 minutes – just until it becomes brown around the edges. Remove from oven and let cool down.
Maple Pecan Layer
1/4 cup melted unsalted butter
1/2 cup brown sugar, packed
1/3 cup pure maple syrup (no substitutes)
2 tsp. vanilla
pinch fine salt
1 large egg
1 3/4 cups coarsely chopped pecans
Whisk together the butter, sugar, maple syrup, vanilla, salt and egg until smooth. Stir in the chopped pecans and pour over the cooled shortbread base.
Bake for 22-25 minutes until bubbly around the edges, Allow to cool completely before attempting to cut.
Yum!
If  you are like us and have ham for Easter dinner, try this one! Simple, super tasty and easy to prepare. Voila! Another masterpiece in the kitchen by….oh yeah! you!
3/4 cup maple syrup
1/2 cup brown sugar
1/4 cup whiskey*
1 tbsp. dry mustard
7-10 lb. ham with bone
8 cloves, whole
Preheat oven to 375 degrees. In a small saucepan on a medium heat, mix together the maple syrup, brown sugar, whiskey and mustard and cook until the sugar has dissolved to make a glaze. Remove from heat and set aside to cool to room temperature.
Score the fat surface in a diamond pattern about 1/2 inch deep and set the cloves into corners of the diamond pattern. Brush with the glaze. Cook for 2 1/2 – 3 hours until meat thermometer reaches 145 degrees, making sure to baste regularly.
Remove from the oven and tent with foil, allowing to rest for 15 minutes. Pour the pan juices into a degreasing cup or simply skim off the fat and discard. Transfer the juices to a saucepan and keep on low heat to keep warm. Remove the cloves (to avoid injury) and slice the ham.
Serve the 'gravy' in a bowl and set on the table. This teams so well with scalloped potatoes, vegetable of your choice and a chilled Riesling in your glass makes this a perfect meal. If having dessert – make it a light one.
*if you have maple whiskey, use it to enhance the maple flavour.
Since we moved to this part of our planet, we have eaten so many pineapples, it would be a shame not to share this recipe with you. Make this dish up and you, as well,  will buy many more of them. It/they are perfect.
1 cup long grain rice
1/4 cup pure maple syrup
pinch of cayenne pepper
1 lb. skinless trout, cut into 4 pieces (or salmon if you prefer)
coarse salt and ground pepper
1/2 fresh  pineapple, peeled, cored and cut into 8 pieces, lengthwise
1/4 cup lightly packed cilantro, roughly chopped
lime wedges for serving
You have the choice of cooking inside (oven) or outside (BBQ). You can do anything on the bbq, so go for it.
Heat the barbecue to medium high. On the side burner, cook the rice according to directions on package.
While this is cooking, mix together in a small bowl the syrup and cayenne pepper. Season the fish with a small pinch of salt and pepper. Sprinkle with olive oil and brush with the maple syrup. mixture.
Spear the pineapple on metal skewers, with a clean utensil, brush with maple syrup mixture and cook for about 4-5 minutes each side. Watch the pineapple doesn't burn and,  when turned over, brush with the maple syrup mixture again. Do not use the same brush for the fish and pineapple. They would be cross-contaminating. Use two brushes.
Remove from the heat, cut the pineapple into chunks. Add the cilantro to the rice. Spoon the rice in the center of the plate, top with a filet of trout and place the pineapple alongside.  Be sure to put a couple of  lime wedges on top of the trout.
Enjoy!….yummy…oh, may I pour you a glass of Pinot Gris?
This only takes a few minutes to prepare so is a great morning start to your day breakfast.
4 large eggs
16 slices back bacon, lightly cooked
1 cup whole milk
pinch of salt
2 tbsp. butter
8 slices whole grain bread
2/3 cup swiss cheese, grated
2 cups mozzarella cheese, grated
Whisk together the eggs, milk and salt.
In a frypan, melt 1/2 tsp. butter and after dipping both sides in the egg mixture, fry 2 slices at a time for 1 minute each with remaining bread, adding butter as you may need.
Assemble with 1 slice of bread, 1/4 of the swiss cheese, 2 slices of cooked bacon, 1/4 of the mozzarella cheese and top with the second slice of bread.
Now fry the sandwiches in the remaining butter for 2 minutes per side until the cheese has melted and the bread has turned a golden brown.
Serve with butter and warm maple syrup.
A friend of ours makes her own granola by the bucketful each week and with that in mind, here is my version of granola and then using it in a parfait for breakfast…either for you and yours or visiting company. You have to be careful though, if you make these meals too tasty, they may never leave.
1 1/2 cups rolled oats (not instant)
1/4 cup sesame seeds
1/4 cup pecans, chopped coarsely
1/4 cup sunflower seeds
1/4 cup pumpkin seeds (no outer shell)
1/4 cup salted cashews
1/4 cup pistachios
3/4 cup maple syrup
1/4 cup dried cranberries
1/4 cup dried blueberries
1/4 cup dried mango or papaya
1 container either vanilla yogurt or flavour of your choice
A few fresh berries for garnish
Preheat oven to 175 degrees. Combine all the ingredients up to the dried fruit and mix well. Spread out on a large parchment lined baking sheet.
Bake 25 minutes, stirring every 5-7 minutes to ensure even browning and crunchiness. Remove from the oven and add the dried fruit. Cool to room temperature and store in airtight container.
Now for the fun…in decorative glasses (wine glasses are great), add a couple of spoonfuls of yogurt and a layer of granola, then repeat layers three or four times, finishing with yogurt. Top with a fanned strawberry or a couple of blackberries.
Wow….easy, healthy and super tasty. All that is needed now is a cup of freshly brewed coffee. Our parfaits were a favourite when we had our Bed and Breakfst.
In our home, we still go all out (if not actually going out to a restaurant) and pamper each other. If you have small children you have a choice: feed them first and put them to bed OR  let them help you, and enjoy a later dinner.
Lay out a clean, crisp tablecloth, charger plate, dinner plate…having a homemade soup? Then a soup bowl….no soup but having a salad? then put out a pretty salad bowl or small salad plate….candles….fresh flowers (supermarket has them). Pretty card or funny one (depends on your significant other). No other gift is necessary. You care, you both care…let him barbecue, you make the salad or whatever works for you. But, just take the time to slow down and enjoy the day set aside for love.
You don't have anyone? Set the table anyway…..for you. You matter, you love yourself- so….what's stopping you? Go for it.
Here is a dinner that is yummy, costs about $3-4 per serving and only needs a salad or side dish of vegetables. Having wine? Use pretty wine glasses. Don't drink? Pour a sparkling water or juice…in a pretty wine glass…why not? Who said you couldn't?
Pecan Glazed Pork With Lime-Maple Glaze
1 pork tenderloin (silver skin removed) about 2 lbs.
pinch of salt and freshly ground pepper
4 tbsp. maple syrup
1 cup finely chopped pecans
2 tbsp. vegetable oil
3 limes, juiced and 1 cut into thin wedges)
pinch of cumin
pinch of cayenne pepper
Trim pork and cut in 1/2 inch slices. Flatten with the palm of your hand and season with salt and pepper.
Place  3 tbsp. of syrup in a dish, place pecans in second dish. Heat the oil in a skillet and dip the slices in the syrup and then into the pecans. Pat to make sure it adheres and carefully set into skillet. Pour the balance of the syrup and pecans over the top and cook for 3-4 minutes each side (just pink in the center). remove from the skillet.
Stir in the lime juice, remaining syrup, cumin and cayenne and cook for 1-2 minutes (until thickened). Pour over the pork and add a slice or two of lime on top. Add a salad or side dish and enjoy.
P.S…..you don't have to wait for Valentine's to enjoy this scrumptuous dish.
Spring is just around the corner and the running of the maple syrup down East will give this cake the justice it deserves.  Just kidding! It somehow sounded like it all related. You just have to remember that using maple syrup affects the length of cooking time. (all good things take time).
3 cups flour
1 tbsp. baking powder
pinch of salt
1/2 cup unsalted butter, room temperature
2 tbsp. solid shortening
2 cups maple syrup ( Grade B, if you can get it)
3 large egg yolks
1 large egg
1  1/4 cups whole milk
1 cup pecans, coarsely chopped
Preheat oven to 325 degrees. Butter  two 8″ round  cake pans with at least 2″ high sides. Line the bottoms with buttered parchment paper. Dust with flour and set aside.
Sift the flour, baking powder and salt into a medium bowl. With an electric mixer, beat the butter and shortening until light and fluffy. Add the maple syrup and beat until smooth (about 3 minutes). Add the egg yolks and egg, one at a time, mixng well to combine. Beat the flour and milk alternately in 2 additions. Fold in the pecans.
Divide equally in the cake pans  (about 3 1/2 cups each pan) smooth the tops with an off-set spatula.
Bake the cakes until a toothpick inserted in the center comes out clean. (about 55 minutes). Cool the cakes in the pans for 20 minutes. Run a sharp knife around the edges to loosen and invert on cake racks. Remove the parchment and cool completely.
Icing
3 cups icing sugar
1 – 8 oz. pkg. of Philadelphia cream cheese
1/2 cup unsalted butter
2 tbsp. maple syrup
toasted pecans for garnish
Sift the icing sugar into a medium bowl. In your electric mixer, beat the butter and cream cheese until completely smooth. Add the powdered sugar and maple syrup slowly and beat until smooth. Do not overbeat as it may become too soft.
Put one cake on a pretty plate and spread about 1 cup of the frosting over the cake. Add the second layer and frost with the remaining icing. Arrange the pecan halves around the edge of the cake.
Slice, serve and you will hear all the accolades for days. This cake sounds super sweet but it isn't.