This is a really great cookie – easy to make, no baking involved and much, much easier to eat. Well, after all it is the Christmas Season, right?
1 – 4 oz. cream cheese
2 tbsp. milk
2 cups sifted icing sugar
2 tbsp. unsweetened chocolate baking liquid
1/2 tsp. vanilla
3 cups mini marshmallows
coconut for dipping
Beat cream cheese and milk until completely smooth. Beat in the sugar until smooth. Add the chocolate liquid and vanilla and mix really well.
Add the marshmallows until all have been coated with the chocolate. Drop by tsp. into the coconut, tossing until completely coated. Chill until firm.
These should be stored covered in the refrigerator. These make approximately 4 dozen cookies.
Anyone who knows me or has followed me over the years, knows at this time of year, I do up trays for give away.  Don makes his Tourtiere pies and sausage rolls and I do the baking on Nov 11. We also pause at 11 a.m. in respect for our freedom then keep going.
This is the list this year. When done, pictures will appear.
Christmas Gumdrop cake
Whipped Shortbread
Pecan Shortbread
Butter Tarts
Citrus Cocada
Citrus Lace Cookies
Raspberry Meringues
Pralines
Spiced Nuts
Nuts and Bolts
Belem Tarts
New Christmas Cake
Lemon Shortbread
Mincemeat Tarts
WHEW!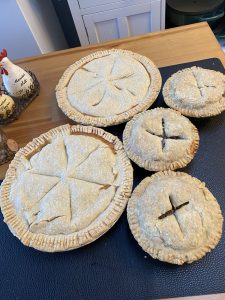 These are a little different and you can change the sesame seeds to flax seeds if you want to up the taste as well.
2/3 cup flour
1/4 tsp baking powder
1 large egg
1 tsp vanilla
1/2 cup butter
1 cup packed brown sugar
1 1/4 cup toasted sesame seeds
Combine the flour and baking powder. Cream the butter, sugar, egg and vanilla together. Mix with the dry ingredients until incorporated.
Stir in the sesame seeds and drop by teaspoonfuls, leaving room for them to spread out on a parchment lined baking sheet.
Bake in a 350 degree oven for 7-8 minutes until golden and cool on the baking sheet. Then remove to a rack to completely cool.
These are delicious, crispy and you will me making them often.
These remind me of an old-fashioned cookie my Mom would make. By the way, they are absolutely delicious. Make them and you will agree you should have doubled the recipe.
2 1/2 cups sifted flour
1 tsp. baking soda
1 tsp. baking powder
1 tsp. cinnamon
1/2 tsp. ground nutmeg
pinch of salt
1 cup sugar
1/2 cup pure cane syrup
1 stick butter (1/2 cup), room temperature
1 generous cup pure pumpkin, not pumpkin pie kind
1 large egg
1 tsp.vanilla
Preheat oven and line 2 baking trays with parchment paper.
Combine all the dry ingredients in a bowl and set aside. Beat the butter, sugar and cane syrup until light a fluffy ( about 2 minutes). Slowly add the flour mixture until well blended. Add the egg (lightly beaten) to the pumpkin and mix well, making sure to incorporate the batter..
Drop by rounded tbsp. (or use  a scoop) to the prepared trays and bake for 15-18 minutes. Remove to trays to cool down.
Take a container of fluffy whipped icing and scoop out a good 2-3 tbsp. Add a small amount of half and half cream, mixing well to make a runny drizzle. Dip a fork into the glaze and drizzle over each cookie.
It has been a while since I posted a good cookie and thought this one would fill the bill.
1 cup butter, room temperature
1 cup dark brown sugar
1/2 cup sugar
1 large egg
1 egg yolk
1 1/2 tsp. vanilla
1 3/4 cups flour
1 tsp. cinnamon
3/4 tsp. baking soda
pinch of salt
2 cups rolled oats
1 1/2 cups pecans, chopped
Preheat oven to 350 degrees. Line 2 baking sheets with parchment paper and set aside.
In a large bowl, beat the butter, vanilla and both sugars until fluffy. This will take 2 full minutes.
In a separate bowl whisk together all the dry ingredients and slowly add to the butter mixture, beating only to combine well.
Stir in the oats and pecans.
In your hand, scoop out 2 tbsp. of the dough, roll into a ball and set on prepared baking sheet. Continue until all the dough is used.
Bake in the oven, one pan at a time, for about 13-15 minutes. Cool on rack for 2 minutes  and then transfer cookies to racks for cool completely.
Make sure you have a pot of coffee (or tea) at the ready 'cuz you won't want to share with anyone. HA!
As you can see from my site, this is another shortbread recipe you can make up. If you were to make them all up, you would have quite the selection and your guests will never want to leave.
1 cup softened, unsalted butter
3/4 sifted icing sugar (this way, no lumps)
1/2 tsp. vanilla
pinch of salt
2 cups flour, sifted
Preheat oven to 300 degrees. In electric mixer, whip together the butter, sugar, vanilla and salt until light and fluffy (about 5 minutes on a medium high speed). Stir in the flour until just combined.
Press dough into a 9 inch tart pan with removable bottom and use your hand to smooth the surface. With a sharp knife, score dough into 16 wedges. Prick surface with a fork several times and refrigerate for approximately half an hour.
Bake until firm and a pale golden colour. This should take 50-55 minutes. Remove from oven, cool for 5 minutes then cut through score lines. Leave in pan to completely cool.
Topping
1 cup sifted icing sugar
2 tbsp. lime juice
1 tbsp. lime zest
1/4 cup salted, shelled pistachios, toasted and chopped
In a small bowl, whisk together the icing sugar and juice with zest until smooth and no lumps. Picking up each slice of cookie, press into glaze to evenly coat and set on racks to dry, Sprinkle with the nuts and let set on racks for 60 minutes to completely dry.
You just may make this several times when entertaining.
This is a cookie that will make your family and guests (should they last that long) want more.
1/2 tsp. anise seeds
1/2 cup Pinot Grigio white wine
1 tsp. vanilla
2 cups flour
1 tsp. baking powder
1 pinch salt
1/2 cup granulated sugar, plus extra for garnish
1/3 cup Crisco oil
Preheat oven to 350 degrees. Line 2 baking trays with parchment and set aside.
Use a mortar and pestle to lightly crush the anise seeds. Put in a small bowl and add the wine and vanilla. Let this all steep for about 15 minutes.
In a large bowl, whisk the flour, baking powder, salt and sugar together. Make a well in the center, add the oil and, using a strainer,  add the wine mixture, discarding the anise seeds. With a wooden spoon, stir until the dough comes together. Turn out on a surface and knead a couple of times.
Divide the dough into walnut size pieces and, one at a time, roll out to a 3-3 1/2 inch rope. Pinch the two ends together to form a ring and place on the prepared baking sheets. Sprinkle each cookie with sugar and bake for about 20-25 minutes until a lovely golden brown. Transfer to a rack to completely cool. These may be stored up to 4 days. I will bet you they don't last 2 days.
Yum….serve with a special dessert like a Crème Brulee or a Sabayon.
This is a delightful and easy cookie to make but looks like it was more complicated.
2 1/4 cups flour, leveled
1 tsp. baking powder
pinch of salt
1/2 tsp. ground cinnamon
1/2 cup almond paste
3/4 cup sugar
1 stick unsalted butter at room temperature
2 large eggs
1/2 cup jam (raspberry, peach or ginger)
1 cup icing sugar
4 tsp. whole milk
Whisk together the flour, baking powder, salt and cinnamon. In a food processor, pulse the almond paste and sugar until smooth. Now add the butter and eggs, blending until smooth.
Add all the flour and now pulse until a dough forms. Divide into 4 pieces, wrap in plastic and refrigerate for about 30-35 minutes.
Preheat oven to 350 degrees. Line 2 baking sheets with parchment paper and on a lightly floured work surface, roll each piece into 10 inch logs. Place on the baking sheets and gently flatten to measure about 2 inches across. Bake only until just dry. (13-15 minutes).
Remove from the oven and with the handle of a wooden spoon, make a trench in the center of each log. Spread 2 tbsp. of jam in each trench and return to the oven and bake a further 10-12 minutes.
Cool on the baking sheets set on baking racks.
Whisk together the icing sugar and whole milk. Drizzle over the logs and let harden (20 minutes). With a serrated knife, cut the logs on the diagonal in 1 inch strips.
If you think these will last, store in airtight containers for only 1 week.
Yummy
You won 't believe that by using a cake mix you get these cookie-wiches. These make a great 'sweet' to add to your table of goodies when entertaining, especially with the entertaining season fast approaching.
1 pkg. white cake mix (Duncan Hines is good)
3 tbsp. dry Jell-o Raspberry Gelatin
1 cup thawed Cool Whip whipped topping
1 egg
1 tub Cool Whip cream cheese frosting, thawed
Preheat oven to 375 degrees. Stir all the ingredients together, except the frosting. Make sure it is well combined. The frosting will be quite stiff so don't panic.
On parchment lined baking sheets, shape into balls, using 1 tsp. of the dough, placing 2 inches apart. They will spread out.
Bake for about 8 minutes until the edges of the cookies are set. For goodness sake, do not over bake). Cool on baking sheet for about 2 minutes then remove to cooling racks.
Thaw the cream cheese frosting and mix in a couple drops of red food colouring to make a soft pink filling. Fill 2 cookies with 1 tsp. filling to make the sandwich. Repeat with remaining cookies and frosting.
Keep refrigerated until ready to serve, then a light dusting of icing sugar will make them look so special.
What a great addition to the party trays at your Open House celebration or Wine and Cheese event.
Damn,  you did it again!
This would be for two girls in my family for sure. They love the Chai Tea drinks. So along with them, if you like it as well, make some awesome flavoured biscotti.
2  1/4 cups flour
3/4 tsp. baking powder
generous pinch of salt
1/3 cup butter, room temperature
1 cup sugar
2 eggs
2 tsp. ground ginger
1 tsp. black peppercorns
1 tsp. ground cinnamon
1 tsp. ground cardamom
1/2 tsp. coriander seeds
1/8 tsp. grated nutmeg
2 whole cloves
Preheat oven to 325 degrees. Line 2 large baking sheets with parchment paper.
Sift together the flour, baking powder and salt in a medium size bowl. In your electric mixer, beat the butter and sugar on high until pale and fluffy, adding the eggs, one at a time.
Combine in a spice grinder the ginger, black peppercorns, cinnamon, cardamom, coriander seeds, grated nutmeg and 2 whole cloves. Grind really well. Now add 2 tbsp of the ground chair spice to the flour.
Combine until the dough is well combined. Divide the dough in half making each portion into logs 2 inches wide and 3/4 inch high.  Place about 3 inches apart because they will spread out.
Bake for about 30-35 minutes until golden. Remove from the oven and let stand for 10 minutes. Cut each one into 1/2 inch slices. Place on a baking sheet, arranging the biscotti cut side down. Bake another 20 minutes or so until firm and a light golden brown.
Now sift 3/4 cup icing sugar with 2 tsp. of the chai spice in enough water to make a smooth consistency so you can drizzle it over the tops of the cooled biscotti. Simply let stand until the icing has set.
Store in an airtight container for about 1 week or simply freeze up to a month.
You are so welcome!
I am always trying new cookies to make and share at Christmas time…company coming over….hunger pangs….okay, so I like to make cookies. The flavour of brown butter is so "comforting",   I think this will become another favourite.
15 tbsp. unsalted butter, cut in pieces
2 tsp. pure vanilla extract
2 cups flour, sifted
1 tsp. baking powder
1/2 cup brown sugar
pinch of salt
1 egg white, lightly beaten
sanding sugar (any colour)
Melt the butter over a medium heat. Stir constantly until it becomes a deep golden brown. This should take about 10 minutes or so. Pour into a bowl to cool to room temperature,  then add the vanilla.
Whisk together the flour, baking powder, sugar and salt. Gradulally stir into butter mixture. Form into a ball then roll into a 13-15 inch log. Should be about 1  1/2 inches in diameter. Wrap in parchment paper and refrigerate for an hour.
Preheat oven to 350 degrees.  Slice the dough into 1/4 inch rounds and set on parchment lined cookie sheets. Brush each one with egg white and sprinkle the sanding sugar on top.
Bake until light brown and firm (16-18 minutes). Transfer to racks to cool. Yummy.
It has the flavour of peanut brittle….and everyone loves peanut brittle.
1/2 cup shortening
1/2 cup dark brown sugar
1/2 cup sugar
1 tbsp. good quality vanilla
1 large egg
1 1/4 cups flour (sifted)
1/2 tsp. baking soda
pinch of salt
1 pkg. Reese peanut butter chips
1 cup Skor toffee bits
3/4 cup peanuts (unsalted)
Preheat oven to 350 degrees. Line cookie sheets with parchment paper.
In a large bowl, cream the shortening with both sugars and add the vanilla  until creamy. Beat in the egg.
Sift together the flour,  baking soda and salt and add  to the shortening until well incorporated.
Stir in the 1 cup peanut butter chips and all the Skor bits and peanuts.
Drop by a rounded tbsp. about 2 inches apart and bake for 11-12 minutes until golden in colour and just set.
Cool on the cookie sheet for about 4 minutes and then remove to cooling racks to completely cool down.
Melt the remaining chips along with 1 tbsp. cream in the microwave for about 35-40 seconds and drizzle over the cooled cookies.
**Note: Aug 2023 – Made them this morning and Don (my taster) said they were "Yum, OMG Yummy are they ever good. So there!