Christmas is a short time from now and with all the hustle-bustle going on in your house, here is one of the easiest and tastiest bites to offer your family and guests.
8 slices of paper thin prosciutto (1 slice per person actually)
8 fresh but ripe figs, cut in half lengthwise
1 tbsp. of Balsamic Vinegar of Modena*
2 oz. Asiago cheese, shaved into strips using your vegetable peeler
On individual plates, arrange the prosciutto, 2 fig halves (drizzle the Balsamic vinegar over) and a strip or two of the cheese. Add a couple of your best crackers and you will have an easy-peasy bite.
This will, of course, go with any other tidbits you have. Also, have napkins, clean glasses to serve your beverages of choice in, lit candles and enjoy the company at hand.
Note: * The label reads Vinaigre Balsamique de Modene
OMG! I was going through my recipe box and found this. It is eons old but oh so good. Give it a try and your family will think you won the lottery (of cookies).
1 cup butter, room temperature
2 cups brown sugar, packed
2 eggs
1 tsp. good vanilla extract
3 1/2 cups flour, sifted
pinch of salt
1/4 tsp. cream of tartar
1/2 tsp. baking soda
1 cup dried cranberries or chopped pecans (your choice)
Cream the butter and sugar until light and fluffy, add the eggs, one at a time, continuing to keep the texture very light.
Add the remaining dry ingredients (except for the fruit/nuts) slowly until well blended. Add the vanilla and beat until all is combined.
On  parchment lined cookie sheets, drop by teaspoonfuls and then with a fork dipped in flour, lightly press each one to slightly flatten.
Bake at 400 degrees for about 12 minutes. They should be golden brown. Remove to a rack to completely cool down.
I made this certain recipe for the first time this year and, I have to tell you my family LOVED it so much, I had to make it twice to make sure there was enough for our company this past weekend. I do have a pumpkin muffin as well on this site, but this one is truly special.
2 cups flour
pinch of salt
1/2 tsp. baking powder
1 tsp. baking soda
1 tsp. cloves
1 tsp. cinnamon
1 tsp. nutmeg
3/4 cup butter, room temperature
2 large eggs
1 – can of E.D. Smith pure pumpkin. You will use only 15 oz. (you can use the remaining pumpkin in the recipe that follows).
Preheat oven to 350 degrees and be sure to spray well your mini muffin tins.
In a medium bowl gently whisk together all the dry ingredients and set aside.
In your electric mixer mix the butter and sugar until just blended and add the eggs, beating really well until light and fluffy. When truly light and fluffy, add the pumpkin beating until well combined and making sure to scrape down the sides as you go.
On a really low speed, add the dry ingredients until combined.
Spoon into the mini muffins tins, making sure to fill to the top of the muffin pan.
Now for the good part:
Topping
5 tbsp. flour
5 tbsp. melted butter
5 tbsp. dark brown sugar
1/4 tsp. cinnamon
3/4 cup chopped pecans
Mix well to ensure it is well combined and then divide evenly the topping on each muffin. Bake for 35-38 minutes, testing with a toothpick to ensure doneness and remove to a rack to cool for 10 minutes.
Run a paring knife around each muffin and carefully remove to a rack to continue cooling. Enjoy! You will and you will make them again and again.
This a wonderful tasting and just yummy soup to make and you will devour it.
1/3 cup butter
8-9 oz, asparagus, pared and blanched, cut in thirds
1/4 cup flour
3 cups chicken broth
1/2 cup Pinot Grigio (or similar) white wine
1 cup whipping cream
1/2 cup brie cheese, rind removed
In a frypan, melt the butter and saute the asparagus until tender. Stir in the flour, reduce the heat and cook for about 3 minutes.
Now add all the liquids (broth, wine and cream) and increase the temperature to medium and bring to a boil. Once starting to boil, reduce the heat and simmer for 8-10 minutes.
Transfer the soup to a blender and puree well. Put through a strainer back into the pot and reheat. Now stir in the Brie and simmer for 5 minutes (until melted).
This is one soup that should be served hot so be careful. Oh, by the way, the rest of the wine is for you to enjoy with your soup. See? No waste. Lucky you.
For some strange reason, throughout my life, I have really avoided pork chops UNTIL NOW. Don made these last night and Boy oh Boy are they fabulous. True.
4 boneless pork chops
1 tsp. salt
1 tsp. black pepper
1 tsp. garlic powder
1 tbsp. olive oil
Preheat oven to 35 degrees. If not using a frypan that can go into the oven, grease a 9″ x  13″ baking dish.
Season the chops with the salt, pepper and garlic powder. Transfer to the prepared pan.
Glaze
1/2 cup honey
1/8 cup packed brown sugar
1/8 cup soy sauce
1 tsp. chopped garlic
1 tbsp. butter
1/8 tsp. ground ginger
dash cayenne pepper (or more to taste)
Whisk the honey, brown sugar, soy sauce, garlic and butter together in a bowl and pour over the chops.
Bake in the oven for 25 minutes. Remove from the oven and let rest for approximately 5 minutes to allow the chops to soak up some of the sauce.
Add a 1/4 tsp. corn starch  mixed in a 1/4 cup of water to the remaining sauce and stir until it thickens.
Serve the chops with a stir-fry vegetable side dish and add the extra sauce.
These are really very delightful and not the same old-same old muffins we always seem to fall back on. Enjoy!
1 3/4 cups flour ( sifted)
1 tsp. baking powder
1/2 tsp. baking soda
1/4 tsp. salt
1/2 cup melted butter
1 – 8 oz. pkg. cream cheese
2 large eggs (room temperature)
1/4 cup light cream
1 tsp. vanilla
1/4 cup seedless raspberry jam
1/4 cup butter, softened
1/4 cup flour
1/4 cup packed brown sugar
1 tsp. cinnamon
Preheat oven to 350 degrees. Grease muffin tin. In a large bowl combine the first 4 ingredients. In another bowl cream the butter and cream cheese with a mixer until fully blended and add one egg at a time beating well after each addition. Beat in the cream, vanilla and jam. Mix with the dry ingredients until moist but still lumpy.
Mix the last 4 ingredients and sprinkle over he top of each muffin. Bake for 20-25 minutes and cool a couple of minutes before removing from the muffin tin.
Make a
Let me begin with a comment from the photographer of my cookbook "These are the best cinnamon buns I have ever had". Thanks Jonathan.
1 cup warm milk (approx. 110 degrees)
2 eggs, room temperature
1/3 cup melted butter
4 1/2 cups flour
1 tsp. salt
1/2 cup white sugar
2 1/2 tsp. quick-rising yeast
1 cup brown sugar, packed
2 1/2 tbsp. ground cinnamon
1/3 cup butter, softened
1 (3 oz.) pkg softened cream cheese
1/4 cup softened butter
1 1/2 cups icing sugar, sifted
1/2 tsp. pure vanilla extract
1/8 tsp. salt
Place ingredients in a bread machine in the same order the manufacturer recommends. Select the dough cycle and press start. After the dough has doubled in size, turn out on a floured surface. let dough rest for about 10 minutes. In a small bowl, combine the brown sugar and cinnamon.
Roll dough out to a 16 x 21 inch rectangle. Spread the dough with the softened 1/3 cup butter and sprinkle with the cinnamon/sugar mixture evenly over the surface.
Roll up and slice into 12 buns. Place the buns on a 9 x 13 inch baking pan that was buttered. Cover and let rise until almost double. Preheat oven to 400 degrees and bake until a golden brown.
While baking, beat together the cream cheese, 1/4 cup butter, icing sugar (sifted) vanilla and salt. Spread the frosting on warm buns before plating and serving.
When guests tell you they taste just like the ones in the mall – just smile!
All credit for this recipe is from The Best of Bridge group. We have used this for years and as we are celebrating, with our kids and grandkids, our 30th Wedding Anniversary, I wanted to use it again. The  2020 Covid 19 year took a toll on everyone for sure.
2 lbs. Frozen Hash Browns
1 500 ml carton sour cream
2 tins cream of mushroom soup (Campbell's)
1/2 cup melted butter
2 cups of shredded cheddar cheese
light sprinkle of onion powder
parmesan cheese (or asiago)
Thaw the potatoes slightly for easier mixing. First mix the listed 6 ingredients and place in a 9″ x 13″ basking dish. Sprinkle the parmesan cheese on top and bake at 350 degrees for about 1 1/2 hours.
This will serve 8-10 people. Double it if there are more. I think I will.
Serving can be Brunch, Lunch or Dinner. Depends on you. But be sure to say "Thank you Ladies
Last night Don made this sauce for our BBQ chicken but after tasting it we joked it would be good on our eggs in the morning. Guess what? We did and it is fabulous. Don makes Paquette McMuffins every Sunday and we dobbed some on our egg and it was great.. Now he has made more for our steaks tonight.  Here it is.
1 cup ketchup
1/4 cup apple cider vinegar
1/4 cup brown sugar, Packed
1 tbsp. molasses
1 tsp. ground powdered mustard
1 1/2 Worchestershire sauce
1 tsp. garlic powder
1/4 tsp. onion powder
1/4 tsp. ground black pepper
2 tbsp. chopped fresh parsley (garnish)
Whisk all the ingredients until fully combined and smooth as silk. Cover and store in the refrigerator.
You won't have to worry about the shelf life because it won't last long enough to be wasted.
I wanted to make these for breakfast Sunday but I forgot how they grew. When done, I did not have a platter/plate to put them on and used my largest cookie sheet. But Oh so good!
20-24 frozen dough rolls
1 cup dark brown sugar (more if you wish)
1/3 cup instant vanilla pudding
2 tbsp. cinnamon
1 1/2 – 2 cups chopped pecans/pistachio nuts
1/2 – 3/4 cup  melted butter
The night before, spray a bundt pan with non-stick spray and set in the frozen rolls.
Now add the layers of ingredients and cover with a tea towel. Go to bed and in the morning…
Preheat oven to 350 degrees and bake these for 25 minutes. Leave them for about 5-8 minutes before trying to serve. Enjoy!!!!!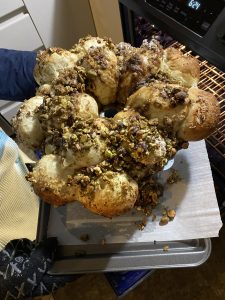 Sometimes you try something because it sounds good and this would be one of them. It is sooooo delicious!
2 frozen pie crusts (yes, it works really well)
3 trout fillets (approx. 8 ounces each)
pinch each of salt and lemon pepper
1 beef bouillon cube dissolved in 3 cups water
1 tbsp. olive oil
1 cup finely chopped onion
1 tbsp. chopped garlic
1 tbsp. finely chopped parsley
2 cups freshly mashed potatoes
1 egg
1/2 cup heavy cream
Preheat oven to 350 degrees. Season the trout with salt and pepper.
In a saute pan, bring the bouillon water to a simmer and add the trout to simmer for 7-8 minutes. Allow the trout to cool in the water until just tepid. Remove the trout and discard the liquid. Flake the trout in a bowl.
In another saute pan, heat the oil and when hot, add the onion and saute for 2 minutes. Remove from the heat and add the garlic and parsley. Add this to the trout and mix thoroughly.
Mash the potatoes and beat the egg into the cream before adding to the potatoes. Mix well and carefully add to the trout. Carefully mix together and now spoon the mixture into the pie shell. Place the second pie dough over the top and crimp the edges to seal completely. Bake for 25-30 minutes until a golden brown.
Honest…you won't believe just how delicious this is until you make it. It is wonderful.
If your house is like ours, Fridays are always a little special and this is one way to make it fun. You can curl up in front of the TV and make it a movie night with popcorn to be made later. See if you agree.
2 tsp. olive oil
2 cloves garlic, minced
1 tsp. fresh rosemary
1 1/2 lbs. lean ground beef
1/3 cup ketchup
1 tsp. Worchestershire sauce
pinch of salt and pepper
4-6 Kaiser buns, halved
2 cup cheddar cheese, shredded
2 cups baby spinach, stems removed
Heat the skillet on medium heat, adding the minced garlic, stirring for 60 seconds then add the rosemary. Stir until well mixed. Add the ground beef cooking until no longer pink, then add the ketchup, mustard, salt and pepper and stirring to mix well.
Halve the buns, butter them and place under the broiler until starting to bubble and brown on the rims. When ready to plate, add the cheese to the meat mixture and quickly stir together. Remove from the heat, pile equal portions on the bottom half of each bun, place a generous amount of spinach on top and place the top of the bun.
You can either serve the slaw on the side of the plate yourself or let everyone add their own. Either way, this is yummy. Pickles and a cold  beverage takes this over the top.