Last night Don made this sauce for our BBQ chicken but after tasting it we joked it would be good on our eggs in the morning. Guess what? We did and it is fabulous. Don makes Paquette McMuffins every Sunday and we dobbed some on our egg and it was great.. Now he has made more for our steaks tonight.  Here it is.
1 cup ketchup
1/4 cup apple cider vinegar
1/4 cup brown sugar, Packed
1 tbsp. molasses
1 tsp. ground powdered mustard
1 1/2 Worchestershire sauce
1 tsp. garlic powder
1/4 tsp. onion powder
1/4 tsp. ground black pepper
2 tbsp. chopped fresh parsley (garnish)
Whisk all the ingredients until fully combined and smooth as silk. Cover and store in the refrigerator.
You won't have to worry about the shelf life because it won't last long enough to be wasted.
I wanted to make these for breakfast Sunday but I forgot how they grew. When done, I did not have a platter/plate to put them on and used my largest cookie sheet. But Oh so good!
20-24 frozen dough rolls
1 cup dark brown sugar (more if you wish)
1/3 cup instant vanilla pudding
2 tbsp. cinnamon
1 1/2 – 2 cups chopped pecans/pistachio nuts
1/2 – 3/4 cup  melted butter
The night before, spray a bundt pan with non-stick spray and set in the frozen rolls.
Now add the layers of ingredients and cover with a tea towel. Go to bed and in the morning…
Preheat oven to 350 degrees and bake these for 25 minutes. Leave them for about 5-8 minutes before trying to serve. Enjoy!!!!!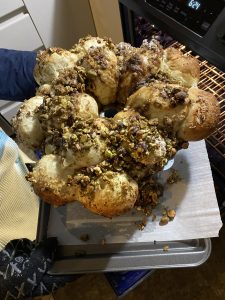 Sometimes you try something because it sounds good and this would be one of them. It is sooooo delicious!
2 frozen pie crusts (yes, it works really well)
3 trout fillets (approx. 8 ounces each)
pinch each of salt and lemon pepper
1 beef bouillon cube dissolved in 3 cups water
1 tbsp. olive oil
1 cup finely chopped onion
1 tbsp. chopped garlic
1 tbsp. finely chopped parsley
2 cups freshly mashed potatoes
1 egg
1/2 cup heavy cream
Preheat oven to 350 degrees. Season the trout with salt and pepper.
In a saute pan, bring the bouillon water to a simmer and add the trout to simmer for 7-8 minutes. Allow the trout to cool in the water until just tepid. Remove the trout and discard the liquid. Flake the trout in a bowl.
In another saute pan, heat the oil and when hot, add the onion and saute for 2 minutes. Remove from the heat and add the garlic and parsley. Add this to the trout and mix thoroughly.
Mash the potatoes and beat the egg into the cream before adding to the potatoes. Mix well and carefully add to the trout. Carefully mix together and now spoon the mixture into the pie shell. Place the second pie dough over the top and crimp the edges to seal completely. Bake for 25-30 minutes until a golden brown.
Honest…you won't believe just how delicious this is until you make it. It is wonderful.
This is an apology to our Italian friends, but it is good!
1 can tomato soup
1/2 can water
1 small tin tomato paste
1/4 tin water
1 spaghetti sauce mix envelope
1/2 cup half and half cream
1 1/2 tsp. oregano
1/4 tsp. garlic powder
6 frozen tomatoes
Put all in a medium saucepan and stir well to combine. Simmer for about 35-40 minutes and serve over ravioli, penne, or any pasta of your choice.
Simply add the garlic toast, crisp green salad and, of course, a glass of a chilled beverage.
Trust me, it is good.
If your house is like ours, Fridays are always a little special and this is one way to make it fun. You can curl up in front of the TV and make it a movie night with popcorn to be made later. See if you agree.
2 tsp. olive oil
2 cloves garlic, minced
1 tsp. fresh rosemary
1 1/2 lbs. lean ground beef
1/3 cup ketchup
1 tsp. Worchestershire sauce
pinch of salt and pepper
4-6 Kaiser buns, halved
2 cup cheddar cheese, shredded
2 cups baby spinach, stems removed
Heat the skillet on medium heat, adding the minced garlic, stirring for 60 seconds then add the rosemary. Stir until well mixed. Add the ground beef cooking until no longer pink, then add the ketchup, mustard, salt and pepper and stirring to mix well.
Halve the buns, butter them and place under the broiler until starting to bubble and brown on the rims. When ready to plate, add the cheese to the meat mixture and quickly stir together. Remove from the heat, pile equal portions on the bottom half of each bun, place a generous amount of spinach on top and place the top of the bun.
You can either serve the slaw on the side of the plate yourself or let everyone add their own. Either way, this is yummy. Pickles and a cold  beverage takes this over the top.
We made this up last week and I have to admit I am slow in getting it posted. It is truly delicious and not hard to put together.
8 oz. no yolk noodles
1 cup asparagus, cut into 1 inch pieces
about 16 large scallops, cut in half horizontally and ligament removed from the side.
pinch of salt and pepper
2 tbsp. butter
1/2 cup white wine
2 tbsp. water
2/3 cup heavy cream
Cook noodles in water until almost al dente, stir in the asparagus for about 2 minutes more. Drain and transfer to a platter, covered with foil to keep warm.
While cooking the noodles, rinse then pat the scallops dry and sprinkle with salt and pepper. Heat butter in a heavy skillet over medium heat until it begins to bubble and the foam subsides then add the scallops. Increase the heat and sear, turning once and cook through (about 2 minutes in total). Transfer to the platter with the noodles and keep warm.
Add wine to the skillet and deglaze, making sure to scrape up any of the brown bits for 60 seconds. Stir in the water and cream and boil to slightly reduce for about 3-4 minutes.  Simply pour the sauce over the noodles and scallop/asparagus mix. You could also plate out the noodles and asparagus and then pour the sauce over each portion. Either way, you won't have to wait long for all he oohs and ahhs.
I made this years ago and the longer it sits, the better it is, (I think).
9 lemons, peeled thinly, no white,
squeeze lemon juice into a bottle and place  in the refrigerator*
1 bottle vodka, plain – not flavoured
Okay, that is the hard part….Pour this into a container with a tight fitting lid and store in a cool, dark place for 20 days. Only the vodka and lemon skins.
Once a week, gentle move the peels in the container (do not open, just gently shake).
After the 20th day, boil 6 cups of water and add 3 1/2  cups white sugar. Stir this really well to dissolve the sugar. Strain the lemon solution and discard the peel. Add the lemon solution to the simple syrup and pour into clean and sanitized bottles. Make sure you have corks or similar tops.
This should be served really cold, in small glasses and sipped following a special dinner. In a word: YUM!!!!
*this way you will have freshly squeezed lemon juice for any recipe you may be making.
When we were on vacation a few years ago, we travelled with 2 ladies who became friends and one of them loved olives as much as my husband and these two would 'steal' the dishes of olives off all the other tables in the dining room. So…Liz and Don here is a recipe for the two of you (and any one else who loves these little critters).
3 tbsp. extra virgin olive oil
2 cloves garlic, minced
1 tsp. coriander seeds, crushed
1 large sprig of rosemary
2 bay leaves
zest from 1/2 orange, peeled in long strips with swivel peeler
pinch of red pepper flakes
16 oz. mixed olives like Liguria, kalamata, nicoise, cerignola (green)
1 tsp. fennel
zest from 1/2 lemon
In a skillet on medium high heat, put the olive oil, coriander seeds, herbs, orange and lemon zest, pepper flakes. Swirl the pan and heat this mixture until it becomes fragrant (about 3-4 minutes).
Add the olives and cook, occasionally stirring  until the garlic is golden and the zest begins to curl. This should only take about 2 minutes.
Serve these warm or room temperature.
As the reason for the lack of recipes being posted for a bit is we are in the sun and, yes, having fun. I ask that you follow me now on damnigottareadthis and you will be apprised of what there is to see, places to go and eateries we have been to.
Have fun and the recipes will be back soon.
p.s. the one thing we have become addicted to is avocado toasts in the morning with fresh fruit. OMG!
I have to put this recipe out and tell my son-in-law it is for him. He is the only person we know who goes crazy for saskatoons. Victor, this is for you.
Brownie Batter
1 1/2 cups salted butter
3 cups sugar
1 1/2 cups cocoa powder
eggs, beaten
1 1/2 cups flour
To make the brownies, melt the butter in a saucepan over low heat until thoroughly blended.
Remove from the heat and stir in the sugar until well mixed. Add the cocoa powder, stirring until smooth.
Add the eggs and stir well. Now add the flour and stir just until combined. Do not over mix. Pour into a prepared 9 x 13 pan.
Cream Cheese Topping
2 pkgs. cream cheese, softened and cubed
1/2 cup sugar
1 egg
1/2 tsp. vanilla extract
In electric mixer, place all n ingredients in the bowl and beat until smooth.
Drop by generous spoonfuls on top of the brownie mixture, followed by the sauce (recipe following). Take a butter knife and swirl the cream cheese mixture and sauce together, creating a pretty marbled look.
Saskatoon Sauce
2 cups fresh or frozen saskatoon berries
1 cup cold water
1/2 cup sugar
3 tbsp. cornstarch
1 tbsp. lemon juice
In a saucepan place the berries an 3/4 cup of water and bring to a slow boil over a medium heat, cooking for 10 minutes. Stir occasionally so as not to burn the bottom the saucepan.
Whisk briskly the cornstarch with the remaining 1/4 cup of water and then rapidly whisk into the berries.
Stir in the lemon juice, cooking until it thickens. remove from he heat. This should be the consistency of a pie filling. If you must add a bit more cornstarch.e for 45-50 minutes until the topping begins to brown  at the edges. The center will still be a bit wobbly. Remove from the oven and let set and cool for about 5 hours.
Store any leftovers in a covered container in the refrigerator for 2-3 days or in the freezer for about 3 months.
*Note. this recipe was in the Look magazine so enjoy.
I love Fish and Chips and this is the best way to make it and make it the right way. This recipe should feed 4 but if you are really hungary….just sayin', and make the tartar sauce below to go with it.
Crisco Oil for frying
1 cup flour
1 large egg, beaten
1 cup beer
2 lbs. cod or haddock
salt and pepper to taste
Heat oven to 375 degrees. Line a cookie sheet with paper towels and set a wire rack on top. Set aside.
In a medium size pot, heat about 3 inches of oil to a temperature of about 360-365 degrees.
Mix the flour with the 1/4 tsp. salt and then whisk in the egg until smooth and slowly add the beer.
Cut the fish into 3 inch strips, dip into the batter and carefully set on the wire to drain while you dip all the fish. Any leftover batter, just double dip what you can to use it all up.
Doing 2-3 at a time, cook the fish for about 3 minutes, turn over and cook until golden and cooked through. Set on the racks to drain and while hot, sprinkle with salt and place in the oven to keep warm while you finish all the fish off.
Now go and get the tartar sauce you made and set it on the table along with the french fries you have made. (your recipe – just make sure you double fry them for the best).
Tartar Sauce
1 celery stalk, cleaned and chopped fine
2 tbsp. finely chopped garlic dill pickles
1 tbsp. horseradish
1 tbsp. flat leaf parsley, finely chopped
1/4 tbsp. dry mustard powder
6 -7 tbsp. good mayonnaise (not salad dressing)
1 tsp. freshly squeezed lemon juice
pinch of salt and pepper
Combine in a bowl, mixing really well. Cover and place in the refrigerator for about an hour before serving. This is a real WOW tartar sauce.
Sorry, but we got to play B & B this past week and I missed doing it. Our guests were a lot of fun and so appreciative.
I will be back next week with recipes and we will carry on.
Thanks for staying with me. See you soon.