Oh my goodness! You gotta love these treats.
This recipe is for 4 burgers, so if you have more mouths to feed, simply adjust the recipe.
4 x 6 oz. Trout fillets
1 tbsp. kosher salt
1 tbsp. brown sugar
1 cup teriyaki sauce (we use Edo of Japan's Teriyaki  sauce)
1/2 tsp. sesame oil
1/2 cup mayonnaise
2 tsp. grated ginger
1/2 pineapple, cored and cut in 1/2 inch slices
3 tbsp. vegetable oil, divided
1 tsp. sesame seeds, toasted
4 lettuce leaves
4 Brioche burger buns
Sprinkle the trout with the salt and sugar. Place on a plate and refrigerate for about 15-20 minutes. Remove from the refrigerator and rinse them completely. Pat dry with paper towels.
Heat the teriyaki sauce in a small saucepan over a medium heat until it is reduced by almost half.
Preheat the bbq to a medium temperature and grease the grills with 2 tbsp. of the oil. Rub the remaining 1 tbsp. oil on the pineapple and trout.
Grill the trout for 3-4 minutes each side until you have reached your level of doneness, brushing with the teriyaki sauce.
Grill the pineapple slices 3 minutes each side. Remove the trout and pineapple from the grill.
Heat the buns on the top rack of the bbq.
In a small bowl, mix the mayonnaise, sesame oil and ginger well.
To assemble these delightful treats, spread the mayonnaise on both insides of the bun, place a fillet on the bottom bun and drizzle with any remaining sauce and sprinkle with the sesame seeds. Top each one with a pineapple slice and lettuce leaf. Add the bun top and you are ready to dine. Make sure you have a few napkins handy and, of course, a glass of chilled beverage (your choice).
Mother's Day is fast approaching and this dessert might give you brownie points for the next year. In a simple word Y U M !!!!!
1/2 cup plus 1 tbsp. sugar, split
1 large orange, zest and juice, separated
1/4 water
2 1/2 cups pistachio nuts, crushed
1/2 tbsp. cinnamon
pinch of salt
1/2 cup butter, more if you need it
1 tbsp. honey
10 thawed phyllo sheets
1/2 cup dark chocolate chips
1 tbsp. whipping cream
Preheat oven to 350 degrees and line a baking sheet with parchment paper. Set aside.
In a small saucepan over a medium heat, put in the 1/2 cup sugar, orange juice and water. When the sugar has completely dissolved, remove from the heat and set aside.
In your food processor combine the pistachio nuts, cinnamon, remaining 1 tbsp. sugar, salt and orange zest. Pulse on high until it resembles a fine sand. Reserve 1/2 cup of this mixture and set aside.
In a small heatproof bowl, microwave the butter and honey on high for 20 seconds or until melted.
On a clean, dry surface, lay out a sheet of phyllo. Brush the entire surface with the butter mixture. Lay a second sheet on top and repeat the procedure. Roughly divide the pistachio mixture into 5 portions.
With the long side of the pastry parallel to you, spoon out a portion of the mixture along the edge to form a 1 inch line. Now, gently and carefully roll this up to form a log. Repeat this step with the remaining 4 portions.
Place the Baklava on the baking sheet and place them snugly together. The space at the end won't matter. Brush the tops with the remaining butter mixture and bake in the oven for about 17-20 minutes. When they are a golden brown and crisp, remove from the oven and pour the syrup immediately over the rolls. Let cool for approximately 1 hour.
One more step to go. In a heatproof bowl combine the chips and whipping cream. Microwave in 15 second intervals until melted. Stir each time.
Now to serve: cut between the baklava to separate and then cut each log in 3 pieces. Dip each end in the chocolate and then in the nut mixture. Return to the baking sheet to allow the chocolate to set (about 10-15 minutes).
Place on a pretty plate and serve. They will never forget this one and you can say "damn, I did this".
On this side of the world we have similar food ideas and this one is truly a special one from Spain. It is an omelette but it is beautifully different.
1/2 cup olive oil
1 half onion, sliced very thin
2 medium yellow potatoes, peeled and sliced very thin
4 eggs, lightly beaten
pinch of salt and white pepper
3 tbsp. garlic aioli
100 g Serrano ham
small amount of baby spring greens
In a large fry pan, heat the oil to medium and cook the onions for about 2 minutes, just until they have softened. Now add the potatoes and gently stir. Cook this for about 15-18 minutes, stirring occasionally until the onions are caramelized and the potatoes are cooked through.
Drain off the oil, keeping 1 tbsp. in reserve. Transfer the potatoes and onion for a bowl and set aside for about 5 minutes. Add the eggs, salt and pepper and stir to combine. Let this sit for 15 minutes so the eggs can thicken up as it becomes absorbed.
Now heat the 1 tbsp. oil and over a high heat, add the egg mixture, cooking for 1 minute. Reduce the heat to low and cook a further 3 minutes. With a rubber spatula loosen the sides of the omelette. Place a large plate over the pan and turn it upside down on the plate.
Now, this is tricky, turn it back in the pan and cook a further 4-5 minutes to cook through and become golden in colour.
On a serving board, cut into wedges, add the ham on each slice and a small topping of the greens.
WOW!
Don loves making crepes, so I went back into my cookbook and found this one. We made this often in our Bed and Breakfast, and was always a favourite when guests returned. It is not difficult and it is another die-for recipe.
Crepes
4 beaten eggs
2 tbsp. sugar
1/2 cup melted butter
1 1/2 cups flour
1 tsp. salt
3/4 tsp. ground nutmeg
1 2/3 cup milk
Mix together the first three ingredients: eggs, sugar and butter. Mix in the same bowl the dry ingredients: flour, salt and nutmeg, alternating with milk. Combine all the ingredients as above and pour into a blender, blending until smooth. If making the day ahead, cover and refrigerate. When ready to proceed, blend again.
Line plate with parchment paper. Heat 9 inch nonstick skillet over medium heat. Add 2 tbsp. batter to the skillet, tip and rotate to spread the batter evenly. Cook until the center of the crepe is cooked through and edges are slightly browned (about a minute). Run a spatula around the crepe and invert onto the plate. Repeat with remaining batter placing parchment paper between each crepe, making at least eighteen crepes.
Butter Sauce
6 tsp. unsalted butter
1/2 cup sugar
1/4 tsp. kosher salt
3 tbsp. Calvados
Make this first in the morning. Put all the ingredients in a pot and boil for about 10-15 minutes and brush on crepes before folding.
Apples
2 tbsp. unsalted butter
2 medium Golden Delicious apples, peeled, cored and cut in 1/3″ cubes
3 tbsp. sugar
1/4 tsp. kosher salt
1/4 tsp. ground cinnamon
3 tbsp. Calvados
Melt the butter is a large skillet over medium heat. Add apples, sprinkle with sugar, salt and cinnamon. Saute until tender (about 3 minutes). Add the Calvados and cook most of the liquid away (about 2 minutes). Remove from heat and let stand  to room temperature.
Preheat the oven to 300 degrees. Place crepe stack on rimmed baking sheet (yes, keep the paper between the layers). Cover with a sheet of foil and seal the edges. Warm in the oven until heated through. If the crepes are cold – 20 minutes and only 15 minutes if at room temperature.
Heat the Calvados butter sauce in a small saucepan until melted and heated through. Re-warm the apple mixture, stirring occasionally for about 3 minutes. Place one crepe on a plate, browned side down. Spoon 2 tbsp. of the Calvados sauce over the crepe and fold into quarters. Repeat with remaining crepes and butter sauce. Place three on a plate, spoon the apples over the crepe and, if there is any sauce left over, spoon it over the crepes and serve.
This may look daunting but if done in the stages shown here, it is AMAZING.
At a family reunion a couple of years ago, I had Porchetta for the first time. OMG! Take the time and go for it. Here again, you can proclaim "damn I did this".
1 tbsp. chopped Rosemary leaves
2 garlic cloves, minced
pinch of pepper
1 tsp. crushed fennel seeds
1 tsp. red pepper flakes
2 tsp. kosher salt, plus extra for seasoning
3 lb. boneless pork belly
1 tbsp. grapeseed oil
1 cup dry white wine
In a small bowl, mix together the first 6 items and set aside.
On a cutting board, place pork skin-side down and score a criss-cross pattern with a sharp knife, inserting only to about 1/2 inch deep. Rub the meat all over with the spice mixture. Roll this up, skin side out and tie with twine in a pattern to keep in shape. Place on a plate and wrap with plastic wrap putting in the refrigerator over night.
Remove the meat from the refrigerator and bring to  room temperature for a minimum of one hour.  Preheat your oven to 400 degrees.
Place the meat on a rack set into a roasting pan and rub all over with the oil. Season lightly with kosher salt and roast for about 30 minutes. Reduce the temperature to 350 and bake a further 2 hours.
At the end of the 2 hour bake, increase the oven temperature to 425 degrees and bake a further 30 minutes to crisp up the skin. Remove from the oven and allow to rest 30 minutes.
Cranberry Pear Relish
Make this up while the meat is cooking.
6 oz. fresh cranberries
1 large pear, diced to get 3/4 cup
1/2 cup sugar
1/2 cup water
pinch of kosher salt
1/3 cup chopped toasted pecans
Add everything up to the pecans in a saucepan and cook for about 18-20 minutes until the cranberries have burst and the sauce has thickened.
Pour into a sealed container and set in the refrigerator for about 2 hours. Just before serving, add the pecans.
Making the Sandwich
8 Ciabatta rolls, cut in half lengthwise
Mayonnaise
chopped iceberg lettuce
To assemble, butter the buns and spread some mayonnaise on one side and on the other, spread some relish. Top with the pork belly and crispy skin, add some lettuce and put together. Now for the hard part: ENJOY!!!
Here is a nice cake to serve when special guests will be at your table (yes, this means family as well). Get ready to tickle your taste buds.
7 tbsp. butter, room temperature
2/3 cup plus 1 tbsp. sugar, divided
2 eggs, room temperature
2/3 cup full fat sour cream
2 tbsp. milk
1 tsp. vanilla extract
1 tsp. almond extract
1 cup cake flour
1/2 cup almond flour
1 tsp. baking soda
1 tbsp. baking powder
1/4 cup candied ginger, diced
1 tbsp. lemon juice
1 tbsp. Baileys liqueur (or water)
1 1/2 cups dried cranberries
2/3 cup icing sugar
1/2 cup toasted sliced almonds
Preheat oven to 350 degrees. Butter a 9 inch springform pan and place a parchment paper disc on bottom.
In your mixer, cream together the butter and 2/3 cup sugar on high until light and really fluffy (about 3-4 minutes). Now add the eggs, sour cream, milk, vanilla and almond extracts. Mix for a full 60 seconds to blend and set aside.
In a separate bowl mix together the flours, baking soda and baking powder. Add this carefully to the egg mixture and combine. Add the ginger and 1 cup cranberries and blend.
Pour this batter into the pan and bake for 40-45 minutes, until tested in the center and it comes out clean. Set on a rack and cool completely. In a bowl, mix together the 1 tbsp. sugar and remaining berries to coat.
In a small bowl, mix the lemon juice, liqueur and icing sugar into a thick glaze and drizzle over the cake surface. Sprinkle the candied berries on top.
Slice and present to your guests….the ones with the eyes popping at the sight of your dessert. Yup! you made it…damn!
This is a super recipe both for chocolate lovers and company. Take a read and you will see.
1 stick of butter (1/2 cup), more for the molds
flour for dusting the molds
2- 2 1/2  tsp. flour
4 ounces bittersweet chocolate
1/4 cup Nanaimo Bar Liqueur (Forty Creek)
2 whole large eggs
2 large egg yolks
1/8 cup sugar
Butter really well 4-4 oz. ramekins or custard cups, dust with flour and repeat both the butter and flour. Tap to remove excess flour. Set aside.
Place the butter, chocolate and liqueur in a heat proof bowl set over a pot of simmering water and heat until the chocolate has melted stirring with a spatula to keep it silky smooth.
In your electric mixer beat together the eggs, yolks and sugar until light and very thick.
Add the melted chocolate mixture, beating to combine and quickly beat in the flour until just combined and divide evenly in the dishes.
Heat the oven to 450 degrees. Place the molds on a baking sheet and bake until the sides have set but the centers are still soft. This should take about 7-8 minutes.
Invert each mold onto a plate and let sit for 10 seconds. Unmold by lifting one corner of the mold and the cake should fall out onto the plate. Be sure to serve immediately with a generous dollop of whipped cream and a little drizzle of the liqueur.
Serve with a fresh, hot cup of coffee or……
Believe me, you will think you hear the angels singing.
This recipe is for 2 so increase the amounts as needed for those sitting at the table please. It is colourful, tasty and dressed with a pomegranate vinaigrette.
3 cups lettuce, torn into bite size pieces
1 Anjou pear
1/3 cup of pomegranate seeds
1 tbsp. Crisco oil
2 tbsp. pomegranate juice
1 tbsp. fresh lime juice
1 tsp. Dijon mustard
1/2 tbsp. honey
crumbled goat cheese
sprinkle of chopped pecans
Divide the lettuce between two plates, halve and core the pear, then into slices.
Divide the pear and pomegranate seeds and add to the lettuce. Mix together very gently.
Combine the next 5 ingredients in a saucepan. Bring to a boil over a high heat, then reduce and simmer until it thickens (2-3 minutes). Pour the warm liquid over the salad and top with the crumbled goat cheese and pecans.
Serve with warm dinner rolls, glass of the grape and enjoy.
In a word YUMMY!
Don is a wonderful cook (Chef) and when he tries something new, you know it is going to be great. Here we go:
2 cups flour
2 tsp. baking powder
1 tsp. baking soda
pinch of salt
2 tbsp. sugar
2 cups buttermilk (full fat)
2 large eggs,
1 tsp. pure vanilla
In a bowl, whisk all the dry ingredients together.
Whisk in the buttermilk, eggs and vanilla just to well combined. Set aside on the counter for 10 minutes.
Heat a large griddle (skillet) and spray with a non-stick cooking spray.
Ladle 1/2 cup of batter on the griddle and flip only when bubbles appear and then cook until golden brown in colour. Continue until all the batter has been used up.
Like always, serve with butter and your favourite syrup or fresh fruit and whipping cream. Add a cup of piping hot coffee to the table and you will have a wonderful rest of the day. True!
Whoa! What a way to use up leftover baked ham.  We love this one. Take a peak at the photo and you can see why.
1/4 cup butter, cubed
2 cups cauliflower chunks
2 cups asparagus, peeled and cut in 3 inch sections
1/2 lb. sliced fresh white mushrooms
3 medium carrots, sliced into 3 inch toothpick sticks
1/2 cup flour
1 1/4 cups 2% milk
1 1/4 cups vegetable broth
1 3/4 cups cubed, fully cooked ham
2 tbsp. minced fresh parsley
1/4-1/2 tsp. ground nutmeg
pinch of pepper
1 sheet frozen puff pastry, thawed
1 large egg, beaten
Preheat oven to 425 degrees. In a large saucepan heat butter over medium heat and add the cauliflower, mushrooms and carrots, cooking and stirring until tender.
Stir in the flour until blended. Gradually add the milk and broth. Bring to a boil, stirring constantly and add the asparagus, cooking until thickened (about 2 minutes). Remove from heat and add the ham, parsley, nutmeg and pepper.
On a lightly floured surface, roll the pastry to 1/2 inch thickness. Using a 10 oz. ramekin to use as a template, cut 4 tops for the pies. Fill 4 buttered ramekins with the vegetable mixture and top with the pastry. Cut slits in the pastry to allow steam to escape and brush each top with the beaten egg.
Bake for 19 minutes and let stand at least 5 minutes before serving. Add a green salad, glass of wine and enjoy! We did and there is no ham left.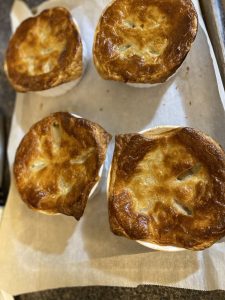 YUM! What a wonderful soup to prepare and enjoy with your homemade croutons and a little fried sage as a garnish. The cooler (cold) weather is coming and it is a nice way to start the season.
1 lb. cubed, peeled butternut squash
2 garlic cloves, smashed
1 generous sized sweet potato, peeled and cut in cubes
1 onion, chopped
3 tbsp. good olive oil
pinch of white pepper
1 tbsp. butter
1 McIntosh apple, peeled and chopped
1 900 ml vegetable broth (no salt)
1/3 cup whipping cream
2 tsp. lemon juice
Preheat oven to 400 degrees. In a large bowl toss together the squash, garlic, potato, onion, pinch of salt and pepper mixing well. On a baking sheet lined with parchment paper, spread the mixture out and bake for 15 minutes, turn the vegetables over and bake a further 15-17 minutes until tender.
In a large pot, melt the butter over a low heat and cook the apple until soft,  stirring gently for about 6-7 minutes. Stir in the vegetable mixture and pour in the broth bringing up to the boil. Reduce the temperature and simmer for about 5 minutes.
Remove from the heat, add the cream and lemon juice. Blend this until smooth. Now the fun part, strain back into the pot so you have a perfectly smooth soup. Don't cheat or it won't be the same.
Croutons
7 tsp. olive oil
2 slices white bread cut into 1/2 inch cubes
2-3 tbsp. finely grated Asiago cheese
In a skillet, heat the oil and cook the bread for about 5 minutes, tossing until a golden brown. Remove from the heat and toss with the grated cheese. You are almost done.
Sage
1 tbsp. olive oil
6-7 sage leaves
In a small frypan cook the sage leaves until crisp (about 3 minutes). Remove from the pan and place the leaves on a paper towel to cool.
To serve, heat the soup up and ladle into pretty bowls, top with the croutons and a leaf or two.
Now you can proudly say "damn I did this".
Don wanted to make a shrimp salad tonight for dinner but Kelly and I changed it to a Po' Boy. It was soooo delicious. Try it and I know you will love it as well. Beats a heavy dinner and could also make a super lunch.
2 lbs. peeled and deveined shrimp
kosher salt and freshly ground pepper to taste
2 tbsp. freshly squeezed lime juice
1 cup finely diced celery
2 thinly sliced scallions
2 tbsp. freshly minced tarragon leaves
2/3 cup Hellman's mayonnaise
4-6 Brioche buns, warmed in the oven
In a large saucepan add 7 cups of water and turn the heat to medium. Cook the shrimp for about 8-9 minutes, stirring them gently occasionally until they turn pink and are firm to the touch. Drain off the water.
Cut the shrimp in half in the middle and place in a bowl to cool down. Tamp with a paper towel to remove any excess water.
When cool, add the lime juice, generous pinch of salt and half that of pepper. Add the celery, scallions, tarragon and mayonnaise mixing well to combine then place in the refrigerator for about an hour.
Place the brioche buns in the oven to get warm (not toasted), and butter each side. Fill each bun with as much shrimp as the bun could possibly hold. Cut the sandwich in half, set on a pretty plate add several napkins, a glass of wine and my, oh, my, you will think you hear angelic music.
These are so awesome.