This site has several recipes for making Quiche. Well, friends, here is another one.  Don baked a beautiful ham and, of course, we had some leftovers. There is no crust to worry about and, if you really want to be a tad 'lazy', serve it with some frozen hash browns. Just sayin'.
2 tbsp. dry plain bread crumbs (can make your own)
1 tbsp. butter
1/2 cup chopped fine onions
1 1/4 cup of diced cooked ham
8 oz, shredded Swiss cheese
4 large eggs
1 cup whipping cream
1 cup whole milk
Preheat oven to 425 degrees.
Butter a quiche dish or pie plate and sprinkle in the bread crumbs all over to cover the pie plate.
Cook the onions in the butter until golden in colour. This should take about 5 minutes. Add the ham and cook only enough to warm it up. Spread this mixture on the bottom of the dish and sprinkle the cheese on top.
Whisk together the eggs, cream and milk and when well blended, carefully pour over the cheese. Set plate on a baking tray lined with parchment paper (in case it runneth over) and bake until the top is golden and set in the center. This could take 20 minutes.  Reduce to 375 degrees for a further 20 minutes. Test for doneness. Add 2 minutes if needed. Cool for about 5-6 minutes, before cutting in wedges.
If this is breakfast or brunch fare, serve with hash browns. If it is a main lunch serve with a beautiful green salad, warm buns and a glass of lovely white wine.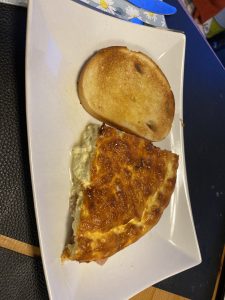 This recipe is for 2 so increase the amounts as needed for those sitting at the table please. It is colourful, tasty and dressed with a pomegranate vinaigrette.
3 cups lettuce, torn into bite size pieces
1 Anjou pear
1/3 cup of pomegranate seeds
1 tbsp. Crisco oil
2 tbsp. pomegranate juice
1 tbsp. fresh lime juice
1 tsp. Dijon mustard
1/2 tbsp. honey
crumbled goat cheese
sprinkle of chopped pecans
Divide the lettuce between two plates, halve and core the pear, then into slices.
Divide the pear and pomegranate seeds and add to the lettuce. Mix together very gently.
Combine the next 5 ingredients in a saucepan. Bring to a boil over a high heat, then reduce and simmer until it thickens (2-3 minutes). Pour the warm liquid over the salad and top with the crumbled goat cheese and pecans.
Serve with warm dinner rolls, glass of the grape and enjoy.
In a word YUMMY!
Christmas is a short time from now and with all the hustle-bustle going on in your house, here is one of the easiest and tastiest bites to offer your family and guests.
8 slices of paper thin prosciutto (1 slice per person actually)
8 fresh but ripe figs, cut in half lengthwise
1 tbsp. of Balsamic Vinegar of Modena*
2 oz. Asiago cheese, shaved into strips using your vegetable peeler
On individual plates, arrange the prosciutto, 2 fig halves (drizzle the Balsamic vinegar over) and a strip or two of the cheese. Add a couple of your best crackers and you will have an easy-peasy bite.
This will, of course, go with any other tidbits you have. Also, have napkins, clean glasses to serve your beverages of choice in, lit candles and enjoy the company at hand.
Note: * The label reads Vinaigre Balsamique de Modene
This is a really great cookie – easy to make, no baking involved and much, much easier to eat. Well, after all it is the Christmas Season, right?
1 – 4 oz. cream cheese
2 tbsp. milk
2 cups sifted icing sugar
2 tbsp. unsweetened chocolate baking liquid
1/2 tsp. vanilla
3 cups mini marshmallows
coconut for dipping
Beat cream cheese and milk until completely smooth. Beat in the sugar until smooth. Add the chocolate liquid and vanilla and mix really well.
Add the marshmallows until all have been coated with the chocolate. Drop by tsp. into the coconut, tossing until completely coated. Chill until firm.
These should be stored covered in the refrigerator. These make approximately 4 dozen cookies.
This is one of Don's recipes for the trusted barbeque. It is very, very tasty.
1 whole trout (on the larger size)
8 garlic cloves
pinch of salt
4 tbsp. fine herbs
2 tbsp. minced dried tomato
1 small tomato, minced
1 1/2 tsp. dill weed
1/4 cup good olive oil
Chop the garlic very fine and combine with the remaining ingredients and store in the refrigerator overnight.
When ready to use, oil the grill.
Cut the fish on the side so it can be stuffed but do not separate. do not cut the skin. Fill with 1/2 of the mixture. Place skin side down on the bbq at a low temperature for 12-15 minutes. Fill with the remainder of the mixture and bbq on medium until done (5-10 minutes).
Cut into fillets and serve with a lovely green salad, warm brioche buns and a chilled glass of the grape.
Wow! This is really tasty and you will enjoy it many times.
Since yesterday was declared "National  Pasta Day", Don followed through with this wonderful delight. It is so yummy, there won't be leftovers.
6 slices of bacon, cooked crisp and chopped
3 eggs, room temperature
1/4 cup heavy cream, room temperature
1 pound pasta (your choice)
3/4 cup Asiago cheese, finely grated
4 tbsp. parsley leaves, chopped fine
6 large mushrooms, sliced
Step one is the bacon.  Set this in a bowl and fry the sliced mushrooms until cooked, turning over to lightly brown. Then in a medium bowl, beat the eggs and cream until well blended. Season lightly with salt and white pepper. Stir in the cheese, saving 2 tbsp. for later.
In a large pot, cook the pasta in boiling water for about 10 minutes until al dente, do not rinse with water. but just strain and return pasta to the pot. Add the bacon and mushrooms mixing well and add to the cream mixture to completely coat the pasta. Portion this out into your favourite pasta bowls and sprinkle with the remaining Asiago cheese.
Note:  You have to work quickly while the pasta is hot to cook the cream mixture enough but not allowing it to curdle. This is so so good.
I have always loved fresh figs and when we lived in the Okanagan, our kids bought us a fig tree for a house warming. So this is the tie-in for the recipe below.
Two nights ago, while skimming some very old cooking shows Don has kept, I found this one and I made it yesterday. It is to die for. Put on a cracker with a beautiful white cheese, and a dollop of this and it makes a wonderful finger food to enjoy OR use as a dessert with a cheese tray, some grapes and this in a bowl. Let your guests make their own up. Easy, inexpensive and ooooohhhhh so good!
1 vanilla bean, split and seeds scraped
2 tsp. grated orange zest
3 1/2 cups sugar
1/2 cup freshly squeezed orange juice
2  lbs. fresh figs
Put the vanilla bean and all the seeds, orange zest, sugar and orange juice in a large sauce pan.
Trim the bottom ends and remove the stems of all the figs and discard. Quarter each one and put in the sauce pan and bring to a rapid boil. Boil hard for 1 full minute stirring constantly so it won't stick to the bottom of the pan and then reduce the temperature, cover the pot and cook for 1 hour.
Remove the vanilla bean and discard. Let this cool down completely. It will thicken up beautifully.
*Note This recipe was from Ina Garten and it is wonderful. Remember to think ahead and put together all the little finger foods you can prepare and use throughout the holidays seasons fast approaching.
It is not too late to make these and celebrate the New Year. Read it through and  you will see that it is not intimidating.
Filling
1/2 lb. ground pork
1/4 lb. shrimp, peeled, deveined and minced
2 water chestnuts, finely chopped
1 scallion, finely chopped
1 egg yolk, lightly beaten
3/4 tsp. white wine
pinch of garlic powder
Sauce for Dipping
4 tbsp. soy sauce
4 tbsp. rice wine vinegar
Make sure the won ton wrappers are at room temperature.
Combine the ingredients for the filling in a bowl and let rest for about 30 minutes.
Lay out 1 wrapper. Place 1/2 – 1 tbsp. filling on the wrapper. Fold the ends toward the middle and pinch to seal. Set aside on parchment paper. Continue until all the filling is used.
Combine the ingredients for the dipping sauce in a small saucepan and bring to the boil. Remove from the stove and cool to room temperature.
In a large frying pan, add a few inches of water. Place the dumplings in one layer in a
Chinese steamer. Place covered steamer in the frying pan and steam for 4-5 minutes or until cooked through.
Serve with the dipping sauce. Makes a great appetizer for 7-8 people.
*If you have a wok, that would be super as well to use.
When you hear "It's Hockey Night In Canada"  you know a quick and easy dinner is in the mix. This is a fun meal to make and, of course, simply devour with great conversation, banter about what team is going to win, or just enjoy those sitting down at the table with you.
1  1/2 lb. extra lean ground beef
1/2 cup Panko breadcrumbs
1/4 finely chopped onion
1/4 cup ketchup
2 tsp. mustard
pinch of salt
3 slices bacon, cooked crisp, crumbled
4 large potatoes, peeled, cut in 2 inch cubes
1 head of garlic
olive oil
whipping cream
1/4-1/2 cup Philadelphia cream cheese
butter
1 – 1 1/2 cups shredded Monteray Jack Cheese
2-3  Roma tomatoes, halved, seeds removed, chopped
1/2 green Bell pepper, finely chopped
Heat oven to 375 degrees. Cut the top off the garlic, and in a piece of tin foil, place the head and pour a tbsp. of olive oil over and then seal. Cook in the oven for about 40-50 minutes until soft and caramelized. Remove from the oven and cool down for about 10 minutes.
Mix the ground beef, breadcrumbs, onion, salt, ketchup, mustard until well combined. Press this into a 9 inch pie plate over the bottom and up the sides. Bake for about 15 minutes.
In a pot of water, peel and cut the potatoes in chunks. Cook until tender and then process in your electric mixer with a copious amount of  butter, the cream cheese, squeeze the flesh out of the garlic and discard the skins, 1/4 – 1/3 cup of whipping cream (not too much or it becomes watery). When mixed and smooth, spoon into the meat crust and smooth the top.   Sprinkle the cheese over the surface of the potatoes. In a circle on top sprinkle the tomato, crisp bacon and green pepper.
Return to the oven and bake a further 15-20 minutes until hot and the cheese has melted. Serve with a crisp, chilled salad, garlic/cheese toast and, without fail, a cold beer or glass of wine.
This dinner is coming to you in a short time (25 minutes total) and therefore, is an easy during-the-week dinner. Add a salad, vegetable and you're done.
3 large, unpeeled garlic cloves
4 small skinless, boneless chicken breast halves or cutlets
2 tbsp. butter
1/2 cup Chardonnay wine
1/2 cup chicken broth
1 tbsp. fresh chopped tarragon
2 tbsp. heavy whipping cream
Heat a small nonstick frypan over medium heat. Add the garlic, cover and cook until browned in spots and tender when pierced. Turning occasionally (8-10 minutes). Transfer to a work surface and cool.
Melt butter in the frypan and add the chicken, cooking until browned and thoroughly cooked. Remove chicken to a plate (do not clean the frypan before the next step).
Peel the garlic and add the garlic and wine back into the frypan, mashing the garlic with a fork (about 1-2 minutes). Add the broth and tarragon, simmer until it has reduced by half. Add the cream and simmer for about a minute. Return the chicken back into the pan and heat through. Transfer to a plate and spoon the sauce over.
What did I tell you? Easy and yummy….
I like Biscotti with a cup of freshly brewed coffee but I do not like the commercially prepared cement blocks.  Homemade is better in texture, flavour and taste.  Try it and see if you feel the same.
 3 cups flour
5 1/2 tsp. baking powder
pinch of salt
1/2 cup coarsely chopped almonds (toasted)
4 eggs
1 tsp. almond flavouring
4 squares semi-sweet chocolate squares, melted
1 cup dried, chopped mangoes
2 lemons, grated peel
2 lime, grated peel
1 orange, grated peel
Combine the flour, baking powder, salt, sugar and chopped almonds.  Whisk the remaining ingredients together.  Add the wet ingredients to the dry and really mix this well. It will be a very stiff dough.
On a parchment lined cookie sheet, divide the dough into 2 pieces and roll into logs.  They should be about 3 inches wide and as long as your cookie sheet.  Try to square off the ends and bake for 25 minutes.
Remove from the oven and slice each log on the diagonal.  On a second, parchment lined cookie sheet, lay the slices on their side.  Reduce your oven to 350 degrees and bake another 10 minutes.  Turn them over and bake a further 10 minutes.  Cool completely and store in an airtight container.
Now, clean up the kitchen, make a fresh pot of coffee, grab a friend or magazine….put a couple of biscotti on a plate and enjoy!