I will start off by saying we forgot to take a picture because we ate this dish all up and then declared "hey, we didn't take a picture". Sorrrrry! It is delish.
1 lb. mushrooms
4 cloves garlic
5 sprigs of fresh thyme
4 – 6 oz. skin on Trout fillets
pinch of salt
pinch of pepper
2 tbsp. olive oil
2 tbsp. butter
Clean the mushrooms and cut in quarters. Mince the garlic cloves and strip the leaves off the thyme sprigs. With a paper towel pat the trout dry and sprinkle with the salt and pepper.
Heat the olive oil in a large non-stick skillet that has a cover until it starts to shimmer. Add the trout, skin side up, and sear until a golden colour (3 1/2-4 minutes).
Remove the fillets, skin side down, on a plate (we know it is not cooked through yet). Melt the butter in the skillet and add the mushrooms and sear, without touching, until the bottoms are well browned. Now add the garlic and thyme. Sprinkle with a touch of salt and pepper, cook stirring once or twice until the mushrooms are just tender (about 3 minutes).
Reduce the heat to a medium temperature and now return the trout skin-side down in the pan letting them nestle into the mushrooms. Cover and cook until the desired doneness (2 -5 minutes). Use a thermometer to see that it registers between 135 – 145 degrees for a medium rare cook. Longer if you want it more well done.
Serve with a crisp garden salad.
This is so yum!
This is a simple but amazing appetizer to make and enjoy on your deck this summer. I use the brown and white button mushrooms (the really nice large size) but you can use whatever mushrooms you like. Try to avoid the tiny ones for fear you would over cook them.
1 lb. mushrooms
1/4 cup butter
1/2 tsp. lemon zest
2 tsp. freshly squeezed lemon juice
3 tbsp. olive oil
2 tbsp. finely minced shallot
1/2 tsp. minced garlic
pinch of salt
pinch of pepper
2 tbsp. fresh parsley, finely chopped
Artisanal bread, toasted
To begin, brush the mushrooms to remove any debris, remove the stems and cut each mushroom in as equal a size as you can and set aside.
In a large frypan, melt together the butter, lemon zest and juice. Stir in the mushrooms and toss them in the pan to coat. Cover and let cook for about 5 minutes. Remove the lid and add the olive oil. Increase the heat and cook for about 2 minutes.
Reduce the heat to low and cook, stirring occasionally, for about 15 minutes. Stir in the shallot, garlic salt and pepper and cook for about 4-5 minutes until they become tender and have softened.
Remove from the heat, add the salt and pepper. Toast your bread and sprinkle the mushrooms with the chopped parsley leaves. Enjoy!
It is truly a different way to serve mushrooms but is truly fantastic to consume.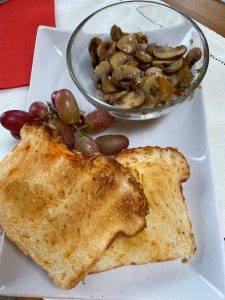 Our family loves muffins.. all kinds. Kelly has me making the smaller size muffins for her lunches, this way you are not so filled up with the larger size. Your choice. This recipe calls for one or the other berry, or, if you want to be really different, use both.
1 cup rolled oats (not the instant kind)
1 cup buttermilk
1 cup flour
1 tsp. baking powder
1/2 tsp. baking soda
pinch of salt
3/4 cup brown sugar, packed
1 beaten egg
1/4 cup butter, melted
1 – 1 1/2 cup berries
Combine the rolled oats and buttermilk and let stand. Combine the next 5 ingredients in a bowl and mix well to blend.
Add the egg and melted butter to the oat mixture. Mix really well. Now add the dry ingredients, mixing only so all is moistened. Now gently add the berries, folding to incorporate.
Fill 12 muffin cups that have been sprayed  with Pam and bake for about 20-23 minutes in a 375 degree oven. The tops should spring back when lightly touched.
Note:
If you do not have any buttermilk in your refrigerator, don't panic. Put 1 tbsp. lemon juice in a cup and add the milk to make 1 cup. Let stand for 5 minutes and then stir.
This is delicious and really easy to make. Give it a try.
1 tbsp. good olive oil
1/2 cup chopped onion
2 cloves garlic, minced
pinch of salt
1/4 tsp. dried basil
1/4 tsp. dried oregano
1/4 tsp. fennel
pinch of pepper
8 whole large Roma tomatoes
1 – 15 oz. can of tomato sauce
1 cup water
1/2 tsp. sugar
1/2 tsp. red wine vinegar
In a heavy pot, heat the oil over medium heat and add the onion, garlic, salt, spices and cook until soft. This should take approximately 5 minutes.
Place the tomatoes in a large bowl and squeeze to break into small pieces. Add the tomato sauce, water and sugar in the pot and stir well. Bring to a simmer over medium high heat.
Reduce the temperature to low and simmer, uncovered, for 45 minutes. Stir occasionally with a wooden spoon.
This is one of Don's recipes for the trusted barbeque. It is very, very tasty.
1 whole trout (on the larger size)
8 garlic cloves
pinch of salt
4 tbsp. fine herbs
2 tbsp. minced dried tomato
1 small tomato, minced
1 1/2 tsp. dill weed
1/4 cup good olive oil
Chop the garlic very fine and combine with the remaining ingredients and store in the refrigerator overnight.
When ready to use, oil the grill.
Cut the fish on the side so it can be stuffed but do not separate. do not cut the skin. Fill with 1/2 of the mixture. Place skin side down on the bbq at a low temperature for 12-15 minutes. Fill with the remainder of the mixture and bbq on medium until done (5-10 minutes).
Cut into fillets and serve with a lovely green salad, warm brioche buns and a chilled glass of the grape.
Wow! This is really tasty and you will enjoy it many times.
This is Don's latest wonderful dish that he made to go with the baked ham on the weekend.
You can't leave them alone and if anyone asks for leftovers, you can ask them what is a leftover?
1/4 cup butter, cubed
1/3 cup flour
3/4 tsp. salt
1/2 tsp. dry ground mustard
1/2 tsp. pepper
2 cups half and half cream
1 cup shredded Monterey Jack Cheese
1 cup shredded Edam cheese
6 cups thinly sliced Potatoes  (we had a mix of Yukon gold and Russet in the cupboard.)
1/2 finely chopped onion (on one side only**)
Preheat oven to 350 degrees. In a large saucepan, melt the butter and whisk in the flour, salt, mustard and pepper until well blended and smooth. Cook and stirring constantly gradually whisk in the cream and bring to a boil still stirring for about 2 minutes until thickened. Remove from heat. Add all the cheese in.
Layer the potatoes in a buttered baking dish and on one side only (* explanation follows) add the onion. Repeat the layers and pour the sauce over the entire surface.
Bake, covered for about 45-90 minutes depending on thickness of slices.. Uncover and bake for about 2-3 minutes so the top becomes lightly browned.
**The reason for the onion on one side only is I don't eat onions. Sometimes, obviously, they must be in the dish, but I guarantee you I will find them and remove them. Not for you of course.
Our dear neighbour brought us a cake like this, only using a different nut, and it was gorgeous. Well, here is our version. Give it a try, you may love it like we do. Just sayin'
1 cup flour
1 tsp. baking powder
1/2 tsp. baking soda
1 tsp. ground cinnamon
1/4 tsp. nutmeg
pinch of salt
1/3 cup butter, room temperature
3/4 cup brown sugar, packed
1 tsp. pure vanilla extract
2 tbsp. half and half cream
2 large eggs
2 – 2 1/2 cups Granny Smith apples, peeled and cut in 1/2 inch cubes,
1/2 – 3/4 cup coarsely chopped pecans
Pam spray
Preheat oven to 350 degrees. Place  the first 6 items in a bowl and gently whisk to combine.
In your electric mixer, add the butter, sugar and vanilla and beat for about 3 minutes so to make it light and fluffy (more if needed). Now lightly beat the eggs together adding to the mixer, along with the cream. Mix this really well.
Add the apples and pecans to the flour mix to coat them well and then add this to the wet mixture and mix only until the batter is thick.
Spray a 9 inch springform pan with oil spray. Spoon the batter into the pan, spreading with a spoon to even it all out. Bake in the middle of your oven for 30-35 minutes until it springs back when GENTLY touched in the very centre of the cake.
Set an on a rack to completely cool and run a knife around the outer edge of the cake ring and remove.
Cover the cake until you are ready to serve this to all the drooling mouths at the table.
Salted Caramel Sauce
1 cup sugar
1/4 cup water
1/2 cup whipping cream, divided
2 tbsp. room temperature butter
1 tsp. pure vanilla extract
3/4 tsp. kosher or coarse salt only. Do not use regular table salt.
Put the sugar and water in a medium pot. It will look almost too thick, but will thin out as it cooks. Do not stir this until it becomes golden in colour. This should take about 12-13 minutes.
Remove from the heat and very, very slowly whisk in 1/4 cup of the whipping cream. If you add this too quickly, it will bubble over. Now whisk in the remining cream until all is absorbed then whisk in the butter and vanilla. Now whisk in the salt.
Serve this warm over the cake, adding whipped cream or Chapman's vanilla ice cream on the side.
Store any remaining sauce (haha) in a jar in the refrigerator and when wanting to use it again, simply warm it up.
Since yesterday was declared "National  Pasta Day", Don followed through with this wonderful delight. It is so yummy, there won't be leftovers.
6 slices of bacon, cooked crisp and chopped
3 eggs, room temperature
1/4 cup heavy cream, room temperature
1 pound pasta (your choice)
3/4 cup Asiago cheese, finely grated
4 tbsp. parsley leaves, chopped fine
6 large mushrooms, sliced
Step one is the bacon.  Set this in a bowl and fry the sliced mushrooms until cooked, turning over to lightly brown. Then in a medium bowl, beat the eggs and cream until well blended. Season lightly with salt and white pepper. Stir in the cheese, saving 2 tbsp. for later.
In a large pot, cook the pasta in boiling water for about 10 minutes until al dente, do not rinse with water. but just strain and return pasta to the pot. Add the bacon and mushrooms mixing well and add to the cream mixture to completely coat the pasta. Portion this out into your favourite pasta bowls and sprinkle with the remaining Asiago cheese.
Note:  You have to work quickly while the pasta is hot to cook the cream mixture enough but not allowing it to curdle. This is so so good.
If your house is like ours, Fridays are always a little special and this is one way to make it fun. You can curl up in front of the TV and make it a movie night with popcorn to be made later. See if you agree.
2 tsp. olive oil
2 cloves garlic, minced
1 tsp. fresh rosemary
1 1/2 lbs. lean ground beef
1/3 cup ketchup
1 tsp. Worchestershire sauce
pinch of salt and pepper
4-6 Kaiser buns, halved
2 cup cheddar cheese, shredded
2 cups baby spinach, stems removed
Heat the skillet on medium heat, adding the minced garlic, stirring for 60 seconds then add the rosemary. Stir until well mixed. Add the ground beef cooking until no longer pink, then add the ketchup, mustard, salt and pepper and stirring to mix well.
Halve the buns, butter them and place under the broiler until starting to bubble and brown on the rims. When ready to plate, add the cheese to the meat mixture and quickly stir together. Remove from the heat, pile equal portions on the bottom half of each bun, place a generous amount of spinach on top and place the top of the bun.
You can either serve the slaw on the side of the plate yourself or let everyone add their own. Either way, this is yummy. Pickles and a cold  beverage takes this over the top.
On Sunday Don put a roast on the bbq and this is the rub he used. It was fantstic and I hope you will give it a try.
1/2 cup red dry wine
1/4 cup Balsamic vinegar
1 tsp. Worchestershire
1 tbsp. Extra Virgin olive oil
1 tsp. ground pepper
2 tbsp. Montreal steak spice
Mix this altogether and spread on the roast and marinate in a sealed bag for 2 hours.
Tie the roast up with butcher twine and place on the spit, cooking until the internal temperature reaches 145 degrees. Remove and let rest for about 10 minutes.  Meanwhile proceed with the Au Jus below.
Au Jus
To the drippings, add
1 1/2 tbsp. flour
2 cups beef broth
salt and pepper to taste
Cook on the stove, stirring constantly until thickens.
We served this with garlic mashed potatoes, corn on the cob (halves) and it was incredible.
The days are finally in summer temperature mode and I thought this would help out for making a light supper to be enjoyed on the deck.
1/4 cup olive oil
3 tbsp. fig balsamic vinegar
1 tbsp. dried dill
1 minced garlic clove
pinch of pepper and crushed oregano
4 skinless, boneless chicken breasts
spring salad mix (about 7-8 cups)
1/3 cup seedless red grapes, halved
1/3 cup goat cheese, crumbled
1/4 cup toasted pistachios, chopped coarsely
Mix the first 6 ingredients in a jar with lid and shake well. Let stand for 1 -1  1/2 hours to allow them to mellow out.
Cook the chicken over the grill, uncovered for about 15 minutes, until tender and no longer pink. Cool slightly.
On 4 plates, arrange the salad greens, topping with the grapes, goat cheese and nuts. Slice each breast and arrange 1 per plate. Shake the dressing and drizzle over all.
Add a glass of your favourite chilled white wine and simply enjoy.
You can't think what to make for lunch!  Here is an easy, all in your cupboard ingredients, and takes seconds to make.
2 cans flaked white tuna
1/2 cup creamy coleslaw*
2 radishes, thinly sliced
1 lime, cut in wedges
8 small tortillas, soft
Coleslaw Recipe
1 cup shaved cabbage
1/4 cup , grated
2 tbsp. sour cream
pinch of salt and pepper
This is the easy part….mix the coleslaw together. Load the tortillas with the flaked tuna, top with the coleslaw, top with the radishes and serve with a lime wedge.
Told you it was simple. Now everyone will want this again and dagain.