Last week Don made the individual Beef Wellington (on site) and this is the Demi Glace that he made to go with it. In a word: YUM!
4 tbsp. butter
2 tbsp. flour
1/4 cup red wine
2 1/2 cups beef broth, separated
1 tbsp. Worchestershire sauce
pinch of salt and pepper (to taste)
1 bouillon cube (if necessary)
Form a roux with the butter and flour and cook out for 2 minutes, add the red wine and cook for another 3-4 minutes to cook out the alcohol.
Whisk in the 1/2 cup of broth and incorporate with the roux, whisking to avoid any lumps. Gradually add in the 1 1/2 cups of broth, again whisking constantly.
Note: Depending on the richness of the wine, you may wish to add part or all of the bouillon cube. or even the rest of the broth.
The other day Don said he wanted to make something special for Sunday Breakfast. Yippee!!! says me. This is what we had. The batter for the crepes comes from a very old entry by Martha Stewart. The rest is Don's invention.
This recipe is made in 3 major steps. Please read through first then go for it.
Crepe Batter
1 3/4 cups flour
punch of salt
2 cups milk, room temperature (more if you need it)
3 large eggs, room temperature
5 tbsp.  melted butter, plus more for the skillet.
Sift the flour into a large bowl and whisk together the milk and eggs in a medium bowl. Pour the milk mixture into the flour, whisking to combine. Whisk in the butter. Strain this into a medium bowl and refrigerate for at least 2 hours or overnight. When ready to use, it should be the consistency of heavy cream.
Heat a nonstick skillet over medium heat and brush with butter. Ladle 3 tbsp. of batter if making small crepes. Wwe used 1/3 cup for the larger crepes. Turn and tilt the skillet to evenly coat the bottom of the crepe.  Cook until the top of the crepe appears to be set, the bottom is firm and golden brown in spots and the center is lifted by pockets of air (about 1 minute).
Run a spatula around the edge of the crepe to loosen. Slip the spatula under the crepe and GENTLY flip in one swift gesture. If it doesn't land perfectly, that is okay, Simply use the spatula to unfold it or rearrange it. Cook until the bottom is firm and golden brown in spots, again about 1 minute. Transfer to a plate, and use parchment paper to insert between the crepes when cooking. Repeat with the remaining batter, brushing the pan with butter, if needed.
Serve immediately.
To make ahead and save your nerves, continue on
Making the Spread
8 oz.  cream cheese
1 tbsp. milk
1 tsp. sugar
1 tsp. vanilla
Put this in a blender and pulse until completely smooth. Set aside and keep at room temperature.
Apple Pie Spice
To maker the spice, use:
4 tsp. cinnamon
2 tsp. nutmeg
3/4 tsp. allspice
3/4 tsp. ginger
3/4 tsp. cardamom
Whisk these together to completely combine.
Now the Filling
3 cups diced granny smith apples (3-4 apples)
2 tsp. of the spice mixture
6 tbsp. butter
6 tbsp. brown sugar
a generous handful of toasted pecans, chopped
Add the sliced apples and apple spice together and toss to coat.
Melt the butter in a medium sized saucepan and add the brown sugar, stirring until the sugar has melted. Add the apples to the pan and let simmer for at least 15-18 minutes until the apples are soft, but not mushy. Keep warm until serving.
Ready to Plate
Prepare the crepes by spreading the cream cheese mixture evenly on each crepe. Put a dollop in the center and spread it like making a pizza. Add  generous amount of apples on one end, and roll each crepe over . Put a drizzle of pancake syrup over the length of each crepe and a dollop of whipped cream on each one.
We added a couple slices of bacon and WOW!
For 3-4 people there are enough for 2 each (extra for tomorrow).
*Note" this will make 32 six inch small crepes or 12 ten inch larger crepes
I keep telling people that it sure sucks to live here but when you have a super cook like Don, I just can't help myself. Here is the fantasy meal we had yesterday.
4 slices of Brioche bread (day old) and must be Brioche to work.
8 oz. whipped cream cheese
3/4 cup plus 1 tbsp. milk
2 tbsp. sugar, more if you want sweeter
1 1/2 tsp. pure vanilla extract
3 large eggs
pinch of salt
1/2 tsp. cinnamon
1 tbsp. butter for the pan (or more if needed)
icing sugar, maple syrup or fresh fruit
To begin, create a cavity for the filling in each piece of bread by laying one slice of bread on a board, using a sharp knife, cut a horizontal slit into the bottom of the bread but do not cut through all the way. You just want to create a pocket.
In a medium bowl whisk together the cream cheese, 1 tbsp. milk, 1 tbsp. sugar and 1 tsp. vanilla. Be sure to taste and if you want it a bit sweeter, simply add more sugar.
Transfer this mixture in a zip-lock bag and snip off a corner to make a piping bag. Inset the tip of the bag in the pocket and fill each slice with the mixture that same way you would fill a donut. Use an offset knife to evenly distribute the mixture and clean off the edges. Be sure to watch carefully so there is enough for all 4 slices.
Break the eggs in a wide but shallow bowl and beat them with a whisk. Now add the remaining milk, sugar, extract and salt.
Coat a non-stick pan with butter and place over a medium low heat until the butter begins to sizzle and foam up.
Place the bread slices, one at a time into the bowl and let the bread soak up the egg mixture for a few seconds and turn them over to soak the other side. Now place into the waiting non-stick pan. Work only in batches that will fit your pan.
Transfer the finished slices to a plate,  clean the pan, add more butter and continue cooking the remaining slices.  Plate individually, add the toppings of your choice, pour a fresh coffee and ENJOY!
This is what you can do when you have left over puff pastry. Yesterday I made my Pastry Straws for our company coming for a glass of wine and a visit. This was not happening when Covid hit and was a real pleasure.
But – we had half of the pastry left over and it can't be re-frozen so Don, in his cooking wisdom, made these up. OMG! Are they ever delicious and so beautiful to look at.
1/2 pkg. puff pastry, thawed of course
3 slices of bacon, cooked crisp (very crisp) chopped
4 eggs, whisked well
generous pinches of  grated cheddar cheese or more to taste.
Roll out the pastry to approximately 8″ x 8″ square. Cut into 4 equal portions. Spray a large muffin tin with Pam and set the pastry in. The top corners should stand up over the top. Put some water in he two muffin sections not being used.
Whisk the eggs together until light and airy. Place equal portions of the chopped bacon on the bottom of each muffin portion. Divide the egg portions equally into the cups and top with the cheese.
Bake in a preheated oven of 400 degrees for about 20 minutes. Don said adding a bowl of fresh berries/pineapple etc. was awesome.
By the way, you have no room to eat two of these. One was just super.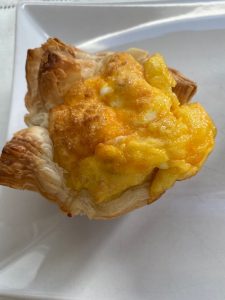 I couldn't help myself. These are so light and only work out with fresh buttermilk, so now you really have a choice as I also have two other buttermilk pancake recipes. Here we go!
1 cup flour
1 tbsp, sugar
1 tsp. baking powder
1/2 tsp. baking soda
pinch of salt
1 cup full fat buttermilk
1/2 cup milk (you may feel it takes a 2-3 tbsp. more)
1 egg
2 tbsp. melted butter plus 3/4 tsp. melted butter
In a large bowl, whisk together the flour, sugar, baking powder, baking soda and salt. In a separate bowl, beat the egg, buttermilk, milk and melted butter. Keep them separate until ready to cook.
Heat a lightly oiled frypan over a medium high heat. Drop a bead of water on the pan and if it sizzles, it is ready.
Pour the wet mixture into the dry mixture and, with a wooden spoon. stir until it is blended together.
Pour 1/2 cup of batter per pancake. Brown on both sides and serve hot with butter, syrup or fresh fruit and whipped cream. Your choice.
This recipe will make 10-12 pancakes.
Last night we had cauliflower and Don made the best sauce to accompany it. Oh, my! I kid you not. We all but licked the bowl (okay, when they weren't looking, I did).
1 1/2 tbsp. butter
1 1/2 tbsp.  flour
3/4 cup milk
pinch of cayenne pepper
1 cup Balderson's white cheddar cheese, grated
1/3 tsp. grated nutmeg
In a saucepan on medium heat, melt the butter then whisk in the flour until dissolved and smooth.
Slowly whisk in the milk. Lower the heat and simmer for a couple of minutes to thicken. Stir in the nutmeg and cayenne pepper to incorporate.
Now stir in the cheese until melted and completely smooth.
Add to this the cooked cauliflower that has been broken into florets. YUP! It is that good.
This is unusual but thoroughly delicious smoothie. The recipe is for 2.
6 oz. cooked beets (yes, really)
1/2 cup chilled orange juice*
5 tbsp. plain yogurt, chilled
1/3 cup chilled mineral water – NOT FIZZY
1/2 cup whipping cream
touch of honey
orange slices for decoration
First and foremost, place the beets in the blender and  puree until smooth. Now add all ingredients, except the orange slices and process all until really smooth.
Pour into chilled glasses and decorate with orange slices.
If you can, use blood oranges and blood orange juice if they are in season *
Note:  
This recipe is from my cookbook "The B & B Cookbook".
With Spring finally here and summer close behind, this is a delightful and best start to anyone's day. Give it a try!
2 bananas
3 tbsp. smooth peanut butter
5 tbsp. vanilla yogurt
2 scoops Chapman's chocolate ice cream
1 cup milk
1/4 cup whipping cream
chopped salted peanuts for garnish
Place the peeled bananas in a blender. Add peanut butter, yogurt, ice cream and milk, processing until smooth. Add whipping cream and blend for a few seconds.
Pour into chilled glasses, top with some peanuts. Add a small straw and serve immediately. It is delicious to serve on a warm morning on the deck.
In a word – YUM.
Note: This recipe serves 2 and is from my cookbook "The B & B Cookbook".
On this side of the world we have similar food ideas and this one is truly a special one from Spain. It is an omelette but it is beautifully different.
1/2 cup olive oil
1 half onion, sliced very thin
2 medium yellow potatoes, peeled and sliced very thin
4 eggs, lightly beaten
pinch of salt and white pepper
3 tbsp. garlic aioli
100 g Serrano ham
small amount of baby spring greens
In a large fry pan, heat the oil to medium and cook the onions for about 2 minutes, just until they have softened. Now add the potatoes and gently stir. Cook this for about 15-18 minutes, stirring occasionally until the onions are caramelized and the potatoes are cooked through.
Drain off the oil, keeping 1 tbsp. in reserve. Transfer the potatoes and onion for a bowl and set aside for about 5 minutes. Add the eggs, salt and pepper and stir to combine. Let this sit for 15 minutes so the eggs can thicken up as it becomes absorbed.
Now heat the 1 tbsp. oil and over a high heat, add the egg mixture, cooking for 1 minute. Reduce the heat to low and cook a further 3 minutes. With a rubber spatula loosen the sides of the omelette. Place a large plate over the pan and turn it upside down on the plate.
Now, this is tricky, turn it back in the pan and cook a further 4-5 minutes to cook through and become golden in colour.
On a serving board, cut into wedges, add the ham on each slice and a small topping of the greens.
WOW!
Our family loves muffins.. all kinds. Kelly has me making the smaller size muffins for her lunches, this way you are not so filled up with the larger size. Your choice. This recipe calls for one or the other berry, or, if you want to be really different, use both.
1 cup rolled oats (not the instant kind)
1 cup buttermilk
1 cup flour
1 tsp. baking powder
1/2 tsp. baking soda
pinch of salt
3/4 cup brown sugar, packed
1 beaten egg
1/4 cup butter, melted
1 – 1 1/2 cup berries
Combine the rolled oats and buttermilk and let stand. Combine the next 5 ingredients in a bowl and mix well to blend.
Add the egg and melted butter to the oat mixture. Mix really well. Now add the dry ingredients, mixing only so all is moistened. Now gently add the berries, folding to incorporate.
Fill 12 muffin cups that have been sprayed  with Pam and bake for about 20-23 minutes in a 375 degree oven. The tops should spring back when lightly touched.
Note:
If you do not have any buttermilk in your refrigerator, don't panic. Put 1 tbsp. lemon juice in a cup and add the milk to make 1 cup. Let stand for 5 minutes and then stir.
Don loves making crepes, so I went back into my cookbook and found this one. We made this often in our Bed and Breakfast, and was always a favourite when guests returned. It is not difficult and it is another die-for recipe.
Crepes
4 beaten eggs
2 tbsp. sugar
1/2 cup melted butter
1 1/2 cups flour
1 tsp. salt
3/4 tsp. ground nutmeg
1 2/3 cup milk
Mix together the first three ingredients: eggs, sugar and butter. Mix in the same bowl the dry ingredients: flour, salt and nutmeg, alternating with milk. Combine all the ingredients as above and pour into a blender, blending until smooth. If making the day ahead, cover and refrigerate. When ready to proceed, blend again.
Line plate with parchment paper. Heat 9 inch nonstick skillet over medium heat. Add 2 tbsp. batter to the skillet, tip and rotate to spread the batter evenly. Cook until the center of the crepe is cooked through and edges are slightly browned (about a minute). Run a spatula around the crepe and invert onto the plate. Repeat with remaining batter placing parchment paper between each crepe, making at least eighteen crepes.
Butter Sauce
6 tsp. unsalted butter
1/2 cup sugar
1/4 tsp. kosher salt
3 tbsp. Calvados
Make this first in the morning. Put all the ingredients in a pot and boil for about 10-15 minutes and brush on crepes before folding.
Apples
2 tbsp. unsalted butter
2 medium Golden Delicious apples, peeled, cored and cut in 1/3″ cubes
3 tbsp. sugar
1/4 tsp. kosher salt
1/4 tsp. ground cinnamon
3 tbsp. Calvados
Melt the butter is a large skillet over medium heat. Add apples, sprinkle with sugar, salt and cinnamon. Saute until tender (about 3 minutes). Add the Calvados and cook most of the liquid away (about 2 minutes). Remove from heat and let stand  to room temperature.
Preheat the oven to 300 degrees. Place crepe stack on rimmed baking sheet (yes, keep the paper between the layers). Cover with a sheet of foil and seal the edges. Warm in the oven until heated through. If the crepes are cold – 20 minutes and only 15 minutes if at room temperature.
Heat the Calvados butter sauce in a small saucepan until melted and heated through. Re-warm the apple mixture, stirring occasionally for about 3 minutes. Place one crepe on a plate, browned side down. Spoon 2 tbsp. of the Calvados sauce over the crepe and fold into quarters. Repeat with remaining crepes and butter sauce. Place three on a plate, spoon the apples over the crepe and, if there is any sauce left over, spoon it over the crepes and serve.
This may look daunting but if done in the stages shown here, it is AMAZING.
This site has several recipes for making Quiche. Well, friends, here is another one.  Don baked a beautiful ham and, of course, we had some leftovers. There is no crust to worry about and, if you really want to be a tad 'lazy', serve it with some frozen hash browns. Just sayin'.
2 tbsp. dry plain bread crumbs (can make your own)
1 tbsp. butter
1/2 cup chopped fine onions
1 1/4 cup of diced cooked ham
8 oz, shredded Swiss cheese
4 large eggs
1 cup whipping cream
1 cup whole milk
Preheat oven to 425 degrees.
Butter a quiche dish or pie plate and sprinkle in the bread crumbs all over to cover the pie plate.
Cook the onions in the butter until golden in colour. This should take about 5 minutes. Add the ham and cook only enough to warm it up. Spread this mixture on the bottom of the dish and sprinkle the cheese on top.
Whisk together the eggs, cream and milk and when well blended, carefully pour over the cheese. Set plate on a baking tray lined with parchment paper (in case it runneth over) and bake until the top is golden and set in the center. This could take 20 minutes.  Reduce to 375 degrees for a further 20 minutes. Test for doneness. Add 2 minutes if needed. Cool for about 5-6 minutes, before cutting in wedges.
If this is breakfast or brunch fare, serve with hash browns. If it is a main lunch serve with a beautiful green salad, warm buns and a glass of lovely white wine.