For some strange reason, throughout my life, I have really avoided pork chops UNTIL NOW. Don made these last night and Boy oh Boy are they fabulous. True.
4 boneless pork chops
1 tsp. salt
1 tsp. black pepper
1 tsp. garlic powder
1 tbsp. olive oil
Preheat oven to 35 degrees. If not using a frypan that can go into the oven, grease a 9″ x  13″ baking dish.
Season the chops with the salt, pepper and garlic powder. Transfer to the prepared pan.
Glaze
1/2 cup honey
1/8 cup packed brown sugar
1/8 cup soy sauce
1 tsp. chopped garlic
1 tbsp. butter
1/8 tsp. ground ginger
dash cayenne pepper (or more to taste)
Whisk the honey, brown sugar, soy sauce, garlic and butter together in a bowl and pour over the chops.
Bake in the oven for 25 minutes. Remove from the oven and let rest for approximately 5 minutes to allow the chops to soak up some of the sauce.
Add a 1/4 tsp. corn starch  mixed in a 1/4 cup of water to the remaining sauce and stir until it thickens.
Serve the chops with a stir-fry vegetable side dish and add the extra sauce.
I am sure everyone grew up with meatloaf recipes being made often, especially in the colder months. Don made this recipe and it was so darned great, we had meatloaf sandwiches Day 1 and ….you have to read on for Day 2.
1/2 cup beef stock, divided
3 slices white bread, ripped small
6 oz. Cremini mushrooms, stems removed, chopped
1 onion
1 medium carrot, chopped
1 celery stick, threads removed
3 garlic cloves
2 large eggs, beaten
1  1/4 lbs. ground beef
3/4 lb. ground pork
2 tbsp. Worchestershire sauce
1 tsp. salt
tsp. pepper, divided
GLAZE
1/2 cup ketchup
2 tbsp. tomato paste
2 tbsp. brown sugar
Place the mushrooms, onion, carrot, celery and garlic in a food processor until finely chopped.
Put the bread in a large bowl and add the vegetable mixture, eggs, beef, pork, Worchestershire sauce, 1 tsp. salt and 3/4 tsp. pepper and mix lightly and thoroughly. Now here it gets a little different.
Use an oval loaf pan (10 x 12). Place the meat mixture on an 18 x 12 piece of HEAVY DUTY tin foil. Carefully place in the oval pan, pressing the meat up the sides and smooth the top of the meat.
Mix the glaze together and spread over the entire loaf. Place the pan on a parchment lined tray (in case it flows over ) ours didn't but it saves cleaning up a mess.
Bake in a 325 degree oven for 3 hours or until the temperature in the middle is 160 degrees.
Now….we bought previously, cheese hamburger buns from Save on Foods. Place them in the oven (sliced) for a few minutes until they are warm in the oven and the top is crispy to the touch. Bring them out, add your mayo, mustard and a generous slice of the meatloaf. OMG! These are wonderful. End of Day 1.
Wrap the pan in tin foil and place in the fridge for overnight.
Day 2, Slice the meatloaf so it can be fried to get a bit of a sear, serve with a green salad, corn on the cob (halved) and a green salad. Now, you should have a glass of wine/beer and this is to die for.
The flavours in this meatloaf will have you actually trying to lick your plate.
Let me preface this with "Yes, I did eat it" as I am not one for the unusual. For me, anyway.
1 lb. ground bison
1/2 cup panko bread crumbs
1 egg
3 tbsp. Worcestershire sauce
4 dashes of Tabasco sauce
1 pinch granulated garlic
pinch of black pepper
olive oil cooking spray
4 slices of cheese (American or Monteray Jack)
4 Brioche hamburger buns, split and toasted
Preheat barbecue grill and lightly oil the grate.
Mix the bison, panko crumbs, Worcestershire sauce, Tabasco, garlic and pepper mixing well together by hand and then form 4 patties.
Spray the patties with the Olive oil spray and grill until hot and barely pink in the center (about 5 minutes each side). Top each burger with a slice of cheese and cook until it has melted (about 1 1/2 minutes) An instant read thermometer placed in the center should read 140 degrees F (60 degrees C).
Place each burger on a bun half and serve with grilled caramelized onions, mustard, mayo, pickle, lettuce and tomato. Serve with french fries and you have a great dinner.
These really are very tasty. Give it a try. By the way, the picture shows a single patty only. That is not two. Honest!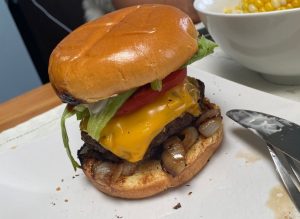 Don prepared this last night and really liked it. I think it was just because he wanted to use his new Christmas Le Creuset pieces.
1 rack of lamb
3 sprigs fresh thyme
1 tsp. dried rosemary
3 cloves garlic
1 tbsp. salt
1 tbsp. pepper
1 tbsp. chili powder
2 tbsp. olive oil
1/2 lime, juiced
1 cup red wine. We used a lovely Shiraz
Chop the thyme and garlic together, add the rosemary and place in a large bowl. Add the salt, pepper, chili powder, olive oil and lime juice. Mix well and set aside.
Trim off the excess fat on the lamb, then cut the lamb into 2 bones each pieces. Place the lamb into the spice mixture and rub it into the lamb, using your hands. Cover and chill in the refrigerator for about 30 minutes. (The lamb, not your hands).
Heat the oil in the Le Creuset skillet and sear all sides of the lamb until the meat is dark brown and crispy. When ALMOST done, pour in the red wine and then remove from the heat. Let sit covered for 15 minutes.
Serve with roasted vegetables and enjoy. Truly a real treat.
* just use whatever skillet you have.
If your house is like ours, Fridays are always a little special and this is one way to make it fun. You can curl up in front of the TV and make it a movie night with popcorn to be made later. See if you agree.
2 tsp. olive oil
2 cloves garlic, minced
1 tsp. fresh rosemary
1 1/2 lbs. lean ground beef
1/3 cup ketchup
1 tsp. Worchestershire sauce
pinch of salt and pepper
4-6 Kaiser buns, halved
2 cup cheddar cheese, shredded
2 cups baby spinach, stems removed
Heat the skillet on medium heat, adding the minced garlic, stirring for 60 seconds then add the rosemary. Stir until well mixed. Add the ground beef cooking until no longer pink, then add the ketchup, mustard, salt and pepper and stirring to mix well.
Halve the buns, butter them and place under the broiler until starting to bubble and brown on the rims. When ready to plate, add the cheese to the meat mixture and quickly stir together. Remove from the heat, pile equal portions on the bottom half of each bun, place a generous amount of spinach on top and place the top of the bun.
You can either serve the slaw on the side of the plate yourself or let everyone add their own. Either way, this is yummy. Pickles and a cold  beverage takes this over the top.
Calling these burgers could be a misnomer but they sure are good looking when presented at the table and taste even better.
1 recipe of "Chili-Don's way" on this site
1 tbsp. olive oil
1 cup frozen whole kernal corn
1 cup (or more to taste) Tex Mex shredded cheese
1 cup of your favourite marinara sauce
Trim the ends off the zucchini. Lengthwise, cut a thin strip just along the top of each one. With a melon baller, scoop out the pulp, leaving a 1/4 inch thick wall of shell. Discard the pulp.
Add the corn to your chili and cook for about 4 minutes. Remove from the heat and add 1/2 of the cheese to the mixture.
Spoon the mixture generously into each shell and place in a baking dish. Cover with tin foil tightly and bake  for 30-35 minutes until shell as almost tender. Remove the foil and sprinkle more cheese over each one and return to the oven, baking for just a couple of minutes to melt the cheese.
Plate and top with your marinara sauce. Voila! It is delicious.
On Sunday Don put a roast on the bbq and this is the rub he used. It was fantstic and I hope you will give it a try.
1/2 cup red dry wine
1/4 cup Balsamic vinegar
1 tsp. Worchestershire
1 tbsp. Extra Virgin olive oil
1 tsp. ground pepper
2 tbsp. Montreal steak spice
Mix this altogether and spread on the roast and marinate in a sealed bag for 2 hours.
Tie the roast up with butcher twine and place on the spit, cooking until the internal temperature reaches 145 degrees. Remove and let rest for about 10 minutes.  Meanwhile proceed with the Au Jus below.
Au Jus
To the drippings, add
1 1/2 tbsp. flour
2 cups beef broth
salt and pepper to taste
Cook on the stove, stirring constantly until thickens.
We served this with garlic mashed potatoes, corn on the cob (halves) and it was incredible.
We bought a ham and, after two dinners, several days of sandwiches, omelets and soup, there was still some ham so….here we go (my mom would be so proud as we worked this as she could with a small roast of beef).
2 cups potatoes, peeled and cubed
1 small yam, peeled and cubed
2 cups plus cooked ham, cubed (use up whatever you have left)
1 can whole kernal corn, drained
1/4 cup butter
1/3 cup flour
1 3/4 cup milk
pinch black pepper
4-6 oz. cheese, shredded
3-4 asparagus spears, chopped small
Preheat oven to 375 degrees.
Cook the potatoes until tender, but still firm in a pot of boiling water. Drain and cool a bit.
Combine the ham, corn, asparagus and potatoes and set aside. Melt the butter and whisk in the flour to make a paste and gradudally add the milk and pepper and bring to a boil. Remove from the heat and pour over the ham mixture. Stir to mix well.
Grease a baking dish (11 x 7) and pour in the mixture. Lightly sprinkle with paprika and bake covered in the oven for 20 minutes.
Lower the temperature to 350. Remove the cover, add all the cheese and bake a further 20 minutes. Place under the broiler for about 5 minutes to get a light brown crust.
Finish with crispy onion topping and fresh herbs.
This, my friends, is bloomin' awesome.
I think Don makes THE best, and here is another version to try, and it is really easy with no fuss or muss.
4 lb. boneless pork shoulder
Line the crock pot with large pieces of celery and carrots and place the roast in a slow cooker and proceed…
Sauce
1 bottle your favourite bbq sauce (we prefer Sweet Baby Ray's Honey bbq sauce )
1/2 cup apple juice
1/2 small onion, chopped fine
1/4 cup water
Now for the real tough part… stir together and pour over the roast and cook for 8 hours on low heat.
Finally
Place the roast on a cookie sheet and remove any excess fat. With two forks shred the meat into stringy pieces. Skim any fat off the surface of the sauce left in the crock pot and return the meat to the sauce. Stir well and let sit for about 5 minutes. The meat will absorb the sauce.
Get your favourite rolls, pile the pork on top of bottom half, top with a creamy coleslaw (your choice) and add the top bun.
OMG!!!!! This is so delicious.
I personally feel that Don does up THE best ribs going and this is another version and since we are all still on a temporary stay-at-home situation, why not give this one a try.
1/4 cup diced pancetta
5-6 lbs. bone in short ribs
1 cup finely chopped onion
1/4 cup finely chopped shallots
1/4 cup finely chopped celery (strings removed)
1/4 cup finely chopped, peeled carrots
2 minced garlic cloves
2 cups dry red wine
3 cups chicken broth
2 cups drained, canned tomatoes
2 tbsp. chopped fresh parsley
1 bay leaf.
In a heavy pot over medium heat, cook the pancetta until crisp. Remove from the pot and drain on paper towels. Sprinkle the ribs with salt and epper and in small batches, cook the ribs, browning on all sides. This will probably take about 7-8 minutes per batch. Transfer these to a plate.
Add the onion, shallots, celery and carrots to the pot, cover and cook the vegetables on a lower temperature until soft. Be sure to stir them every couple of minutes during the 10 minute cook.
Add the wine and with no cover, boil until the liquid is now reduced by half. Be sure to keep scraping the bottom of the pot for all the good bits for 5 minutes.
Add the broth, tomatoes, parsley, thyme, bay leaf, and pancetta. Place the ribs in the pot and cover partially and simmer for about 1 1/2 hours. Remove the lid completely and cook a further 1 1/2 hours until the meat is really tender. Remove the ribs to a plate. Now make the sauce.
Chocolate and Oregano Sauce
3 tbsp. grated bittersweet chocolate
2 tbsp. unsweetened cocoa powder
1 tsp. finely chopped fresh oregano
Transfer the ribs to a plate and remove the bay leaf. If there is excess fat on the surface, remove it with a spoon. Boil the sauce now until it begins to thicken (about 7 minutes). Reduce the heat to medium and add all the ingredients, stirring until the chocolate melts. Taste it and add a pinch of salt and pepper if needed. Return the ribs to the pot and simmer for about 5 minutes to rewarm it all.
Enjoy!
Mother's Day is very close and this could be a new way to serve ham.
7-8 lb. fully cooked bone in ham
6 cups water
1/4 cup maple syrup
1 cup maple sugar, granulated
1 tsp. dry mustard
1/4 cup white cranberry juice
1/4 tsp. ground cloves
2 cups golden raisins
In a very large (10 qt.) pot, place the ham, cut side own and add the water and maple syrup. Cover and bring to a boil and reduce the heat to low, cooking for about 2 1/2 hours. Remove the cover and let cool a little.
Preheat oven to 350 degrees and when the ham is cool enough to handle remove the ham from the pot and reserve the liquid, Cut off any rind and excess fat and leave a very thin layer of fat. Transfer ham to a roast pan.
Whisk together all the ingredients, except the raisins and spoon over the ham. Add the raisins and 1 cup of the cooking liquid and roast in the oven for about 35-40 minutes, baste this occasionally so the ham is glazed and the juices are bubbling.
Serve warm to some very appreciative people around the table.
Just add the potatoes of your choice, a vegetable or two and you will be the winner. Just think about the ham sandwiches for tomorrow. Oh yeah!
With all the isolating, world wide, this would be a good time to set the table with a clean tablecloth, napkins, steak knives and a glass of your favorite beverage to make this a special time.
You will need:
 New York Strip steaks, about 8 oz. each
olive oil
salt and pepper
Preheat  grill pan over high heat until just smoking. Brush the steaks with olive oil and season with salt and pepper. Grill 4-5 minutes on one side until golden. Turn them over and reduce the heat to medium and continue cooking for 5-6 minutes for a medium-rare doneness.
Wow Sauce
1 cup ketchup
1 tbsp. creamy horseradish
1 tbsp. honey
1 tbsp. maple syrup
1 tbsp. red pepper flakes
1 tbsp. Dijon mustard
Combine all these ingredient in a bowl , season with salt and pepper and set aside. When ready to serve, brush the steaks with this sauce and make sure you have little bowls for each person to use as they wish.
Make a beautiful, crisp green salad, add a twice baked potato and you have a very special meal.