I made this certain recipe for the first time this year and, I have to tell you my family LOVED it so much, I had to make it twice to make sure there was enough for our company this past weekend. I do have a pumpkin muffin as well on this site, but this one is truly special.
2 cups flour
pinch of salt
1/2 tsp. baking powder
1 tsp. baking soda
1 tsp. cloves
1 tsp. cinnamon
1 tsp. nutmeg
3/4 cup butter, room temperature
2 large eggs
1 – can of E.D. Smith pure pumpkin. You will use only 15 oz. (you can use the remaining pumpkin in the recipe that follows).
Preheat oven to 350 degrees and be sure to spray well your mini muffin tins.
In a medium bowl gently whisk together all the dry ingredients and set aside.
In your electric mixer mix the butter and sugar until just blended and add the eggs, beating really well until light and fluffy. When truly light and fluffy, add the pumpkin beating until well combined and making sure to scrape down the sides as you go.
On a really low speed, add the dry ingredients until combined.
Spoon into the mini muffins tins, making sure to fill to the top of the muffin pan.
Now for the good part:
Topping
5 tbsp. flour
5 tbsp. melted butter
5 tbsp. dark brown sugar
1/4 tsp. cinnamon
3/4 cup chopped pecans
Mix well to ensure it is well combined and then divide evenly the topping on each muffin. Bake for 35-38 minutes, testing with a toothpick to ensure doneness and remove to a rack to cool for 10 minutes.
Run a paring knife around each muffin and carefully remove to a rack to continue cooling. Enjoy! You will and you will make them again and again.
Whoa! What a way to use up leftover baked ham.  We love this one. Take a peak at the photo and you can see why.
1/4 cup butter, cubed
2 cups cauliflower chunks
2 cups asparagus, peeled and cut in 3 inch sections
1/2 lb. sliced fresh white mushrooms
3 medium carrots, sliced into 3 inch toothpick sticks
1/2 cup flour
1 1/4 cups 2% milk
1 1/4 cups vegetable broth
1 3/4 cups cubed, fully cooked ham
2 tbsp. minced fresh parsley
1/4-1/2 tsp. ground nutmeg
pinch of pepper
1 sheet frozen puff pastry, thawed
1 large egg, beaten
Preheat oven to 425 degrees. In a large saucepan heat butter over medium heat and add the cauliflower, mushrooms and carrots, cooking and stirring until tender.
Stir in the flour until blended. Gradually add the milk and broth. Bring to a boil, stirring constantly and add the asparagus, cooking until thickened (about 2 minutes). Remove from heat and add the ham, parsley, nutmeg and pepper.
On a lightly floured surface, roll the pastry to 1/2 inch thickness. Using a 10 oz. ramekin to use as a template, cut 4 tops for the pies. Fill 4 buttered ramekins with the vegetable mixture and top with the pastry. Cut slits in the pastry to allow steam to escape and brush each top with the beaten egg.
Bake for 19 minutes and let stand at least 5 minutes before serving. Add a green salad, glass of wine and enjoy! We did and there is no ham left.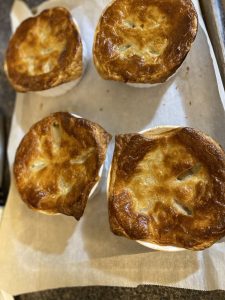 This recipe is where, on gluten-free diets, milk products can be tolerated  so now everyone  can simply enjoy without concerns.
3 – 8 oz, pkgs. cream cheese
1 cup white sugar
5 eggs, room temperature
1 tsp. pure vanilla
Preheat oven to 350 degrees. Line muffin tins with liners, if you use them. Otherwise spray with Pam or like product.
In a medium bowl cream together the cream cheese and sugar. Stir in the eggs, one at a time and then add the vanilla. Spoon into the muffin tin to 3/4 full.
Sour cream Topping
8 oz. sour cream
1 cup white sugar
1 tsp. pure vanilla extract
To make the topping, whisk together the sour cream, sugar and vanilla until completely smooth. Spoon into the center of each muffin.
Bake for 30 minutes in oven until a golden brown. Remove from the oven and cool down for 5-10 minutes. Now return it to the oven and bake for additional 7 minutes until set. Place pans on rack to cool,.
DO NOT remove from the oven until completely cool.
I am sure everyone grew up with meatloaf recipes being made often, especially in the colder months. Don made this recipe and it was so darned great, we had meatloaf sandwiches Day 1 and ….you have to read on for Day 2.
1/2 cup beef stock, divided
3 slices white bread, ripped small
6 oz. Cremini mushrooms, stems removed, chopped
1 onion
1 medium carrot, chopped
1 celery stick, threads removed
3 garlic cloves
2 large eggs, beaten
1  1/4 lbs. ground beef
3/4 lb. ground pork
2 tbsp. Worchestershire sauce
1 tsp. salt
tsp. pepper, divided
GLAZE
1/2 cup ketchup
2 tbsp. tomato paste
2 tbsp. brown sugar
Place the mushrooms, onion, carrot, celery and garlic in a food processor until finely chopped.
Put the bread in a large bowl and add the vegetable mixture, eggs, beef, pork, Worchestershire sauce, 1 tsp. salt and 3/4 tsp. pepper and mix lightly and thoroughly. Now here it gets a little different.
Use an oval loaf pan (10 x 12). Place the meat mixture on an 18 x 12 piece of HEAVY DUTY tin foil. Carefully place in the oval pan, pressing the meat up the sides and smooth the top of the meat.
Mix the glaze together and spread over the entire loaf. Place the pan on a parchment lined tray (in case it flows over ) ours didn't but it saves cleaning up a mess.
Bake in a 325 degree oven for 3 hours or until the temperature in the middle is 160 degrees.
Now….we bought previously, cheese hamburger buns from Save on Foods. Place them in the oven (sliced) for a few minutes until they are warm in the oven and the top is crispy to the touch. Bring them out, add your mayo, mustard and a generous slice of the meatloaf. OMG! These are wonderful. End of Day 1.
Wrap the pan in tin foil and place in the fridge for overnight.
Day 2, Slice the meatloaf so it can be fried to get a bit of a sear, serve with a green salad, corn on the cob (halved) and a green salad. Now, you should have a glass of wine/beer and this is to die for.
The flavours in this meatloaf will have you actually trying to lick your plate.
Our family really loves corn muffins and we find these are the 'super duper' of them all.  Give them a try, they are awesome.
1/2 cup melted butter
2 eggs
3/4 cup milk
1 can creamed corn (Green Giant is the best)
1/2 tsp. Baking Soda
3/4 cup yellow cornmeal
1 cup flour
2 tsp. Baking Powder
3 tbsp. sugar
pinch of salt
Preheat oven to 425 degrees.
Combine all the dry ingredients and, using a whisk, mix together.
Add the wet ingredients and when combined, spoon into muffins tins you have sprayed with Pam (or like product). Now, let the batter sit on the counter for about 5 minutes. This makes the difference.
Bake for 20 minutes. Brush the tops with melted butter, Cool 5 minutes and then remove from the tins and rest of a rack.
All credit for this recipe is from The Best of Bridge group. We have used this for years and as we are celebrating, with our kids and grandkids, our 30th Wedding Anniversary, I wanted to use it again. The  2020 Covid 19 year took a toll on everyone for sure.
2 lbs. Frozen Hash Browns
1 500 ml carton sour cream
2 tins cream of mushroom soup (Campbell's)
1/2 cup melted butter
2 cups of shredded cheddar cheese
light sprinkle of onion powder
parmesan cheese (or asiago)
Thaw the potatoes slightly for easier mixing. First mix the listed 6 ingredients and place in a 9″ x 13″ basking dish. Sprinkle the parmesan cheese on top and bake at 350 degrees for about 1 1/2 hours.
This will serve 8-10 people. Double it if there are more. I think I will.
Serving can be Brunch, Lunch or Dinner. Depends on you. But be sure to say "Thank you Ladies
On Sunday afternoon we were dining at Cuckoo's in Coombs and we had this sauce. It is to die for. Total addictive. You have to try it. It will go on anything and be so wonderful.
Of course the Chef couldn't give us HIS recipe and it is beyond yummy. This is Don's and is soooo yummy.
1 lb. mushrooms, cleaned and quartered
3 cloves garlic, minced
3/4 cup fresh parmesan cheese, grated
3 tbsp. butter
1/2 tsp. salt
1/4 tsp. pepper
2 tbsp. fresh Italian parsley leaves, chopped
1 cup heavy cream
Put the butter in a frypan and fry the mushrooms without moving them around. Turn over only when they have a nice crust on the bottom. Add the garlic, salt and pepper and saute for one minute.
Add the cream and bring to a boil,  now add the cheese cooking for 3 minutes. Lower the temperature, add the parsley and simmer for one minute until thick and smooth.
OMG! Chicken, steak, fish, even toast triangles will benefit from this sauce.
Last night Don made this sauce for our BBQ chicken but after tasting it we joked it would be good on our eggs in the morning. Guess what? We did and it is fabulous. Don makes Paquette McMuffins every Sunday and we dobbed some on our egg and it was great.. Now he has made more for our steaks tonight.  Here it is.
1 cup ketchup
1/4 cup apple cider vinegar
1/4 cup brown sugar, Packed
1 tbsp. molasses
1 tsp. ground powdered mustard
1 1/2 Worchestershire sauce
1 tsp. garlic powder
1/4 tsp. onion powder
1/4 tsp. ground black pepper
2 tbsp. chopped fresh parsley (garnish)
Whisk all the ingredients until fully combined and smooth as silk. Cover and store in the refrigerator.
You won't have to worry about the shelf life because it won't last long enough to be wasted.
That sauce….Don could bottle it and become very rich. Kelly feels bartenders would also go crazy as in something like an Old Fashioned. Take out the simple syrup and use this sauce. OMG!!! Anyway, I digress. here we go.
1 bottle of a Riesling white wine
1 cup water
3/4 cup sugar
1 whole vanilla bean, split and scraped
4 firm Bosc pears, peeled but leaving the stem intact
1 cinnamon stick
1 star anise
1/4 tsp. anise
Place the wine, water, sugar and vanilla bean with seed pulp, cinnamon stick, and anise in a 4 qt. saucepan and bring to a boil.
Core the pears from the bottom. Reduce the heat to medium low and set the pears in the liquid, cover and cook for about 30 minutes or until the pears are tender but not breaking apart. Maintain a very gentle simmer. Remove the pears to a serving dish, standing upright and place in  the fridge.
Remove the vanilla bean, bring the heat back to high and reduce the syrup to about 1 cup. This should take 20-25 minutes. Do not let the syrup turn brown. Place in a heatproof dish and place in the fridge for about 1 hour to cool.
Remove the pears from the fridge and spoon the sauce over them.
NOTE: This sauce was used on waffles, pancakes and anything else Kelly could find.
If your house is like ours, Fridays are always a little special and this is one way to make it fun. You can curl up in front of the TV and make it a movie night with popcorn to be made later. See if you agree.
2 tsp. olive oil
2 cloves garlic, minced
1 tsp. fresh rosemary
1 1/2 lbs. lean ground beef
1/3 cup ketchup
1 tsp. Worchestershire sauce
pinch of salt and pepper
4-6 Kaiser buns, halved
2 cup cheddar cheese, shredded
2 cups baby spinach, stems removed
Heat the skillet on medium heat, adding the minced garlic, stirring for 60 seconds then add the rosemary. Stir until well mixed. Add the ground beef cooking until no longer pink, then add the ketchup, mustard, salt and pepper and stirring to mix well.
Halve the buns, butter them and place under the broiler until starting to bubble and brown on the rims. When ready to plate, add the cheese to the meat mixture and quickly stir together. Remove from the heat, pile equal portions on the bottom half of each bun, place a generous amount of spinach on top and place the top of the bun.
You can either serve the slaw on the side of the plate yourself or let everyone add their own. Either way, this is yummy. Pickles and a cold  beverage takes this over the top.
I think Don makes THE best, and here is another version to try, and it is really easy with no fuss or muss.
4 lb. boneless pork shoulder
Line the crock pot with large pieces of celery and carrots and place the roast in a slow cooker and proceed…
Sauce
1 bottle your favourite bbq sauce (we prefer Sweet Baby Ray's Honey bbq sauce )
1/2 cup apple juice
1/2 small onion, chopped fine
1/4 cup water
Now for the real tough part… stir together and pour over the roast and cook for 8 hours on low heat.
Finally
Place the roast on a cookie sheet and remove any excess fat. With two forks shred the meat into stringy pieces. Skim any fat off the surface of the sauce left in the crock pot and return the meat to the sauce. Stir well and let sit for about 5 minutes. The meat will absorb the sauce.
Get your favourite rolls, pile the pork on top of bottom half, top with a creamy coleslaw (your choice) and add the top bun.
OMG!!!!! This is so delicious.
Here is a tasty treat to make The spinach really adds a pop of color. This is a really old recipe and used anchovies. trust me, use the artichokes instead.
1 tbsp butter
1 sweet onion, thinly sliced
1 tbsp. red wine vinegar
pinch of salt and pepper
2 sheets frozen butter puff pastry
1/2 cup water packed artichokes (about 2), drained, chopped and patted dry
1/4 cup thinly sliced oil packed sun-dried tomatoes, drained
3 cups lightly packed baby spinach, thinly sliced
In a fry pan melt the butter over a medium heat and cook the onion stirring occasionally, for about 20 minutes, until golden and tender. If the onion begins to stick, add a tbsp. of water, a little at a time. Stir in the vinegar, salt and pepper.
Place parchment paper on a rimless baking sheet. Unroll 1 sheet of the pastry and top with 1/2 of the onion mixture, artichokes, dried tomatoes and spinach. On a separate baking sheet, repeat this process. with the second pastry sheet.
Bake one sheet at a time, in a 425 degree oven until the edges are golden. About 18-20 minutes. Cut each sheet into 16 squares.
Add a glass of chilled white wine and you have a party in the making. Enjoy!