I promise you, this is THE best pork loin. Don made it yesterday and it literally melts in  your mouth. Get ready! Here we go.
2.5-3.5 pork loin roast, fat and skin removed
2 tbsp. olive oil
RUB
1 1/4 tsp. paprika (mild or smoked)
1/2 tsp. brown sugar
1/2 tsp. each garlic powder and onion powder
1/4 tsp. red chili powder (optional)
1 1/4 tsp. coarse salt
1/4 tsp. cracked black pepper
1 tbsp. olive oil
HONEY GARLIC BUTTER SAUCE
1/3 cup golden corn syrup
1/3 cup unsalted butter
1 tsp. garlic powder
2 tbsp. low sodium soy sauce
2 tsp. cider vinegar
2 tsp. red wine vinegar
good pinch of salt
1/4 tsp. cracked black pepper
ADDITIONAL
1/3 cup low sodium stock (beef or chicken) or broth
1/3 cup water
2 1/2 tsp. cornstarch
Pat dry pork with a paper towel. Combine 1 tbsp. of oil with the rub ingredients. Season pork, rubbing the mixture into the meat.
Heat remaining oil (about 2 tsp.) in a large pan or skillet over medium heat. Sear pork all over until golden brown, rotating the pork around to avoid burning the spices.
Melt butter in the same pan as the pork was in, scraping up any leftover bits in the pan. Stir in remaining sauce ingredients, bringing to a rapid simmer for 1 minute.
SLOW COOKER
Place seared pork in a 6 qt. slow cooker. Pour sauce over the pork, cover with a lid and cook on LOW setting for 4-5 hours.
Transfer pork onto serving dish and loosely tent with foil. Let rest for 10-15 minutes.
While pork is resting, pour juices from the slow cooker bowl into a pot large enough to fit the liquid. Bring to a simmer over medium high heat.
Mix 2 tbsp. of the juices with 4 tsp. of cornstarch. Whisk cornstarch slurry into sauce and let simmer for a good 5 minutes. Note: sauce will thicken as it cooks. Simply thicken to syrup-like consistency.
Slice pork and serve drizzle with the Honey Garlic sauce.
Don served with potato rostis, but you could used mashed potatoes in you prefer.
We had this last night for dinner and the flavours are truly amazing. It is not difficult to prepare so give it a go at the earliest time.
1/4 cup minced onion
1/4 cup butter
1 1/2 lbs. peeled and deveined shrimp
1/2 lb. mushrooms, sliced
1 tbsp. flour
1 1/2 cups sour cream (not the light variety), room temperature
1 tsp. salt
white pepper, to taste
1 tbsp. butter
1/4-1/2 cup cream (if needed)
In a large frypan saute the onion in 1/4 cup butter until softened.
Add the shrimp and saute for 4-5 minutes until pink and just cooked. Transfer the mixture to a heated dish, and keep warm.
In the same skillet add 1 tbsp. butter and add the mushrooms. Saute over a medium high heat until browned. Sprinkle flour in and cook for another 2 minutes. Reduce the temperature and now stir in the shrimp mixture, sour cream, salt and pepper, stirring for another 2-3 minutes until the shrimp is heated through. Here is where you may need to add the cream, to ensure a smoother sauce. Just DO NOT BOIL.
Add some broad noodles or rice and spoon the mixture over (equally portioned, of course). Pass the crisp green salad and the evening is yours.
If you wish, enjoy a glass of chilled white wine as well. YUM!!!!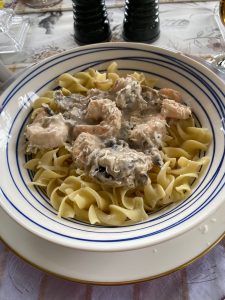 Last night we had cauliflower and Don made the best sauce to accompany it. Oh, my! I kid you not. We all but licked the bowl (okay, when they weren't looking, I did).
1 1/2 tbsp. butter
1 1/2 tbsp.  flour
3/4 cup milk
pinch of cayenne pepper
1 cup Balderson's white cheddar cheese, grated
1/3 tsp. grated nutmeg
In a saucepan on medium heat, melt the butter then whisk in the flour until dissolved and smooth.
Slowly whisk in the milk. Lower the heat and simmer for a couple of minutes to thicken. Stir in the nutmeg and cayenne pepper to incorporate.
Now stir in the cheese until melted and completely smooth.
Add to this the cooked cauliflower that has been broken into florets. YUP! It is that good.
Don loves making crepes, so I went back into my cookbook and found this one. We made this often in our Bed and Breakfast, and was always a favourite when guests returned. It is not difficult and it is another die-for recipe.
Crepes
4 beaten eggs
2 tbsp. sugar
1/2 cup melted butter
1 1/2 cups flour
1 tsp. salt
3/4 tsp. ground nutmeg
1 2/3 cup milk
Mix together the first three ingredients: eggs, sugar and butter. Mix in the same bowl the dry ingredients: flour, salt and nutmeg, alternating with milk. Combine all the ingredients as above and pour into a blender, blending until smooth. If making the day ahead, cover and refrigerate. When ready to proceed, blend again.
Line plate with parchment paper. Heat 9 inch nonstick skillet over medium heat. Add 2 tbsp. batter to the skillet, tip and rotate to spread the batter evenly. Cook until the center of the crepe is cooked through and edges are slightly browned (about a minute). Run a spatula around the crepe and invert onto the plate. Repeat with remaining batter placing parchment paper between each crepe, making at least eighteen crepes.
Butter Sauce
6 tsp. unsalted butter
1/2 cup sugar
1/4 tsp. kosher salt
3 tbsp. Calvados
Make this first in the morning. Put all the ingredients in a pot and boil for about 10-15 minutes and brush on crepes before folding.
Apples
2 tbsp. unsalted butter
2 medium Golden Delicious apples, peeled, cored and cut in 1/3″ cubes
3 tbsp. sugar
1/4 tsp. kosher salt
1/4 tsp. ground cinnamon
3 tbsp. Calvados
Melt the butter is a large skillet over medium heat. Add apples, sprinkle with sugar, salt and cinnamon. Saute until tender (about 3 minutes). Add the Calvados and cook most of the liquid away (about 2 minutes). Remove from heat and let stand  to room temperature.
Preheat the oven to 300 degrees. Place crepe stack on rimmed baking sheet (yes, keep the paper between the layers). Cover with a sheet of foil and seal the edges. Warm in the oven until heated through. If the crepes are cold – 20 minutes and only 15 minutes if at room temperature.
Heat the Calvados butter sauce in a small saucepan until melted and heated through. Re-warm the apple mixture, stirring occasionally for about 3 minutes. Place one crepe on a plate, browned side down. Spoon 2 tbsp. of the Calvados sauce over the crepe and fold into quarters. Repeat with remaining crepes and butter sauce. Place three on a plate, spoon the apples over the crepe and, if there is any sauce left over, spoon it over the crepes and serve.
This may look daunting but if done in the stages shown here, it is AMAZING.
This recipe, believe it or not, is from my cookbook and, since it is almost Spring, I thought you might like to try these. Be prepared- they do not last long. Maybe that is why they are called phantom. Hmmm.
1/2 cup sour cream
1/4 cup Crisco oil
1 large egg
1 1/3 cup flour
1 cup diced rhubarb
2/3 cup packed brown sugar
1/2 tsp. baking soda
pinch of sale
Preheat oven to 350 degrees. Blend together the sour cream, oil and egg. Set aside. Mix only until just blended. Spray muffin tin with Pam or like non-stick spray. Use a large 12 cup muffin tin and fill 2/3 full.
Topping
1/4 cup packed brown sugar
1/4 cup chopped pecans
1/2 tsp. cinnamon
2 tsp. melted butter
Combine the ingredients well and spoon on top of each muffin. Bake these for about 30 minutes.
At a family reunion a couple of years ago, I had Porchetta for the first time. OMG! Take the time and go for it. Here again, you can proclaim "damn I did this".
1 tbsp. chopped Rosemary leaves
2 garlic cloves, minced
pinch of pepper
1 tsp. crushed fennel seeds
1 tsp. red pepper flakes
2 tsp. kosher salt, plus extra for seasoning
3 lb. boneless pork belly
1 tbsp. grapeseed oil
1 cup dry white wine
In a small bowl, mix together the first 6 items and set aside.
On a cutting board, place pork skin-side down and score a criss-cross pattern with a sharp knife, inserting only to about 1/2 inch deep. Rub the meat all over with the spice mixture. Roll this up, skin side out and tie with twine in a pattern to keep in shape. Place on a plate and wrap with plastic wrap putting in the refrigerator over night.
Remove the meat from the refrigerator and bring to  room temperature for a minimum of one hour.  Preheat your oven to 400 degrees.
Place the meat on a rack set into a roasting pan and rub all over with the oil. Season lightly with kosher salt and roast for about 30 minutes. Reduce the temperature to 350 and bake a further 2 hours.
At the end of the 2 hour bake, increase the oven temperature to 425 degrees and bake a further 30 minutes to crisp up the skin. Remove from the oven and allow to rest 30 minutes.
Cranberry Pear Relish
Make this up while the meat is cooking.
6 oz. fresh cranberries
1 large pear, diced to get 3/4 cup
1/2 cup sugar
1/2 cup water
pinch of kosher salt
1/3 cup chopped toasted pecans
Add everything up to the pecans in a saucepan and cook for about 18-20 minutes until the cranberries have burst and the sauce has thickened.
Pour into a sealed container and set in the refrigerator for about 2 hours. Just before serving, add the pecans.
Making the Sandwich
8 Ciabatta rolls, cut in half lengthwise
Mayonnaise
chopped iceberg lettuce
To assemble, butter the buns and spread some mayonnaise on one side and on the other, spread some relish. Top with the pork belly and crispy skin, add some lettuce and put together. Now for the hard part: ENJOY!!!
The berries and plums are appearing in the grocery stores now and this is an oldy but goodie. Daughter Suzanne loves this one and so do we.
1 1/4 cups flour
1 1/2 tsp. baking powder
pinch of salt
3 tbsp. butter
1/4 cup brown sugar
1/3 cup butter
1 cup sugar
1 egg
1 tsp. vanilla extract
3/4 cup whole milk
4 black plums, pitted and thinly sliced
3/4 cup blueberries, washed and drained.
Preheat over to 350 degrees. Grease a 9 inch cake pan. Combine the flour, baking powder and salt and set aside.
In the greased pan, combine 3 tbsp. butter and brown sugar and set in the oven until the butter has melted and begins to bubble. Set aside.
In a large electric mixer, cream together the butter and white sugar until really light and fluffy. Beat in the egg and stir in the vanilla. Add the flour mixture, alternatively with the milk just until incorporated.
Arrange the plum slices around the edges of the cake pan. In the centre of the pan add the blueberries. Carefully add the cake batter, covering the fruit completely being sure not to dislodge any. Bake in the oven for 40 minutes or until a toothpick inserted in the center comes out clean. Allow to cool at least 15 minutes before serving with a generous dollop of freshly whipped cream.
Oh yeah it is yummy.
This sounds daunting but it is simply chicken that is marinated in yogurt and has a tomato cream sauce.
1 cup Greek yogurt, plain
1 tbsp. lemon juice
2 tsp. ground cumin
1 tsp. ground cinnamon
1 tsp. cayenne pepper
1 tsp. black pepper
1 tbsp. minced fresh ginger
3 tsp. salt, or to taste
3 boneless chicken breasts, skinless and cut in bite size pieces
long wooden skewers (soaked in water)
Tomato Cream Sauce
1 tsp. butter
1 garlic clove, minced
1 tsp. ground cumin
2 tsp. paprika
1 1/2 tsp. salt
1 can pure tomato sauce (8 oz.)
1 cup heavy whipping cream
chopped cilantro for garnish
In a large bowl combine the yogurt, lemon juice, and all spices. Stir in the chicken and set in refrigerator, covered, for 1 hour.
Preheat grill to a high heat and lightly oil the grill grate.
Thread the chicken on the skewers and discard the marinade. Grill only until the juices run clear. This should take about 5 minutes each side.
Now to the sauce.
Melt the butter in a large heavy skillet over a medium heat. Saute the garlic for about a minute and add the seasonings. Stir in the tomato sauce and cream. Simmer on a low heat until it thickens (20 minutes approximately).
Add the grilled chicken pieces and continue simmering for another 10 minutes.
Transfer to a serving dish and garnish with the cilantro (if using). Add a crisp green salad, dinner rolls and, of course, a glass of chilled wine wine.
Oh my! YUM!
It is that time again (and in some parts of Canada all year long) to brush off the bbq and get ready. This will really awaken your taste buds and you will wonder why you haven't eaten this one more often. Well now you can.
3 tbsp. dark brown sugar
1 1/2 tsp. paprika
1/2 tsp. cayenne pepper
1/2 tsp. garlic powder
1/2 tsp. dried thyme
1/2 tsp. dried oregano
kosher salt and freshly ground pepper to taste
1 1/2 lbs. trout, skin removed, cut into large chunks
1/2 cup plus 2 tbsp. panko bread crumbs
1 1/2 tbsp. canola oil (if needed for frypan)
6 Brioche buns, toasted
2 ripe avocados, thinly sliced for garnish
1 1/2 cups mixed greens
To make the trout burgers, start by mixing the herbs together with the brown sugar, salt and pepper and set aside.
In a mixer with a steel blade attached, pulse the trout only until finely chopped.
Transfer to a bowl and mix in the panko crumbs and oil. Divide into 6 equal sized portions and shape into burgers. Season both sides with the seasoning mix and set aside.
As these burgers are on the fragile side, be REALLY careful on the grill or maybe place in a cast iron frypan that has the oil in it. Cook about 4 minutes each side, flipping only one time.
To assemble, make the herb spread first.
8 oz. room temperature cream cheese
1 tbsp. lemon juice
2 tbsp. chopped fresh dill
2 tbsp. finely chopped Italian parsley leaves
1 tbsp. finely chopped fresh basil leaves
Mix this all together until smooth. Now continue on by spreading the bottom of each toasted bun with this and add the burgers on top. Now, with the top bun set the avocado slices and some greens.  Put them together, serve with either French fries  or a fresh, chilled salad and, of course, a glass of chilled white wine.
It doesn't get any better than this, Enjoy!
Here is a nice cake to serve when special guests will be at your table (yes, this means family as well). Get ready to tickle your taste buds.
7 tbsp. butter, room temperature
2/3 cup plus 1 tbsp. sugar, divided
2 eggs, room temperature
2/3 cup full fat sour cream
2 tbsp. milk
1 tsp. vanilla extract
1 tsp. almond extract
1 cup cake flour
1/2 cup almond flour
1 tsp. baking soda
1 tbsp. baking powder
1/4 cup candied ginger, diced
1 tbsp. lemon juice
1 tbsp. Baileys liqueur (or water)
1 1/2 cups dried cranberries
2/3 cup icing sugar
1/2 cup toasted sliced almonds
Preheat oven to 350 degrees. Butter a 9 inch springform pan and place a parchment paper disc on bottom.
In your mixer, cream together the butter and 2/3 cup sugar on high until light and really fluffy (about 3-4 minutes). Now add the eggs, sour cream, milk, vanilla and almond extracts. Mix for a full 60 seconds to blend and set aside.
In a separate bowl mix together the flours, baking soda and baking powder. Add this carefully to the egg mixture and combine. Add the ginger and 1 cup cranberries and blend.
Pour this batter into the pan and bake for 40-45 minutes, until tested in the center and it comes out clean. Set on a rack and cool completely. In a bowl, mix together the 1 tbsp. sugar and remaining berries to coat.
In a small bowl, mix the lemon juice, liqueur and icing sugar into a thick glaze and drizzle over the cake surface. Sprinkle the candied berries on top.
Slice and present to your guests….the ones with the eyes popping at the sight of your dessert. Yup! you made it…damn!
This is a great starter with your Company arriving. They will be so appreciative that you took the time to pamper them. It has been awhile we know.
1/2 cup cream cheese, softened
2 tbsp. mayonnaise
2 tbsp. grated Asiago cheese
2 tbsp. grated Romano cheese
1 garlic clove,  grated
1/2 tsp. dried basil
1/4 tsp. hot sauce (your favourite)
pinch each of salt and white pepper
1/2 cup of roughly chopped artichoke hearts (canned variety)
1/2 cup finely chopped spinach
1 pkg. puff pastry, thawed
4 tbsp. Painter's guacamole (my site)
1 cup shredded Monterey Jack cheese
1 tbsp. water, plus extra for wash
1 egg
In a large bowl mix together the cream cheese, mayonnaise, cheeses, salt and pepper, garlic, and basil until really well combined. Now add the artichoke and spinach, mixing to incorporate.
Roll out 1 sheet of pastry to about a 13 inch circle. Transfer to a baking sheet lined with parchment paper. Spread the guacamole in the centre of the circle leaving a 1 inch border around the edge.
Spread carefully the spinach mixture out on top of the guacamole and spread the shredded cheese evenly over the surface.
With a pastry brush dipped in water, run it around the edge.
Roll out the other pastry into the same size circle and set over the spinach layer so the edges match. Press the pastry all over to from the center out, and press together to seal. Using a fork, poke holes all over to allow the steam to escape. Now invert a 12 1/2 inch plate on top and trim off any pastry that hangs from the edges. You can use the excess pastry to make any type of decoration. Refrigerate the pastry and decorations for about half an hour.
Preheat oven to 425 degrees.
Now comes the fun part. Lightly press a small bowl to cover the center of the circle. and with a pastry/pizza wheel, cut into quarters from the bowl edge to the pastry edge. Now cut each quarter, into 6 equal strips, twisting each one 2-3 times. Remove little bowl.
Whisk together water and egg to make a wash and with a pastry brush, brush the entire surface and bake in the oven for 18-20 minutes until a lovely golden brown. Add the baked decorations, scattering over the surface.
Cool down for about 5-6 minutes and serve your guests with a beverage of their choice (or being offered), a small plate and napkin. Enjoy the day!
I made this certain recipe for the first time this year and, I have to tell you my family LOVED it so much, I had to make it twice to make sure there was enough for our company this past weekend. I do have a pumpkin muffin as well on this site, but this one is truly special.
2 cups flour
pinch of salt
1/2 tsp. baking powder
1 tsp. baking soda
1 tsp. cloves
1 tsp. cinnamon
1 tsp. nutmeg
3/4 cup butter, room temperature
2 large eggs
1 – can of E.D. Smith pure pumpkin. You will use only 15 oz. (you can use the remaining pumpkin in the recipe that follows).
Preheat oven to 350 degrees and be sure to spray well your mini muffin tins.
In a medium bowl gently whisk together all the dry ingredients and set aside.
In your electric mixer mix the butter and sugar until just blended and add the eggs, beating really well until light and fluffy. When truly light and fluffy, add the pumpkin beating until well combined and making sure to scrape down the sides as you go.
On a really low speed, add the dry ingredients until combined.
Spoon into the mini muffins tins, making sure to fill to the top of the muffin pan.
Now for the good part:
Topping
5 tbsp. flour
5 tbsp. melted butter
5 tbsp. dark brown sugar
1/4 tsp. cinnamon
3/4 cup chopped pecans
Mix well to ensure it is well combined and then divide evenly the topping on each muffin. Bake for 35-38 minutes, testing with a toothpick to ensure doneness and remove to a rack to cool for 10 minutes.
Run a paring knife around each muffin and carefully remove to a rack to continue cooling. Enjoy! You will and you will make them again and again.