When my daughter was very young, and I was a single Mom on a limited wage, this was an alternative to meal I used from time to time. but it came in a box.
Don made his own version and it is yummy. You want to have an easy, quick meal to serve, go for it. It is very tasty.
1 tbsp. vegetable oil
1 lb. ground beef
1 small onion, diced
2 small garlic cloves, minced
2 1/2 tbsp. tomato paste
pinch of salt and pepper
1/4 tsp. oregano
1/4 tsp. thyme
1/2 tsp. paprika
1 1/2 cups milk
1 cup beef broth
2 cups elbow macaroni, uncooked
1 cup cheddar cheese, shredded
fresh parsley for garnish
Add the oil to a large skillet and heat to a sizzle. Add the ground beef and cook until browned and broken up. This will help in an even browning.
Add the onion and garlic and saute until tender for 2 minutes.
Now add the tomato paste and mix well to incorporate the ingredients and season with salt, pepper and paprika.
Add the milk, broth and macaroni. Stir this well and cover. When it has started to boil reduce the temperature and simmer for 9-10 minutes. The macaroni should be tender but not mushy. Stir this really well so it does not burn or stick to the pan.
Add the cheddar cheese and simply stir until the cheese has melted.
Sprinkle a light touch of chopped fresh parsley and serve.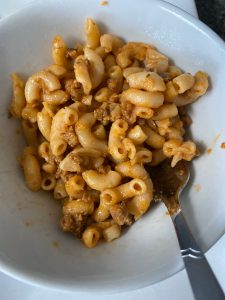 I couldn't help myself. These are so light and only work out with fresh buttermilk, so now you really have a choice as I also have two other buttermilk pancake recipes. Here we go!
1 cup flour
1 tbsp, sugar
1 tsp. baking powder
1/2 tsp. baking soda
pinch of salt
1 cup full fat buttermilk
1/2 cup milk (you may feel it takes a 2-3 tbsp. more)
1 egg
2 tbsp. melted butter plus 3/4 tsp. melted butter
In a large bowl, whisk together the flour, sugar, baking powder, baking soda and salt. In a separate bowl, beat the egg, buttermilk, milk and melted butter. Keep them separate until ready to cook.
Heat a lightly oiled frypan over a medium high heat. Drop a bead of water on the pan and if it sizzles, it is ready.
Pour the wet mixture into the dry mixture and, with a wooden spoon. stir until it is blended together.
Pour 1/2 cup of batter per pancake. Brown on both sides and serve hot with butter, syrup or fresh fruit and whipped cream. Your choice.
This recipe will make 10-12 pancakes.
This is a very popular soup in Scotland and I know you will like it when you make it yourself.
It is not difficult to make and lists most of the ingredients needed already in your kitchen.
3 lb. whole chicken
9-10 cups of water
5 leeks, both green and white parts, cut in 1/2 inch pieces
2 large stalks celery, peeled and chopped
3 large sprigs of parsley, stems removed, chopped
1/2 cup pearl barley
1 bay leaf, crumbled
6 peppercorns
1/4 tsp. dried thyme
generous pinch of salt
chopped parsley for garnish
Wash the chicken and then tie the legs and wings close to the body. Place in a large stock pot. Add the water, making sure you have enough to cover the chicken and bring to a boil.
Add the leeks, celery, parsley, barley, bay leaf, peppercorns, thyme and salt. Cover and simmer for 90 minutes (until the chicken is VERY tender.)
Remove the chicken from the stock pot and set on a platter. Cool it enough to be able to remove the meat from the bones. Cut the meat in short slivers; discard all the bones, skin and cartilage.
Return the meat to the stock  and reheat well. When ready to serve, sprinkle each bowl with the chopped parsley.
Serve with toast, warmed buns or simply crackers.
Here in this country, it would be simply called chicken soup I think. Enjoy!
I have a few recipes for meatballs, but try this one. In a word "Fabulous". Try these once and you will make them many, many times.
3/4 cup uncooked risotto
1/2 cup water
1/2 tsp. onion powder
1 tsp. salt
1/2 tsp. celery salt
1/8 tsp. pepper
1/8 tsp. garlic powder
1 lb. ground beef
2 tbsp. Crisco oil
1 (680 ml) can tomato sauce
1 cup water
2 tbsp. brown sugar
2 tsp. Worchestershire sauce
In a bowl, combine the first seven ingredients. Add the ground beef and form into 1 1/2 inch balls.
In a large skillet, brown the meatballs in oil and drain.
Combine the tomato sauce, water, brown sugar and Worchestershire sauce and pour over the meatballs. Reduce the heat to a simmer, cover and cook for 1 hour.
Serve with a cold salad of your choice and a warm dinner roll.
Hint: We ate the first dinner and then remembered to take pictures. On the 2nd night, we had an unexpected visitor and …..you guessed it. We ate it all up and forgot about the pictures  until it was waaaaay too late.  I need to set an alarm so we take the picture THEN eat.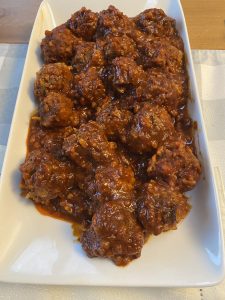 Summer is here (at least it is warmer) and now is the time to bring on the salads. Just so you don't get bored with the same old, same old ones, try this. It is pretty to look at and is wonderful, especially with my most favourite cheese.
1 tbsp. butter
4-6 shitake mushrooms, stems removed, thinly sliced
salt and pepper for seasoning
1/2 lb. fresh asparagus, stems cleaned, ends trimmed
1/2 head of leaf lettuce, outer leaves removed
1/4 head of red cabbage, core and outer leaves removed, grated
4 radishes (different kinds if available)
1/4 cup olive oil
2 tbsp. fresh lime juice
2 tsp. fresh tarragon, minced
1 tsp. Dijon mustard
1/3 cup Burrata cheese,
1/4 cup chopped toasted pecans
Melt butter in a fry pan and sauté the mushrooms until golden. Season with salt and pepper and set aside.
Wash the asparagus and pat dry with a paper towel. Now, with a vegetable peeler, peel the asparagus from tip to end to get ribbons. Transfer to a large bowl and set aside.
Wash the lettuce and tear into bite size pieces. Add this to the asparagus. Add also the red cabbage. Thinly shave the radishes on a mandolin and add to the bowl as well. No mandolin? Slice very thinly with a paring knife.
Dressing
Combine the oil, juice, tarragon and mustard. Whisk until really well blended. Add a bit of salt and pepper to taste.
Toss the asparagus and greens with the now cooled mushrooms. Divide out onto 4 plates. Now, using a small spoon, drop little bits of the soft Burrata cheese onto each of the 4 plates, add the pecans and drizzle the dressing over the top.
Serve with warm dinner rolls and you are a hit and, perhaps, a glass of chilled Pinot Grigio.
Just before we moved, my cousin Marge, invited us for a farewell luncheon. She served this wonderful casserole and I wanted to pass it on to you to try.
1 lb. package of perogies
1 1/2 cups frozen peas
2 cups cubed lean ham
1 can cream of mushroom soup
1 soup can of milk
I would suggest spraying your baking dish so nothing sticks and layer everything in.  Bake in a preheated oven of 350 degrees for 45-55 minutes.
Enjoy. It really is a nice main dish for lunch or dinner. Add a salad, roll and you are the winner.
Note: Do not double the recipe as it won't turn out. If you need more, make it twice.
This is the last one for awhile. Give it a whirl, truly yummy in flavour and refreshing colour will perk the old taste buds.
1 tub mini mozzarella
2 tbsp. prepared pesto
pinch of pepper
2 roasted red peppers, patted dry, skin removed
aged balsamic vinegar
Drain the cheese and pat dry, set aside.
Whisk together the pesto and ground pepper in a bowl. Add the cheese and toss to coat evenly.
Slice the peppers into 1/4 inch wide strips. Wrap each strip around a cheese ball and skewer onto a toothpick. Repeat with the remaining cheese.
Getting ready to serve, skewer 2 cheese balls on each toothpick, and alternate with a pepper strip. Drizzle with the balsamic vinegar. Makes up to 36 pieces.
This recipe will show you what the Tortillo Scoops can be used for (in case you wondered). The perfect 'one bite-no fuss' nibble to serve on the weekend while enjoying a beverage of your choice. Ta da!
1/4 cup sour cream,
2 tbsp. water
1 tsp. lime zest
1 Serrano chili, seeded and minced
1 cup coarsely grated red cabbage
1/4 cup grated red onion
2 tbsp. lime juice
1/3 cup flour
pinch of salt
10 oz. cod fillet
2 tbsp. Crisco Oil
1/2 cup finely diced fresh pineapple
40 cilantro leaves
40 tortilla scoop chips
Stir the sour cream with water, lime zest and chili in a small bowl. Set aside.
Combine the cabbage with the onion and lime juice and set aside.
Stir the flour with salt, season lightly with pepper. Cut the cod into 1/2 inch cubes. Toss with the flour mixture until covered completely.
Heat a large fry pan over medium heat. Add the oil then the fish. Cook until browned. 1- 1 1/2 minutes per side.
To serve – put a tsp. of pineapple, add the cabbage slaw then the cod cubes. Top with the sour cream, a cilantro leave and serve immediately.
How clever….enjoy!
Normally Paella is made with seafood but, with Spring just around the corner, this is something we can make and really enjoy. Serve with fish, chicken or barbecued ribs.
This will serve 7-8 people
1 butternut squash, peeled, seeded, cut into wedges
8 oz. baby carrots, scrubbed and trimmed
8 oz. red skinned baby potatoes, quartered
1/2 cup olive oil
pinch of salt and freshly ground pepper
1/4 cup Italian parsley, chopped
3 garlic cloves, minced
1 tbsp. paprika
1 tsp. saffron threads
1 medium onion, chopped
14 oz. can diced tomatoes with juice
2 1/4 cups Arborio rice, rinsed
4 cups vegetable broth
1 lb. asparagus, trimmed, cut in 1 inch pieces
14 oz. garbanzo beans, rinsed
grated zest from 2 limes
Preheat oven to 425 degrees. Toss the squash, carrots, potatoes with 1/4 cup olive oil in a large bowl. Season with salt and pepper. Spread out on a parchment lined baking sheet and roast until all are tender and browning around the edges. This should take about 30-35 minutes.
Combine the parsley and garlic in a small bowl and stir in the paprika, saffron and set aside.
Heat the remaining 2 tbsp. oil in a large saucepan. Add the onion and sauté until soft. Add the tomatoes, rice and parsley mixture. Stir in the broth.
Bring to a boil then reduce to low heat. Cover and simmer for about 15 minutes. Stir in the asparagus and beans and heat through. Add the roasted vegetables. Season to taste.
Transfer to a large platter and sprinkle with the lime zest and some of the juice from the limes.
Don't laugh..it Is getting soon to be that time of year (unless you can bbq all winter long). Give this a try. So, so easy but oh so good.
1 tbsp. olive oil
1 1/2 tsp. balsamic vinegar
1/3 cup small basil leaves
1 tbsp. capers, drained and rinsed well
pinch of salt
3 cups cherry tomatoes (all colours), halved
1 large Italian baguette, cut diagonally in 1 inch thick slices
2 garlic cloves, peeled and cut in half
Grated Asiago cheese for topping
Preheat the barbecue to a medium temperature. Whisk together the oil, vinegar, basil, capers and salt in a medium bowl and stir in the slices tomatoes. Set aside.
Barbecue the bread slices until grill marks form: 1 – 2 minutes each side. Transfer to a plate and rub 1 side of the toast with the garlic and spoon the tomato mixture on top.
Sprinkle the cheese on top and place on the top shelf of the barbecue to melt the cheese (be sure  you have turned off the heat). This should just take a moment or two.
Yummy!
Ha Ha….this is a truly delicious way to serve cauliflower: even those who think they don't like vegetables (they will).
2 1/2 – 3 lbs. cauliflower, peeled, core removed and broken into large florets
1 cup soft breadcrumbs
1/4 cup olive oil
1/4 cup butter
3 tbsp. freshly chopped garlic
1/2-3/4 cup grated Asiago cheese
1/3 cup pitted olives
1/3 cup finely chopped orange bell pepper
1 tbsp. finely grated lime peel
Preheat oven to 425 degrees. Arrange the cauliflower in a large roasting pan and sprinkle the bread crumbs over.
In a small saucepot heat the olive oil, butter and garlic over low heat. Cook and stir about 5 minutes. Do not burn the garlic. Drizzle this over the cauliflower and sprinkle the  cheese over the mixture.
Bake this, uncovered, in the oven for about 15 – 20 minutes until the cauliflower is fork tender. Remove from the oven and sprinkle the olives, peppers and lime zest just before serving. If you have any lime wedges, serve in a small bowl and pass around.
Didn't I tell you ? Uhuh, it's yummy.
This will serve 8.
Everyone is so busy these days with work, family and schedules.. a recipe for a quick and easy dinner is required. This is definitely one of them.
1/4 cup olive oil
1/4 cup balsamic vinegar
1 tsp. Grey Poupon mustard
1 garlic clove, minced
pinch of salt
1 pork tenderloin cut into 1/2 inch round slices
1/2 -340g. pkg. of broad egg noodles
1 shallot, peeled and thinly slices
1/2 cup torn, fresh basil leaves
Whisk together the vinegar, mustard, garlic and oil in a small bowl. Turn the tenderloin in to coat.
Cook the noodles in boiling water, according to directions but with no salt added. After 6 minutes (should be al dente texture), lightly salt. Reserve 1/2 cup of the pasta water before draining.
Heat a large skillet over medium heat and add the pork, cooking in two batches. Reserve the marinade. After about 3 minutes, remove fthe pork from the pan and transfer to a plate.
Add the shallot, stirring often until softened. Add the reserved pasta water and marinade, heating for about 1 – 2 minutes.
Distribute the mixture over the noodles and top with the pork tenderloin. Sprinkle with the basil and serve.
What could possibly be faster, easier and taste to fabulous?
Yummy….