This is the 1,829 recipe on my site. Enjoy!
This recipe is great when having company and the meal is more on the casual theme.
This recipe will serve 6, but you can easily double the ingredients to serve 12.
1 tbsp. vegetable oil
1 onion, peeled and chopped
1 carrot, peeled and chopped
1 1/2 lb. ground beef
1 cup beef broth
1 tsp. worchestshire sauce
1 tbsp. tomato paste
1 tsp. chopped fresh rosemary
1 tbsp. Italian parsley
1 cup frozen peas
1 can whole kernal corn (Green Giant is best)
1/2 tsp. salt
1/4 tsp. pepper
4 large potatoes boiled in water along with 1 garlic clove (making garlic mashed potatoes)
1/3 cup butter
1 /4 cup cream cheese
1/4 cup whipping cream
Preheat oven to 375 degrees. In a large pan, heat the oil and add the onion, carrot, and meat. Cook until browned which would take about 10 minutes.
Drain the fat, add the broth tomato paste and herbs, simmering until the juice begins to thicken and then add the peas and corn.
Pour this into a 1 1/2 quart baking dish and set aside.
Cook the potatoes until done. Drain the water and put the potatoes through a ricer, then add the butter, cream cheese and cream. You only need to mix this with a spatula, it is soooo creamy and delicious.
Pile the potatoes over the meat mixture and bake for about 35 minutes until the potatoes are a golden colour around the edges. Sprinkle cheddar cheese over the top before baking.
**NOTE:  July 2023 -Don made this yesterday and we all said how great it was. He laughed and said it was my own recipe and he just made a couple of "adjustments" to it. WOW! it truly is delicious and worthy of praise.
Word of caution: Read through first. It looks long but, believe  as well, it is truly delicious.  Don made it the other day and we did take pics but I didn't get them posted yet. patience!
Ingredients
Sauce, you do need a lot
2 tbsp. olive oil
1 onion, finely chopped
4 garlic cloves, minced
1 bay leaf
1 tbsp. fresh thyme
1 tbsp. fresh oregano
1/3 cup tomato paste
28 oz. can crushed tomatoes
3 1/2 cups chicken or vegetable broth
1/3 cup white wine
3/4 tsp. salt
1/3 tsp. black pepper
1 1/2 tsp. sugar
2/3 cup roughly torn basil leaves
Filling
1 lb. chopped spinach (I used fresh)
1 lb. full fat ricotta
1/2 cup finely shredded parmesan
1 cup shredded cheese (Mozzarella, Colby, Cheddar, Gruyere, Swiss)
1 egg
1 garlic clove, minced
grated nutmeg, just a sprinkle
3/4 tsp. kosher salt
1/2 tsp. black pepper
Cannelloni
18-22 dried cannelloni tubes
1/3 cup finely shredded parmesan
 1 1/4 cups shredded Mozzarella
basil and parmesan for garnish
To make the sauce, heat the oil in a small pot over a medium high heat. Add the garlic, onion, bay leaf, thyme and oregano. Cook for 3-4 minutes until the onion become translucent.  Add the tomato paste and cook for 1 minute.
Add the wine, increasing the heat to high and let it simmer rapidly for about 2 minutes, until it is mostly evaporated.
Add the tomatoes, stock, sugar, salt and pepper. Stir then simmer on a medium heat for 20 minutes.
Remove the bay leaf and blitz with a stick bender until smooth. Simmer for 1 more minute and remove from the heat. Stir in the basil and cover to keep warm.
Saute the chopped spinach with a little oil to wilt it down and remove excess liquid. Cool down and proceed.
Place the spinach in a bowl with the remaining filling ingredients. Mix, taste it and adjust the salt and pepper as the different cheeses vary in saltiness.
Now the fun begins.
Preheat oven to 350 degrees. Use a baking dish(8.5 x 10.5 inch) as it will hold 20 tubes nicely.
Spread 1 cup of the sauce on the base of the baking dish. Transfer the filling mixture to a piping bag with a large nozzle. You can use a zip lock bag by cutting a hole in a corner that will hold the nozzle and now pipe the filling into each tube and place in the baking dish. Pour the remaining sauce  over all the tubes to cover.
Cover with foil and bake for about 30 minutes. Remove the cover and scatter the parmesan cheese then the mozzarella cheese. Return to the oven, uncovered, and bake for another 15 minutes until the cheese has melted.
Garnish with more parmesan and basil if wanted.
Your family and company will have a wonderful evening and lively conversations. What more could you ask for? Oh, sorry….would you like another glass of wine?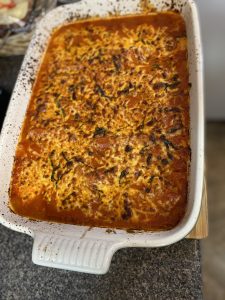 I promise you, this is THE best pork loin. Don made it yesterday and it literally melts in  your mouth. Get ready! Here we go.
2.5-3.5 pork loin roast, fat and skin removed
2 tbsp. olive oil
RUB
1 1/4 tsp. paprika (mild or smoked)
1/2 tsp. brown sugar
1/2 tsp. each garlic powder and onion powder
1/4 tsp. red chili powder (optional)
1 1/4 tsp. coarse salt
1/4 tsp. cracked black pepper
1 tbsp. olive oil
HONEY GARLIC BUTTER SAUCE
1/3 cup golden corn syrup
1/3 cup unsalted butter
1 tsp. garlic powder
2 tbsp. low sodium soy sauce
2 tsp. cider vinegar
2 tsp. red wine vinegar
good pinch of salt
1/4 tsp. cracked black pepper
ADDITIONAL
1/3 cup low sodium stock (beef or chicken) or broth
1/3 cup water
2 1/2 tsp. cornstarch
Pat dry pork with a paper towel. Combine 1 tbsp. of oil with the rub ingredients. Season pork, rubbing the mixture into the meat.
Heat remaining oil (about 2 tsp.) in a large pan or skillet over medium heat. Sear pork all over until golden brown, rotating the pork around to avoid burning the spices.
Melt butter in the same pan as the pork was in, scraping up any leftover bits in the pan. Stir in remaining sauce ingredients, bringing to a rapid simmer for 1 minute.
SLOW COOKER
Place seared pork in a 6 qt. slow cooker. Pour sauce over the pork, cover with a lid and cook on LOW setting for 4-5 hours.
Transfer pork onto serving dish and loosely tent with foil. Let rest for 10-15 minutes.
While pork is resting, pour juices from the slow cooker bowl into a pot large enough to fit the liquid. Bring to a simmer over medium high heat.
Mix 2 tbsp. of the juices with 4 tsp. of cornstarch. Whisk cornstarch slurry into sauce and let simmer for a good 5 minutes. Note: sauce will thicken as it cooks. Simply thicken to syrup-like consistency.
Slice pork and serve drizzle with the Honey Garlic sauce.
Don served with potato rostis, but you could used mashed potatoes in you prefer.
This is a really nice way to up the ante on chicken for dinner. Don made this last night and it is delicious.
3/4 cup flour
1 tbsp. paprika
1  tsp. salt
1/2 tsp. pepper
3 – 3 1/2 lb. chicken, cut up
vegetable oil for skillet
pinch each of garlic powder and onion powder
1/2 tsp. Lawery's seasoning salt
1/3 tsp. baking powder
buttermilk for dredging
Dredge the chicken in buttermilk.
In a shallow dish, mix together the dry ingredients.
In a 12 inch nonstick skillet, heat about 2 cups of oil over a medium high heat. Cook the chicken, skin side down,  for about 10 minutes until a light brown. Reduce the heat to low and turn the chicken pieces over. Cook uncovered for about 20 minutes, without turning, until the juices in the thickest pieces, when cut to the bone, run clear. Test the temperature to 165 degrees.
Add some steamed baby potatoes, vegetable and a light salad. YUM!
This recipe will serve 4 – 6 people
Ingredients:
3 lb. center cut pork loin, boned, rolled and tied*
4 tbsp. extra virgin olive oil, divided
1 tsp. kosher salt, divided
1/2 tsp black pepper
7-8 small carrots, peeled and left mostly whole
1 cup plus 2 tbsp. apple juice, divided
1 large white onion, peeled and cut in 8 sections
1 tsp dry Rosemary,
1/3 cup brown sugar, packed
1/3 tsp. garlic powder
1/8 cup  Dijon mustard
1 tbsp. apple cider vinegar
1 cup chicken stock
4 Russet potatoes, peeled and cut in bite sized pieces (3 lbs in total)
2 tbsp. butter
3 tbsp. all purpose flour
Preheat oven to 375 degrees.
Pat dry the pork with paper towels  and place on a platter. Coat with 3 tbsp. of the oil, 1/2 tsp. salt and 1/4 tsp pepper.
In a large, heavy bottomed roasting pan or Dutch oven, large enough to fit your roast, bring burner to medium high and once hot, add two tbsp of the oil . When simmering hot, add the pork, fat side down and sear and turn every two minutes for a total of 10 minutes This should sear the roast on all sides, including both ends.
Remove the roast from the pan to the platter. Add 1 cup of apple juice to deglaze the pan. After this has reduced by half and all the brown bits are scraped up from the bottom shut the burner off and add all the carrots, onions and Rosemary. Pour the chicken stock over the vegetables and set the roast on top of the vegetables.
In a small bowl mix together the brown sugar, garlic powder, Dijon mustard and 1 tbsp. apple cider vinegar, Using a pastry brush, brush this all over the seared roast.
Place the pan in the oven uncovered for 30 minutes. After 30 minutes, remove from the oven, and cover with tin foil until the roast has reached 140 degrees (about 45 min)., and the vegetables continue cooking. Our 3 lb. roast took 45 minutes ater the initial 30 minutes to reach 140 degrees.
Remove the roast to a platter. Pour off all the liquid into a saucepan.
Add the potatoes to the pan with the vegetables and add the remaining 1 tbsp. of oil, 1/2 , tsp of the salt and remaining pepper and toss. roast for 15-25 minutes until they are tender.  After 15 minutes, toss the vegetables and roast a further 15 – 20 minutes. While these are roasting, in a small saute  pan melt the butter over medium low heat and add the flour, cooking for about 4 minutes to make a smooth roux.
Heat 2 cups of the reserved liquid that collected from resting the meat, and once it starts to bubble, add all the roux and whisk to make the gravy Keep  temperature of the gravy on low, or reheat when ready to serve.
When the vegetables are cooked, uncover the roast and slice,  serving with the vegetables and gravy.
Your family (guests) will rave about this and you can think to yourself "Damn I did this".
As I am sure you are all aware that Don is the "Chef  of Chefs" and this dish is beyond anything.  Arroz Con Pollo has always been my favourite Mexican dish and boy oh boy did he do it up right. This is now on our list for 'do agains'.
2 cups uncooked instant rice
3 skinless chicken breasts, slice in half lengthwise, then in thirds
1/2 tsp. garlic powder
1/4 tsp. pepper
1/2 tsp salt
3/4 box of chicken broth (about 26 oz.)
1  8 oz. can tomato sauce
3/4 jar of  garlic Classico sauce (secret ingredient here)
1/2 finely chopped onion
1/4 cup loosely chopped fresh parley
1/2 tsp. chili powder
1/4 tsp. cumin
3/4 cup Mozzarella cheese
3/4 cup Cheddar cheese
Preheat oven to 350 degrees.
Spray a 13 x 9 baking dish with cooking spray (even a 14 x 10 Le Creuset casserole dish works well).
Add the rice to the baking dish. Sprinkle both sides of the chicken with garlic powder, salt and pepper and place evenly over the rice.
In a large bowl, combine the broth, tomato sauce, Classico sauce, onion, parsley, chili and cumin, stirring until well combined. Spoon over the chicken and rice, making sure to cover it all.
Cover with foil and bake until thermometer reads 165 degrees (about 60-70 minutes). Remove the foil, and sprinkle the cheeses over the surface. Bake uncovered until the cheese has melted and is starting to show a dark caramelized colour. this will take about 7 minutes.
Let stand a few minutes and serve.
I promise you, you will roll your eyes in pure delight.
Last week Don made the individual Beef Wellington (on site) and this is the Demi Glace that he made to go with it. In a word: YUM!
4 tbsp. butter
2 tbsp. flour
1/4 cup red wine
2 1/2 cups beef broth, separated
1 tbsp. Worchestershire sauce
pinch of salt and pepper (to taste)
1 bouillon cube (if necessary)
Form a roux with the butter and flour and cook out for 2 minutes, add the red wine and cook for another 3-4 minutes to cook out the alcohol.
Whisk in the 1/2 cup of broth and incorporate with the roux, whisking to avoid any lumps. Gradually add in the 1 1/2 cups of broth, again whisking constantly.
Note: Depending on the richness of the wine, you may wish to add part or all of the bouillon cube. or even the rest of the broth.
The other night, for a birthday dinner for Kelly  (#2 by the way) Don made this dish. Let me tell  you from the start, you could just sit down and eat the corn sauce,  it is that great. but it takes all of it to really be special.
1 tbsp. butter
2 ears of whole sweet corn, kernels removed (about 1 1/2 cups of kernels)
1/2 cup heavy cream
pinch of salt and white pepper
2 tbsp. olive oil
12 large sea scallops
few drops of black truffle oil
1 tbsp. chopped chives
Angel hair pasta
butter
In a pan, heat the butter and saute the corn for about 2 -3 minutes. Season with salt and pepper. Now add the cream and bring to a boil, reduce to a simmer and cook a further 2-3 minutes until the cream thickens.
In a fresh pan, heat the olive oil, Add the scallops and sear for about 2-3 minutes until they have a nice sear on each side.
Cook the angel hair pasta and fold in a bit of butter.  Place the pasta equally into 3 bowls, add the corn sauce on top and place the scallops over the top. Garnish with a few chopped chives.
Serve with a glass of chilled white wine and treasure each bite. OMGoodness!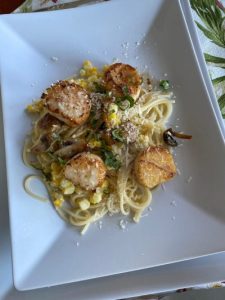 This is a very yummy dinner to serve your family and friends. For those eating a gluten free diet, this is one more to add to your list.
2 large Spaghetti squash
1 tbsp. olive oil
3/4 cup crisp cooked bacon bits
2 cloves minced garlic
1/2 cup sugar snap peas, cut in 1″ widths
1 large egg
6 tbsp. heavy cream (whipping cream)
1 cup Asiago cheese, grated
pinch of salt
Preheat oven to 375 degrees.
Cut the squash in half, lengthwise and remove all the seeds/fibers. Place on a parchment lined baking sheet, cut side down and bake for about 35-40 minutes. A fork should pierce the skin easily.
Heat the oil in a frying pan and saute the garlic and bacon bits for about 3 minutes.
Add the peas and cook for about 4 minutes until the colour turns a bright green. Remove from the heat.
Whisk together the cream, eggs and cheese in a bowl until well blended.
When the squash has cooked, pull the strands out with a fork to make your spaghetti. While still hot, stir in the cheese mixture and then the bacon/garlic mixture.
Garnish with more cheese if you can handle it and a sprig of fresh parsley.
I will start off by saying we forgot to take a picture because we ate this dish all up and then declared "hey, we didn't take a picture". Sorrrrry! It is delish.
1 lb. mushrooms
4 cloves garlic
5 sprigs of fresh thyme
4 – 6 oz. skin on Trout fillets
pinch of salt
pinch of pepper
2 tbsp. olive oil
2 tbsp. butter
Clean the mushrooms and cut in quarters. Mince the garlic cloves and strip the leaves off the thyme sprigs. With a paper towel pat the trout dry and sprinkle with the salt and pepper.
Heat the olive oil in a large non-stick skillet that has a cover until it starts to shimmer. Add the trout, skin side up, and sear until a golden colour (3 1/2-4 minutes).
Remove the fillets, skin side down, on a plate (we know it is not cooked through yet). Melt the butter in the skillet and add the mushrooms and sear, without touching, until the bottoms are well browned. Now add the garlic and thyme. Sprinkle with a touch of salt and pepper, cook stirring once or twice until the mushrooms are just tender (about 3 minutes).
Reduce the heat to a medium temperature and now return the trout skin-side down in the pan letting them nestle into the mushrooms. Cover and cook until the desired doneness (2 -5 minutes). Use a thermometer to see that it registers between 135 – 145 degrees for a medium rare cook. Longer if you want it more well done.
Serve with a crisp garden salad.
This is so yum!
Oh my goodness! You gotta love these treats.
This recipe is for 4 burgers, so if you have more mouths to feed, simply adjust the recipe.
4 x 6 oz. Trout fillets
1 tbsp. kosher salt
1 tbsp. brown sugar
1 cup teriyaki sauce (we use Edo of Japan's Teriyaki  sauce)
1/2 tsp. sesame oil
1/2 cup mayonnaise
2 tsp. grated ginger
1/2 pineapple, cored and cut in 1/2 inch slices
3 tbsp. vegetable oil, divided
1 tsp. sesame seeds, toasted
4 lettuce leaves
4 Brioche burger buns
Sprinkle the trout with the salt and sugar. Place on a plate and refrigerate for about 15-20 minutes. Remove from the refrigerator and rinse them completely. Pat dry with paper towels.
Heat the teriyaki sauce in a small saucepan over a medium heat until it is reduced by almost half.
Preheat the bbq to a medium temperature and grease the grills with 2 tbsp. of the oil. Rub the remaining 1 tbsp. oil on the pineapple and trout.
Grill the trout for 3-4 minutes each side until you have reached your level of doneness, brushing with the teriyaki sauce.
Grill the pineapple slices 3 minutes each side. Remove the trout and pineapple from the grill.
Heat the buns on the top rack of the bbq.
In a small bowl, mix the mayonnaise, sesame oil and ginger well.
To assemble these delightful treats, spread the mayonnaise on both insides of the bun, place a fillet on the bottom bun and drizzle with any remaining sauce and sprinkle with the sesame seeds. Top each one with a pineapple slice and lettuce leaf. Add the bun top and you are ready to dine. Make sure you have a few napkins handy and, of course, a glass of chilled beverage (your choice).
When my daughter was very young, and I was a single Mom on a limited wage, this was an alternative to meal I used from time to time. but it came in a box.
Don made his own version and it is yummy. You want to have an easy, quick meal to serve, go for it. It is very tasty.
1 tbsp. vegetable oil
1 lb. ground beef
1 small onion, diced
2 small garlic cloves, minced
2 1/2 tbsp. tomato paste
pinch of salt and pepper
1/4 tsp. oregano
1/4 tsp. thyme
1/2 tsp. paprika
1 1/2 cups milk
1 cup beef broth
2 cups elbow macaroni, uncooked
1 cup cheddar cheese, shredded
fresh parsley for garnish
Add the oil to a large skillet and heat to a sizzle. Add the ground beef and cook until browned and broken up. This will help in an even browning.
Add the onion and garlic and saute until tender for 2 minutes.
Now add the tomato paste and mix well to incorporate the ingredients and season with salt, pepper and paprika.
Add the milk, broth and macaroni. Stir this well and cover. When it has started to boil reduce the temperature and simmer for 9-10 minutes. The macaroni should be tender but not mushy. Stir this really well so it does not burn or stick to the pan.
Add the cheddar cheese and simply stir until the cheese has melted.
Sprinkle a light touch of chopped fresh parsley and serve.