There are nights in our house that are really special and this was one of them. Don had some ground pork left over from making his Christmas Tourtiere and put this together. You are going to love it. We got 10 meals out of it. OMGGGGG! This is so tasty, you will be glad of a second portion.
2 lbs. ground pork
2 large carrots, peeled and finely diced
3 cloves crushed garlic
2 – 28 oz. cans of whole tomatoes (Kirkland (Costco) brand San Marzano) tomatoes
2 cups freshly sliced white mushrooms
1/2 tsp. freshly ground nutmeg
1/4 tsp. red pepper flakes
1 tbsp. salt
2 tbsp. dried oregano
1 tbsp. dried basil
1 tbsp. butter
1/4 cup heavy cream
1/2 cup 2% milk
1 cup red wine (we used Sangiovese)
parmesan cheese, grated, enough for topping
1 lb. your favorite dried pasta noodles
In a Dutch Oven pot cook the pork until no longer pink and add the carrots, garlic and mushrooms, cooking until carrots tender. This is approximately 10 minutes.
Skim the fat off the top of the meat mixture and add the tomatoes, spices and wine, stirring occasionally and breaking up the tomatoes a little.
Add the butter, cream and milk, stirring well to incorporate.
Cook your pasta noodles according to the directions, drain,  saving 1/2 cup of the water. Add the saved water back into the noodles and prepare to serve.
When ready to serve, place a portion of the noodles on the plate, add a generous serving of Bolognese sauce, topping it all off with a sprinkling of grated Parmesan cheese.
If you wish, serve with a chilled green salad and your favorite dressing.
Pour yourself a glass of the lovely red wine and declare "damn I did this".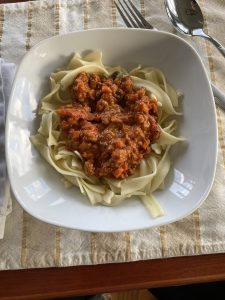 Since yesterday was declared "National  Pasta Day", Don followed through with this wonderful delight. It is so yummy, there won't be leftovers.
6 slices of bacon, cooked crisp and chopped
3 eggs, room temperature
1/4 cup heavy cream, room temperature
1 pound pasta (your choice)
3/4 cup Asiago cheese, finely grated
4 tbsp. parsley leaves, chopped fine
6 large mushrooms, sliced
Step one is the bacon.  Set this in a bowl and fry the sliced mushrooms until cooked, turning over to lightly brown. Then in a medium bowl, beat the eggs and cream until well blended. Season lightly with salt and white pepper. Stir in the cheese, saving 2 tbsp. for later.
In a large pot, cook the pasta in boiling water for about 10 minutes until al dente, do not rinse with water. but just strain and return pasta to the pot. Add the bacon and mushrooms mixing well and add to the cream mixture to completely coat the pasta. Portion this out into your favourite pasta bowls and sprinkle with the remaining Asiago cheese.
Note:  You have to work quickly while the pasta is hot to cook the cream mixture enough but not allowing it to curdle. This is so so good.
Don made this back in 2007 for his niece and I decided to resurrect it once more. It is beyond delicious and I hope you will give it a try.
12-16 Manicotti shells, cooked 10 minutes
1/2-1 lb. frozen crabmeat, flaked (mock crabmeat is just as good here)
1/2 lb. wilted spinach
1/2 cup grated Parmesan cheese
1 large egg, beaten
1 tsp. salt
Parmesan cheese sauce (below)
1/2 cup grated Asiago cheese
Preheat oven to 400 degrees. Cook the manicotti shells as directed for 10 minutes. Set aside to cool.
Spray the bottom and sides of a 9 x 13 baking dish.
In a medium bowl, combine the crabmeat, spinach, cheeses, egg and salt. Mix well.
When the shells are cool enough to handle, stuff carefully with the crabmeat mixture and set in the baking dish. Cover completely with the Parmesan cheese sauce and sprinkle with the Asiago cheese.
Bake uncovered for about 25 minutes.
Parmesan Cheese Sauce
1/2 cup butter
1/2 cup flour
5 cups milk
2 cups freshly grated Parmesan cheese
1/2 tsp. salt
pinch of pepper
3-4 drops of Tabasco
In a saucepan make a roux with the melted butter and flour, stirring until bubbling. Slowly add the milk and stir until thickened.
Add the cheese, salt, pepper and tabasco sauce, stirring again, until the cheese melts.
Call the family to the table, add a green salad and enjoy. Oh and more wine please…..
Don made this for dinner one night last week and we are all still praising this dish. It is more than awesome and, trust me, you will love it.
White Wine Sauce
1 tbsp. butter

 1 tbsp.  olive oil

4 cloves minced garlic
1 cup white wine
1 cup whipping cream
1/4 cup Parmesan cheese, shredded
2 tbsp. capers, drained
1 tsp. freshly squeezed lemon juice
pinch of salt
8 oz. spaghetti
1 lb. medium sized scallops (about 16 and completely thawed, if frozen).
pinch of salt
2 tbsp. olive oil
In a medium skillet, heat the butter, oil and garlic on medium heat, cooking for about 60 seconds until it becomes transparent.
Add the wine and bring to a boil. Boil for a couple of minutes until the wine has reduced to approximately half.
Add the whipping cream and cheese. Bring just to the boil and reduce to a simmer. Cook this for a couple of minutes, stirring constantly until it begins to thicken.
Remove from the heat and add the capers and lemon juice, add a pinch of salt and pepper. Keep covered.
Cook the pasta to al dente. Drain and add to the sauce, stirring to combine.
Season with a pinch of salt
Heat the oil in a large skillet on high just until hot but not smoking. Oil should not be smoking, just rolling around the skillet.
Add the scallops but do not over crowd.
Sear on one side for 4 minutes until they are a golden colour. Please do not move the scallops around in the beginning.
Turn the scallops to the other side and cook for just 2-3 more minutes.
Remove from the heat immediately and transfer the scallops to a plate immediately.
Add the cooked scallops to the spaghetti / sauce and reheat gently, just to warm up. Serve immediately.
If you insist, you can lick the plate. These are sooooo darn delicious.
We made this up last week and I have to admit I am slow in getting it posted. It is truly delicious and not hard to put together.
8 oz. no yolk noodles
1 cup asparagus, cut into 1 inch pieces
about 16 large scallops, cut in half horizontally and ligament removed from the side.
pinch of salt and pepper
2 tbsp. butter
1/2 cup white wine
2 tbsp. water
2/3 cup heavy cream
Cook noodles in water until almost al dente, stir in the asparagus for about 2 minutes more. Drain and transfer to a platter, covered with foil to keep warm.
While cooking the noodles, rinse then pat the scallops dry and sprinkle with salt and pepper. Heat butter in a heavy skillet over medium heat until it begins to bubble and the foam subsides then add the scallops. Increase the heat and sear, turning once and cook through (about 2 minutes in total). Transfer to the platter with the noodles and keep warm.
Add wine to the skillet and deglaze, making sure to scrape up any of the brown bits for 60 seconds. Stir in the water and cream and boil to slightly reduce for about 3-4 minutes.  Simply pour the sauce over the noodles and scallop/asparagus mix. You could also plate out the noodles and asparagus and then pour the sauce over each portion. Either way, you won't have to wait long for all he oohs and ahhs.
When visiting Don's cousin in Washington for dinner she made the most incredible enchiladas for us and I want to share them with you. Even though the recipe calls for green chillies, they are NOT spicy and I can promise you that. If I can eat them they are not spicy.
10 soft tortilla shells
2 cups cooked, shredded chicken
2 cups shredded Monterey Jack cheese
3 tbsp. butter
2 tbsp. flour
2 cups chicken broth
1 cup sour cream
1 – 4 oz. can green chillies
Preheat the oven to 350 degrees. Grease a 9″ x 13″ baking dish and set aside.
Mix the chicken and 1 cup of the cheese together. Spoon in equal portions into the tortilla shells and place in the baking dish, seam side down. Set aside.
In a saucepan melt the butter and whisk in the flour until smooth, cooking for 1 minute. Slowly whisk in the chicken broth until smooth, continuing to whisk over a medium heat until thick and bubbly.
Stir in the sour cream and chillies, don't let this boil as it will curdle the sour cream.
Pour the sauce over the shells, smoothing to cover them all, and then sprinkle the remaining cheese over the top.
Bake for approximately 22 minutes. Turn on the broiler and set under for 3 minutes to brown the cheese. Serve this with a side of refried beans and a rice recipe I will get from Pauline and post for you. Utterly scrumptious.
*These can be made up ahead of time up to the part where you make the sauce. It does not freeze well. Simply wrap the shells in tin foil; place in freezer bags until you are ready to serve. Thaw them and make the sauce. Presto – a meal in minutes.
*Note: I made mine with Tex-Mex shredded cheese as I didn't have any Monteray Jack in the house. Instead of adding 1 cup of the cheese when ready to bake, I put on 2 cups. We took this to a Pot-luck dinner last night and came home with no left-overs. Really, really yummy.
Recipe #1710 (but who's counting?)
This is a very simple recipe but pair it with a chicken entrée or even pork, as in tenderloin or chops and you have a wonderful dinner. Vegetable of your choice and perhaps a small salad makes it all perfect.
1/2 cup butter
2 cups rice
18 oz. tomato juice
1  3/4 cups water
1 chicken cube (minced down)
pinch of salt
fresh Parsley for garnish
Saute the rice in butter until a golden brown. Add the remaining ingredients and bake, in a covered casserole, for approximately 45 minutes in a 375 degree temperature.
A lovely elegant dinner during the summer months.
Ooooh please read this and try it…I was so very, very fortunate to have this recipe given to me to share on my site by our server Ross and the Chef at Joey Burrard, in Vancouver.
1 portion of raw Ravioli, 13 pieces
4 each, prawns (21-15 defrosted)
1/2 oz. vegetable oil
pinch of salt
#30 scoop lobster ravioli butter
2 oz. white wine
4 oz. cream
1 lemon wedge
2g dill fronds
5 ea (1g) pea shoots, tip 1 1/2″ long
1/2 tsp. lobster oil
Place one portion of ravioli into the pasta basket and cook in boiling water. Start the 7:30 timer, Agitate within the first 20 seconds to prevent the ravioli from sticking together. With 3 minutes remaining on the timer, place the vegetable oil in a pan and place over medium high heat until the oil just begins to smoke. Season the prawns portion and add them to the pan and sear for 30 seconds on one side to get some colour.
Flip the prawns and sear the other side for 30 seconds or until golden brown. Add the white wine and then the ravioli butter to the pan and let simmer for 30 seconds. Add the cream first and then the ravioli to the pan and simmer for approximately 40 seconds until the proper sauce consistency is reached and remove from the heat.
Remove the prawns from the sauce, set aside in a cup and keep hot. Carefully place and stack the raviolis evenly in the center of the plate. Using a spatula, pour the sauce over top of the raviolis. Nest the prawns in the center creating height. Squeeze the lemon wedge over the prawns, ravioli and sauce. Drizzle the lobster oil over the raviolis, ensuring even distribution. Tear the pea shoots into 1 1/2″ tips and sprinkle around the prawns. Do the same with the drill fronds.
I have requested the Chef to break the massive measurements for the lobster sauce. I am not adept to grams etc. but the old fashioned pounds and teaspoons. When I get an answer, I will put it up for you.
NOTE:  This recipe is for one person. Make sure the ravioli is the small size, or simply reduce the amount to 5 or 6 per person. Enjoy.
You can make this up for dinner when you only have 30 minutes. It is easy to make and , yes, it is delicious.
1 small onion, grated
1 garlic clove, peeled and minced
pinch of salt and pepper
4-5 slices of bacon, cut into small pieces
1 tbsp. flour
1 1/2 cups whole milk
1/2 cup half and half cream
2 pgs. cheese tortellini
1/2 – 3/4 cup grated Asiago cheese
In a fry pan, cook the bacon until crisp. Transfer to paper towelling to drain. In the same fry pan, add the onion and garlic and cook until the soft (just a few minutes). Now add the flour and cook  stirring constantly for 30 seconds.
Whisk in the milk and cream slowly and add the tortellini and slowly bring to a boil. Reduce the heat and simmer, stirring often, until thickened. Remove from the heat, add the bacon and half of the cheese.
Pour into a 2 quart casserole and sprinkle the remaining cheese on top. Place under the broiler for about 4-5 minutes until golden brown.
Salad and warm rolls and  you have a meal fit for royalty – your family.
Okay, so tonight is pasta night at your house. What are you going to do? Why not try this one? It is yummy, a little spicy or you can make it with even more heat. Your choice.
2 tbsp. good oil
1/2 cup finely diced salt pork, rind removed,
2 garlic cloves, grated
1/2 – 1 tsp. red pepper flakes
3 tbsp. butter (not margarine)
1 tbsp. chopped fresh parsley
ground pepper to taste
8 ounces Cappellini
In a medium skillet, heat the olive oil and add the salt pork. Saute until browned and crispy. Remove with a slotted spoon and set aside. In the same pan, sauté the garlic until it becomes soft.
Increase the heat to medium and add the red pepper flakes, butter, parsley and pepper. Stir only until the butter has melted. Set aside. ** you could add hot sauce now if you want it even hotter.
In a large pot, cook the Cappellini until al dente. Drain and toss the salt pork and butter mixture, making sure it is well tossed. Serve immediately with a salad
This is a recipe that has all the 'comfort foods' like bacon, fresh corn,tortellini…yum!
1 1/2 lbs. tortellini
5 slices bacon
2 garlic cloves, grated
1/4 cup plus parsley (need some for garnish), chopped
1 1/4 cups heavy cream
1 cup fresh corn off the cob
pinch salt
2/3 cup grated Asiago cheese, divided
Cook the pasta according to instructions, drain well and set aside. Be sure to reserve 1/2-1/3 cup of the cooking liquid.
Cook the bacon until crispy, drain on paper towelling and set aside. Discard all but 2 tbsp. of the bacon fat. Add the garlic and parsley now  and cook for 1 minute.
Add the cream, corn, cooking liquid and salt and bring almost to the boil. Reduce and simmer until all has thickened, about 5 minutes.
Stir in the pasta and 1/3 cup of the grated cheese and toss until hot. This should take a couple of minutes. Just make sure all got tossed. Remove from the heat and crumble the bacon and add the remaining cup of cheese and top with some chopped parsley.
Serve in a pretty pasta bowl and have garlic toast at the ready. Perhaps a tossed green salad. There you go, dinner on the fly and oh so good.
Last night we were trying to think of something for dinner and decided on pasta. Don, in his culinary wisdom, decided to put this together. Trust me, you will want it more than once. If there had been any leftovers, I would have had it for breakfast this morning.
generous pinches of salt for the pot of water
1 lb. spaghetti
2 garlic cloves, minced
1/2 cup olive oil
pinch of red pepper flakes
1 tbsp. Flat leaf parsley
Freshly grated Asiago cheese
5-6 white mushrooms, brushed and sliced thin
8 stalks of asparagus, cleaned, end removed and cut in 3 inch pieces
Boil the pasta according to package directions only to al dente.
While that is cooking, combine the garlic, red pepper flakes, olive oil in a large skillet and cook until the garlic softens and turns a golden colour (about 7-8 minutes).  Now place the mushrooms in the skillet and cook until starting to turn golden brown. Remove from skillet and place in a bowl. In the same skillet, add a touch of oil and cook the asparagus until turning a golden brown but not over cooked.
Drain the pasta and into the skillet, mix the spaghetti, mushrooms and asparagus together. Divide equally into bowls and sprinkle grated Asiago cheese over.
You will roll your eyes and exclaim 'damn we did this'. It is sooooooo delicious. Drat it… we forgot to take pictures. Next time. Sorry, but it smelled so good and I was hungary.