With the remaining pumpkin I made these and my granddaughter thought the mini 'pies' were the best. Add whipping cream and you have your very own pie.
30 tart shells (frozen ones work well)
2 large eggs
remaining canned pumpkin from muffin recipe
1/2 cup sugar
pinch of salt
1 tsp. cinnamon
1/2 tsp. nutmeg
1/4 tsp. ginger
1/4 tsp. cloves
1 1/4 cups evaporated milk
whipped cream for topping
Beat the eggs well with a whisk and then add all the remining ingredients until well blended. Place the shells on baking trays and fill each shell equally. It takes a touch less than 1/4 cup measure.
Bake for 25-28 minutes in a 375 degree oven until the crust turns a nice golden colour.
When cool (if you can really wait that long), add a generous splash of whipped cream and let the world go by. More tea?
Note: This is the best and most economical way to use up a can of pure pumpkin and have no waste – just joy.
There are nights in our house that are really special and this was one of them. Don had some ground pork left over from making his Christmas Tourtiere and put this together. You are going to love it. We got 10 meals out of it. OMGGGGG! This is so tasty, you will be glad of a second portion.
2 lbs. ground pork
2 large carrots, peeled and finely diced
3 cloves crushed garlic
2 – 28 oz. cans of whole tomatoes (Kirkland (Costco) brand San Marzano) tomatoes
2 cups freshly sliced white mushrooms
1/2 tsp. freshly ground nutmeg
1/4 tsp. red pepper flakes
1 tbsp. salt
2 tbsp. dried oregano
1 tbsp. dried basil
1 tbsp. butter
1/4 cup heavy cream
1/2 cup 2% milk
1 cup red wine (we used Sangiovese)
parmesan cheese, grated, enough for topping
1 lb. your favorite dried pasta noodles
In a Dutch Oven pot cook the pork until no longer pink and add the carrots, garlic and mushrooms, cooking until carrots tender. This is approximately 10 minutes.
Skim the fat off the top of the meat mixture and add the tomatoes, spices and wine, stirring occasionally and breaking up the tomatoes a little.
Add the butter, cream and milk, stirring well to incorporate.
Cook your pasta noodles according to the directions, drain,  saving 1/2 cup of the water. Add the saved water back into the noodles and prepare to serve.
When ready to serve, place a portion of the noodles on the plate, add a generous serving of Bolognese sauce, topping it all off with a sprinkling of grated Parmesan cheese.
If you wish, serve with a chilled green salad and your favorite dressing.
Pour yourself a glass of the lovely red wine and declare "damn I did this".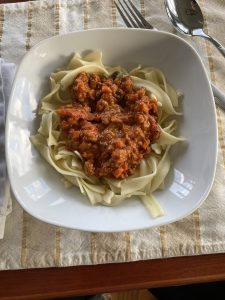 No need for the smokin' hot pan with oil in the oven to put the batter into. Read on….
3 large eggs, well beaten
1/4 cup + 2 tbsp. whole milk
1/4 + 2 tbsp. water
pinch of salt and white pepper
3/4 cup flour
Pam baking spray
Preheat oven to 450 degrees and oil a 6 muffin tin really well with Pam spray (or like)
Whisk the milk, water, salt and pepper in the beaten eggs. When well blended, whisk in the flour until combined.
Pour in the batter in equal portions and bake for 10-11 minutes,  then reduce the temperature to 325 degrees and bake for about 35-37 minutes until appears almost dry in the center and very puffy and golden in colour.
Cool for a few moments then CAREFULLY remove from pan and place on a baking sheet. Serve warm with the roast, potatoes and lots of gravy in the center of the Yorkshire puddings. So delicious.
This is a wonderful way to have your 'mashed potatoes' more on the light side and even Keto friendly. Give this a try and I know you will return to make it over and over again. Don made Coq Au Vin and this was the side dish. YUM!
1 large cauliflower head cut into florets
3 tbsp. butter
3-4 tbsp sour cream
4 garlic cloves, divided
1/4 cup Parmesan cheese (or Asiago)
salt and pepper to taste
In a steamer over a large pot of boiling water, add the cauliflower and steam for 12-15 minutes until tender. Drain and cover with a lid to keep hot while you take the next step.
In the same pot, melt the butter over a medium heat and saute the garlic until fragrant- this should just take a moment.
Blend the cauliflower and garlic in a food processor. If the bowl is not large enough, do this in a couple of batches. Have the setting on high and blend until smooth.
Put the cauliflower and garlic back in the pot and stir in the cheese, sour cream and season.
Everyone will love this, especially the children. Who knew?
Let me preface this with "Yes, I did eat it" as I am not one for the unusual. For me, anyway.
1 lb. ground bison
1/2 cup panko bread crumbs
1 egg
3 tbsp. Worcestershire sauce
4 dashes of Tabasco sauce
1 pinch granulated garlic
pinch of black pepper
olive oil cooking spray
4 slices of cheese (American or Monteray Jack)
4 Brioche hamburger buns, split and toasted
Preheat barbecue grill and lightly oil the grate.
Mix the bison, panko crumbs, Worcestershire sauce, Tabasco, garlic and pepper mixing well together by hand and then form 4 patties.
Spray the patties with the Olive oil spray and grill until hot and barely pink in the center (about 5 minutes each side). Top each burger with a slice of cheese and cook until it has melted (about 1 1/2 minutes) An instant read thermometer placed in the center should read 140 degrees F (60 degrees C).
Place each burger on a bun half and serve with grilled caramelized onions, mustard, mayo, pickle, lettuce and tomato. Serve with french fries and you have a great dinner.
These really are very tasty. Give it a try. By the way, the picture shows a single patty only. That is not two. Honest!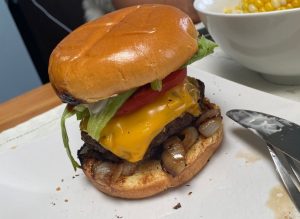 Normally, chili is made with beef (chopped, ground, chunky) but this is made with ground pork. Give it a try and if you find that, although you like hot and spicy foods,  it gets too much, try a spoonful of sugar or a bit of salt and lime juice for fast relief. Besides, the heat of chilies only lasts 6 minutes. True!
This is a great meal for hockey watching nights or just for a comfy family time meal.
1  1/2 lbs. ground pork
1 large white onion, chopped
1 large red bell pepper, seeds removed
1 large green pepper, chopped, seeds removed
4-5 large white mushrooms, ends trimmed, and sliced
1 cup celery, sliced in 1/2 inch pieces
3 garlic cloves, minced
2 cans diced tomatoes, undrained
1 can kidney beans, drained and rinsed
1 small can tomato paste
1/4 cup water
1/2 cup  Chardonnay wine
3 tsp. brown sugar
1 tsp. dried oregano
1 tsp. Worchestershire sauce
2 tsp. chili powder
1/2 tsp. red pepper flakes
1/2 tsp. cayenne pepper
4-6 drops of hot pepper sauce
Start this earlier in the day and in a large skillet, brown the pork and onions, until pork is no longer pink.
Add the peppers, celery and cook for about 5 minutes until peppers are tender. Add the garlic and mushrooms and cook for another minute.
Add the remaining ingredients, reduce the temperature to a simmer and cook for an  hour on a medium heat, stirring often. Turn off the heat. Set aside.
Take a taste test and adjust the 'heat' if you wish. As it rests, it will  thicken up. If you want a thinner consistency, just add a small amount of water.
Before dinner, reheat the chili and spoon over a bowl of steamed white rice or broad noodles if you prefer. Add a bowl of sour cream and grated cheddar cheese to be used as a garnish.
When we operated our Bed and Breakfast we had soooooooo many recipes to use. After all, we spent a year trying, adjusting, tasting and tweeking some more the recipes we wanted to prepare and serve. (sometimes just saying that makes me laugh and sound like a mad scientist).
Filling
1 pkg. Philadelphia cream cheese
15 oz. ricotta cheese
2 egg yolks
1 tbsp. sugar
1 tsp. pure vanilla
Blintz
1/2 cup softened butter
1/3 cup sugar
6 eggs
1 cup flour
2 tsp. baking powder
1  1/2 cups plain yogurt
1/2 cup mango juice
Preheat oven to 350 degrees.  In a small bowl beat the cream cheese until smooth. Add the ricotta cheese, egg yolks, sugar and vanilla and thoroughly combined. Set aside.
To make the blitz,  cream the butter and sugar together until light and fluffy.  Add the egg yolks and beat well.
You need two small bowls…one to mix together the flour and baking powder and the other to mix together the yogurt and mango juice. Add these two bowls alternately into the egg mixture and blend thoroughly.
Pour half the batter into a 9 x 13 inch glass baking dish. Cover the batter with the filling (carefully) making sure to spread to the edges.
Bake for about 50 minutes, until golden brown.
Remove and serve with fresh fruit. This will make 8 people very happy.