The days are finally in summer temperature mode and I thought this would help out for making a light supper to be enjoyed on the deck.
1/4 cup olive oil
3 tbsp. fig balsamic vinegar
1 tbsp. dried dill
1 minced garlic clove
pinch of pepper and crushed oregano
4 skinless, boneless chicken breasts
spring salad mix (about 7-8 cups)
1/3 cup seedless red grapes, halved
1/3 cup goat cheese, crumbled
1/4 cup toasted pistachios, chopped coarsely
Mix the first 6 ingredients in a jar with lid and shake well. Let stand for 1 -1  1/2 hours to allow them to mellow out.
Cook the chicken over the grill, uncovered for about 15 minutes, until tender and no longer pink. Cool slightly.
On 4 plates, arrange the salad greens, topping with the grapes, goat cheese and nuts. Slice each breast and arrange 1 per plate. Shake the dressing and drizzle over all.
Add a glass of your favourite chilled white wine and simply enjoy.
This is a recipe that will wake up your taste buds. It is a little different, but try it out.
3 cucumbers, peeled
1 1/2 tsp. salt
2 green onions, if using
1 cup sour cream
1 tbsp. white vinegar
3 tbsp. sugar
Slice the cucumbers quite thin into a bowl and sprinkle with the salt. Let sit for about an hour. (Go make the coffee and pour yourself a cup).
Pour off the liquid, rinse well with cold water and place in a towel to carefully squeeze out any excess remaining water.
If using the green onion, clean it up and then slice thinly. Add to the cucumbers.
In a small bowl, combine the sour cream, sugar and vinegar, mixing well.
Pour over the cucumber mixture and toss to combine.
This salad is great with a baked fish entree.
RECIPE # 1727
Another great salad to enjoy. Easy peasy to make for four people.
1/2 cup rice, rinsed and drained
4 fresh ears of corn, husks and silk removed
1/2 cup toasted pecans, coarsely chopped
1/3 cup fresh baby spinach, torn into bite size pieces
3 tbsp. olive oil
3 tbsp. fresh squeezed lime juice
1 avocado, seeded, peeled and quartered
slices of roast chicken, if using
In a large pot of boiling water, add the rice. Reduce the heat and simmer for about 35-40 minutes, or if you have one, use a rice cooker and set the timer.
While the rice is cooking, spray the corn with cooking spray and place on the barbecue grill for about 8 minutes, turning often. Remove from the grill and let cool to the touch. Cut  the corn from the cobs.
Drain the rice. In a large bowl, add all the ingredients, toss to mix while still warm. Spoon in four equal portions and top with an avocado piece. If you wish to bring it up a level, add slices of roasted chicken on the side. (perhaps left-overs from Sunday dinner).
Serve with warmed Brioche buns. Ooohhhhh!
In a word…YUM!
Salads can be humdrum sometimes, and this one will change the whole picture.
2 tbsp. Olive Oil
1 tbsp. Fig Balsamic Vinegar
1 small radicchio head
1/2 fennel bulb, trimmed and sliced very thin
1/4 cup Italian parsley, pinched off stem
3 – 4 golden beets, cooked and sliced thin
2 small peaches, peeled and sliced
toasted pecans, coarsely chopped
pinch of sea salt
squeeze of lime juice
Whisk together the oil, vinegar in the bottom of a large bowl.. Layer in the balance of ingredients, placing the radicchio first.
Cover with saran wrap and place in the fridge until dinner. When ready to serve, toss the salad together. Serve. This is a great salad to serve with a roast or barbecued chicken.
I love this salad. It is so flavourful, you won't put your fork down.
1/2 cup wild rice, rinsed and drained well
4 medium corn on cob, husks and silks removed
1/2 cup chopped pecans, toasted
1/2 cup arugula, chopped
1/2 cup baby spinach, chopped
1/3 cup chopped basil
3 tbsp. good olive oil
1 large lime, juiced
pinch of salt
1 avocado, halved, seeded and peeled. Cut in quarters
In a large saucepot, bring 1 1/2 cups water to the boil and stir in the rice. Reduce heat and simmer, covered, until cooked.
Coat the corn with olive oil and grill on a rack for about 7-8 minutes until charred. Turn frequently. Remove from the heat and let cool. Cut corn from the cob.
Drain the rice, stir in the corn, pecans, basil, arugula and spinach, oil, lime juice and salt. Stir to heat completely through. Remove from the heat. Divide equally among 4 lucky people. Top each serving with avocado.
Serve with Toasted brioche buns, and a chilled beverage of your own choosing.
This is a little different but certainly tasty. There will be cries for 'more please'.
1/2 cup Basmati rice, rinsed and drained
5 medium ears of corn, husk and silk removed
1/2 cup toasted pistachio nuts, chopped
1/3 cup chopped basil, fresh
1 tbsp. oil
2-3 tbsp. melted butter
1 large lime  juiced (3-4 tbsp.)
pinch of salt
1 avocado, halved, seeded, peeled and quartered
Baby spinach and arugula for each serving
In a large saucepan, bring 1 1/2 cups of water to the boil, stir in the rice. Cover and simmer for about 30 minutes on a lower temperature.
On the grill, brush melted butter over the corn and grill for about 6-7 minutes until lightly charred, turn often. Remove from the grill and let cool down. Cut the corn from the cob.
Drain the rice and stir in the corn, pistachios, basil, oil, lime juice and salt. Return to the stove and stir to combine and heat through.
To plate, add a generous serving of the fresh greens, plate the salad on top and add the avocado evenly. Serve with toasted brioche bread, glass of chilled wine and you have a feast.
Enjoy!
Note: I added melted butter to the corn, and then drizzled the remaining butter over it all and simply mixed it lightly.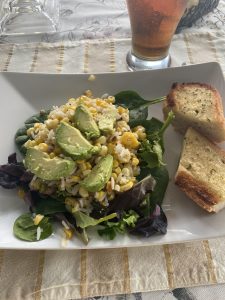 This is a new one for us but thought you would like it as well.
 1 garlic clove, cut in half lengthwise
2 large blood oranges
1 Jicama (1 lb.) peeled and julienned
1 lb. Vidalia onions, peeled
2 tbsp. olive oil
pinch of salt
1 cup flat leaf parsley, leaves cut in half
2 tbsp. fresh lime juice
1 tsp. balsamic vinegar
Heat broiler. Rub a medium size bowl with the garlic and discard. Remove the peel and pitch from the oranges.
Reserving the orange juice, cut the oranges into quarters, then each cut each quarter crosswise into thin triangles. Put the oranges, juice and julienned jicama in the bowl and set aside.
Slice the onions crosswise into 1/4 inch thick rounds, keeping them in tact. Brush each one with the olive oil (both sides) and arrange on a parchment lined baking sheet. Broil the onions about 5 minutes, remove from the oven and turn them over and then return to the oven to broil for another 5 minutes.  Separate the rings and add to the salad bowl.
Add the parsley leaves, lime juice, vinegar to taste and add the remaining olive oil and toss to completely cover all the leaves.
Serve with a warm dinner roll and this will suit either a beef or fish entrée.
We all know the nicer weather is coming and this will help you get ready for it. We all need new and different salads on hand and this one will help you out.
1 tbsp. fresh orange juice
1 1/2 tsp. fresh lemon juice
1 1/2 tsp. soy sauce
pinch of ground coriander
1/2 tsp. minced fresh ginger
1/2 tsp. honey
1 1/2 tbsp. vegetable oil
pinch of salt and pepper
1/4 lb. green beans, stem ends removed
3 ripe tomatoes
1 small bunch baby spinach, stems removed and cut the leaves in half.
In a small bowl, mix together the fruit juices, soy sauce, coriander, ginger and honey until combined. Whisk in the vegetable oil and season with the salt and pepper.
Bring a pot of water to the boil, add the beans and cook until tender (about 2-3 minutes). Drain and place in ice water to stop the cooking process.
Cut the tomatoes into thick chunks. Drain the beans really well and pat dry with a paper towel. Place all in a bowl and toss with the dressing.
Arrange on 4 salad plates or simply leave in the bowl and let everyone help themselves, if it is to be a side portion.
Well, it is coming sooner or later but do not despair. Keep this recipe handy and you will be ready.
2 tbsp. Fig Balsamic vinegar
1 tbsp. fresh Basil, julienned
2 tbsp. olive oil
2 tsp. grainy mustard
1 tsp. liquid honey
pinch of salt and pepper
2 peaches, washed, skinned, pitted and sliced
2 papayas, washed, peeled, pitted and sliced
1 tsp. olive oil
1 lb. heirloom tomatoes, roughly chopped
1 1/2 cups sliced sugar snap peas, ends removed
1/4 cup, feta cheese, crumbled
Combine the first 6 ingredients and whisk together. Set aside.
In a large bowl, combine the remaining ingredients, except the cheese, and drizzle the dressing over the fruit and gently toss to coat.
Arrange in 6 individual bowls and sprinkle the cheese over the top.
Summer is here (at least it is warmer) and now is the time to bring on the salads. Just so you don't get bored with the same old, same old ones, try this. It is pretty to look at and is wonderful, especially with my most favourite cheese.
1 tbsp. butter
4-6 shitake mushrooms, stems removed, thinly sliced
salt and pepper for seasoning
1/2 lb. fresh asparagus, stems cleaned, ends trimmed
1/2 head of leaf lettuce, outer leaves removed
1/4 head of red cabbage, core and outer leaves removed, grated
4 radishes (different kinds if available)
1/4 cup olive oil
2 tbsp. fresh lime juice
2 tsp. fresh tarragon, minced
1 tsp. Dijon mustard
1/3 cup Burrata cheese,
1/4 cup chopped toasted pecans
Melt butter in a fry pan and sauté the mushrooms until golden. Season with salt and pepper and set aside.
Wash the asparagus and pat dry with a paper towel. Now, with a vegetable peeler, peel the asparagus from tip to end to get ribbons. Transfer to a large bowl and set aside.
Wash the lettuce and tear into bite size pieces. Add this to the asparagus. Add also the red cabbage. Thinly shave the radishes on a mandolin and add to the bowl as well. No mandolin? Slice very thinly with a paring knife.
Dressing
Combine the oil, juice, tarragon and mustard. Whisk until really well blended. Add a bit of salt and pepper to taste.
Toss the asparagus and greens with the now cooled mushrooms. Divide out onto 4 plates. Now, using a small spoon, drop little bits of the soft Burrata cheese onto each of the 4 plates, add the pecans and drizzle the dressing over the top.
Serve with warm dinner rolls and you are a hit and, perhaps, a glass of chilled Pinot Grigio.
What is not to like about this salad? I love watermelon and I surely love prawns. Put them together and you have a superb salad on a lovely summer day.
2 small fennel bulbs, trimmed.
2 garlic cloves
1 tsp. fennel seeds
1 tsp. coriander seeds
1 tsp. pink peppercorns
1 orange, zest and juice
1 cup white wine
2 1/2 cups water
pinch of salt
1 1/2 lbs. prawns, shelled and deveined, keep tails on
3 tbsp. olive oil
1 tbsp. raspberry vinegar
2 cups watermelon, cubed, seeds removed
1 cup cantaloupe, balled
1 small head frisee lettuce (only the inner leaves)
1 head butter lettuce
1 tbsp. chopped fresh tarragon
Thinly slice 1 fennel bulb and place in a saucepan. Add the garlic, fennel seeds, coriander seeds, peppercorns, orange zest and juice, wine and water, couple pinches of salt. Place over a medium heat and bring to a boil, stirring occasionally. Reduce heat to low, cover and simmer the broth for 20 minutes.
Add prawns to broth and cook, uncovered for about 4 minutes (until pink and curled). Remove pan from heat and allow the prawns to marinate in the warm broth for 15 minutes. With a slotted spoon transfer the prawns to a bowl and refrigerate until chilled. Strain broth and keep 1 cup.
To make your dressing, place the reserved broth in a small saucepan and bring to a boil over high heat. Bring to a rolling boil and reduce to 2 tbsp. (10-15 minutes). Transfer to a bowl and whisk in the olive oil and vinegar. Season to taste.
Thinly slice the remaining fennel bulb and add to a large bowl with the fruit, frisee and prawns. Drizzle the dressing and toss gently to combine.
Line serving plates with a few butter lettuce leaves. Spoon salad over the top. Garnish with the chopped tarragon.
This will serve 8 people.
I love coleslaw – especially when served on a pulled pork sandwich (made by Don, of course) and with burgers. This is a really nice one, so give it a try.
1 head of green cabbage
1 cup mayonnaise (not salad dressing)
1 cup sour cream
1 tsp. mustard
1 tbsp. lemon juice
1 tbsp. sugar
1 cup of drained well crushed pineapple
1/2 cup toasted sesame seeds
salt and pepper to taste
2-4 drops hot sauce (to taste)
Peel the outer leaves off the cabbage and throw away. Shred the cabbage and place in a large bowl, making sure to remove the core.
Mix together the mayonnaise, sour cream, lemon juice, mustard, sugar and hot sauce. Set aside.
Drain the crushed pineapple well and add to the cabbage.
Toast the sesame seeds.
To serve: Add the pineapple to the cabbage and pour the dressing over the top. Mix well making sure it is all blended. Add the sesame seeds and stir in. Cover and chill in the refrigerator for at least 4 hours, before serving. If there is any excess liquid in the bowl when ready to serve, simply drain off.