There are nights in our house that are really special and this was one of them. Don had some ground pork left over from making his Christmas Tourtiere and put this together. You are going to love it. We got 10 meals out of it. OMGGGGG! This is so tasty, you will be glad of a second portion.
2 lbs. ground pork
2 large carrots, peeled and finely diced
3 cloves crushed garlic
2 – 28 oz. cans of whole tomatoes (Kirkland (Costco) brand San Marzano) tomatoes
2 cups freshly sliced white mushrooms
1/2 tsp. freshly ground nutmeg
1/4 tsp. red pepper flakes
1 tbsp. salt
2 tbsp. dried oregano
1 tbsp. dried basil
1 tbsp. butter
1/4 cup heavy cream
1/2 cup 2% milk
1 cup red wine (we used Sangiovese)
parmesan cheese, grated, enough for topping
1 lb. your favorite dried pasta noodles
In a Dutch Oven pot cook the pork until no longer pink and add the carrots, garlic and mushrooms, cooking until carrots tender. This is approximately 10 minutes.
Skim the fat off the top of the meat mixture and add the tomatoes, spices and wine, stirring occasionally and breaking up the tomatoes a little.
Add the butter, cream and milk, stirring well to incorporate.
Cook your pasta noodles according to the directions, drain,  saving 1/2 cup of the water. Add the saved water back into the noodles and prepare to serve.
When ready to serve, place a portion of the noodles on the plate, add a generous serving of Bolognese sauce, topping it all off with a sprinkling of grated Parmesan cheese.
If you wish, serve with a chilled green salad and your favorite dressing.
Pour yourself a glass of the lovely red wine and declare "damn I did this".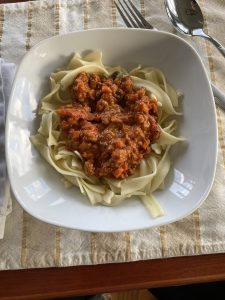 A friend of mine, Susan Hunt, posted this recipe this morning and I had to beg (not really) for the use of this one. So Susan…thank you.
1 pkg. shredded potatoes (we use Golden Grill Hashbrown Potatoes – see note)
3 eggs, well beaten
1/2 cup shredded cheese
1/4 tsp. each of garlic powder and onion powder
pinch of salt and pepper
Preheat oven to 350 degrees and grease well a mini muffin  tin.
Make the potatoes as directed then put into a bowl adding all the ingredients, stirring to combine.
Spoon in equal portions in the pan and bake for 20-25 minutes until golden in colour and the edges begin to get crispy.
Eat warm with lots of bacon, eggs or any egg dish you desire and thoroughly enjoy.
*Note: We use these potatoes often for Sunday breakfasts. Just follow the directions and all will be fine.  Also, these are so darn tasty, you could, if your family let you, eat them all at the same time. I kid you not.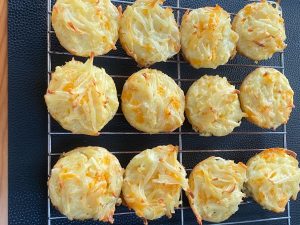 This is Don's latest wonderful dish that he made to go with the baked ham on the weekend.
You can't leave them alone and if anyone asks for leftovers, you can ask them what is a leftover?
1/4 cup butter, cubed
1/3 cup flour
3/4 tsp. salt
1/2 tsp. dry ground mustard
1/2 tsp. pepper
2 cups half and half cream
1 cup shredded Monterey Jack Cheese
1 cup shredded Edam cheese
6 cups thinly sliced Potatoes  (we had a mix of Yukon gold and Russet in the cupboard.)
1/2 finely chopped onion (on one side only**)
Preheat oven to 350 degrees. In a large saucepan, melt the butter and whisk in the flour, salt, mustard and pepper until well blended and smooth. Cook and stirring constantly gradually whisk in the cream and bring to a boil still stirring for about 2 minutes until thickened. Remove from heat. Add all the cheese in.
Layer the potatoes in a buttered baking dish and on one side only (* explanation follows) add the onion. Repeat the layers and pour the sauce over the entire surface.
Bake, covered for about 45 minutes. Uncover and bake for about 2-3 minutes so the top becomes lightly browned.
**The reason for the onion on one side only is I don't eat onions. Sometimes, obviously, they must be in the dish, but I guarantee you I will find them and remove them. Not for you of course.
Anyone who knows me or has followed me over the years, knows at this time of year, I do up trays for give away.  Don makes his Tourtiere pies and sausage rolls and I do the baking on Nov 11. We also pause at 11 a.m. in respect for our freedom then keep going.
This is the list this year. When done, pictures will appear.
Christmas Gumdrop cake
Whipped Shortbread
Pecan Shortbread
Butter Tarts
Citrus Cocada
Citrus Lace Cookies
Raspberry Meringues
Pralines
Spiced Nuts
Nuts and Bolts
Belem Tarts
New Christmas Cake
Lemon Shortbread
Mincemeat Tarts
WHEW!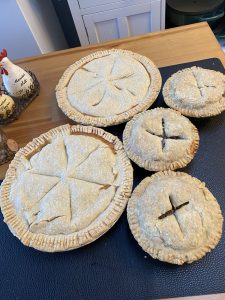 Whoa! What a way to use up leftover baked ham.  We love this one. Take a peak at the photo and you can see why.
1/4 cup butter, cubed
2 cups cauliflower chunks
2 cups asparagus, peeled and cut in 3 inch sections
1/2 lb. sliced fresh white mushrooms
3 medium carrots, sliced into 3 inch toothpick sticks
1/2 cup flour
1 1/4 cups 2% milk
1 1/4 cups vegetable broth
1 3/4 cups cubed, fully cooked ham
2 tbsp. minced fresh parsley
1/4-1/2 tsp. ground nutmeg
pinch of pepper
1 sheet frozen puff pastry, thawed
1 large egg, beaten
Preheat oven to 425 degrees. In a large saucepan heat butter over medium heat and add the cauliflower, mushrooms and carrots, cooking and stirring until tender.
Stir in the flour until blended. Gradually add the milk and broth. Bring to a boil, stirring constantly and add the asparagus, cooking until thickened (about 2 minutes). Remove from heat and add the ham, parsley, nutmeg and pepper.
On a lightly floured surface, roll the pastry to 1/2 inch thickness. Using a 10 oz. ramekin to use as a template, cut 4 tops for the pies. Fill 4 buttered ramekins with the vegetable mixture and top with the pastry. Cut slits in the pastry to allow steam to escape and brush each top with the beaten egg.
Bake for 19 minutes and let stand at least 5 minutes before serving. Add a green salad, glass of wine and enjoy! We did and there is no ham left.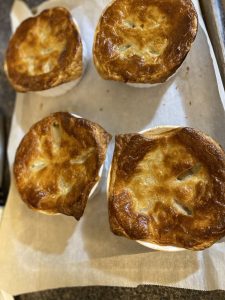 No need for the smokin' hot pan with oil in the oven to put the batter into. Read on….
3 large eggs, well beaten
1/4 cup + 2 tbsp. whole milk
1/4 + 2 tbsp. water
pinch of salt and white pepper
3/4 cup flour
Pam baking spray
Preheat oven to 450 degrees and oil a 6 muffin tin really well with Pam spray (or like)
Whisk the milk, water, salt and pepper in the beaten eggs. When well blended, whisk in the flour until combined.
Pour in the batter in equal portions and bake for 10-11 minutes,  then reduce the temperature to 325 degrees and bake for about 35-37 minutes until appears almost dry in the center and very puffy and golden in colour.
Cool for a few moments then CAREFULLY remove from pan and place on a baking sheet. Serve warm with the roast, potatoes and lots of gravy in the center of the Yorkshire puddings. So delicious.
Our dear neighbour brought us a cake like this, only using a different nut, and it was gorgeous. Well, here is our version. Give it a try, you may love it like we do. Just sayin'
1 cup flour
1 tsp. baking powder
1/2 tsp. baking soda
1 tsp. ground cinnamon
1/4 tsp. nutmeg
pinch of salt
1/3 cup butter, room temperature
3/4 cup brown sugar, packed
1 tsp. pure vanilla extract
2 tbsp. half and half cream
2 large eggs
2 – 2 1/2 cups Granny Smith apples, peeled and cut in 1/2 inch cubes,
1/2 – 3/4 cup coarsely chopped pecans
Pam spray
Preheat oven to 350 degrees. Place  the first 6 items in a bowl and gently whisk to combine.
In your electric mixer, add the butter, sugar and vanilla and beat for about 3 minutes so to make it light and fluffy (more if needed). Now lightly beat the eggs together adding to the mixer, along with the cream. Mix this really well.
Add the apples and pecans to the flour mix to coat them well and then add this to the wet mixture and mix only until the batter is thick.
Spray a 9 inch springform pan with oil spray. Spoon the batter into the pan, spreading with a spoon to even it all out. Bake in the middle of your oven for 30-35 minutes until it springs back when GENTLY touched in the very centre of the cake.
Set an on a rack to completely cool and run a knife around the outer edge of the cake ring and remove.
Cover the cake until you are ready to serve this to all the drooling mouths at the table.
Salted Caramel Sauce
1 cup sugar
1/4 cup water
1/2 cup whipping cream, divided
2 tbsp. room temperature butter
1 tsp. pure vanilla extract
3/4 tsp. kosher or coarse salt only. Do not use regular table salt.
Put the sugar and water in a medium pot. It will look almost too thick, but will thin out as it cooks. Do not stir this until it becomes golden in colour. This should take about 12-13 minutes.
Remove from the heat and very, very slowly whisk in 1/4 cup of the whipping cream. If you add this too quickly, it will bubble over. Now whisk in the remining cream until all is absorbed then whisk in the butter and vanilla. Now whisk in the salt.
Serve this warm over the cake, adding whipped cream or Chapman's vanilla ice cream on the side.
Store any remaining sauce (haha) in a jar in the refrigerator and when wanting to use it again, simply warm it up.
Since yesterday was declared "National  Pasta Day", Don followed through with this wonderful delight. It is so yummy, there won't be leftovers.
6 slices of bacon, cooked crisp and chopped
3 eggs, room temperature
1/4 cup heavy cream, room temperature
1 pound pasta (your choice)
3/4 cup Asiago cheese, finely grated
4 tbsp. parsley leaves, chopped fine
6 large mushrooms, sliced
Step one is the bacon.  Set this in a bowl and fry the sliced mushrooms until cooked, turning over to lightly brown. Then in a medium bowl, beat the eggs and cream until well blended. Season lightly with salt and white pepper. Stir in the cheese, saving 2 tbsp. for later.
In a large pot, cook the pasta in boiling water for about 10 minutes until al dente, do not rinse with water. but just strain and return pasta to the pot. Add the bacon and mushrooms mixing well and add to the cream mixture to completely coat the pasta. Portion this out into your favourite pasta bowls and sprinkle with the remaining Asiago cheese.
Note:  You have to work quickly while the pasta is hot to cook the cream mixture enough but not allowing it to curdle. This is so so good.
This a wonderful tasting and just yummy soup to make and you will devour it.
1/3 cup butter
8-9 oz, asparagus, pared and blanched, cut in thirds
1/4 cup flour
3 cups chicken broth
1/2 cup Pinot Grigio (or similar) white wine
1 cup whipping cream
1/2 cup brie cheese, rind removed
In a frypan, melt the butter and saute the asparagus until tender. Stir in the flour, reduce the heat and cook for about 3 minutes.
Now add all the liquids (broth, wine and cream) and increase the temperature to medium and bring to a boil. Once starting to boil, reduce the heat and simmer for 8-10 minutes.
Transfer the soup to a blender and puree well. Put through a strainer back into the pot and reheat. Now stir in the Brie and simmer for 5 minutes (until melted).
This is one soup that should be served hot so be careful. Oh, by the way, the rest of the wine is for you to enjoy with your soup. See? No waste. Lucky you.
YUM! What a wonderful soup to prepare and enjoy with your homemade croutons and a little fried sage as a garnish. The cooler (cold) weather is coming and it is a nice way to start the season.
1 lb. cubed, peeled butternut squash
2 garlic cloves, smashed
1 generous sized sweet potato, peeled and cut in cubes
1 onion, chopped
3 tbsp. good olive oil
pinch of white pepper
1 tbsp. butter
1 McIntosh apple, peeled and chopped
1 900 ml vegetable broth (no salt)
1/3 cup whipping cream
2 tsp. lemon juice
Preheat oven to 400 degrees. In a large bowl toss together the squash, garlic, potato, onion, pinch of salt and pepper mixing well. On a baking sheet lined with parchment paper, spread the mixture out and bake for 15 minutes, turn the vegetables over and bake a further 15-17 minutes until tender.
In a large pot, melt the butter over a low heat and cook the apple until soft,  stirring gently for about 6-7 minutes. Stir in the vegetable mixture and pour in the broth bringing up to the boil. Reduce the temperature and simmer for about 5 minutes.
Remove from the heat, add the cream and lemon juice. Blend this until smooth. Now the fun part, strain back into the pot so you have a perfectly smooth soup. Don't cheat or it won't be the same.
Croutons
7 tsp. olive oil
2 slices white bread cut into 1/2 inch cubes
2-3 tbsp. finely grated Asiago cheese
In a skillet, heat the oil and cook the bread for about 5 minutes, tossing until a golden brown. Remove from the heat and toss with the grated cheese. You are almost done.
Sage
1 tbsp. olive oil
6-7 sage leaves
In a small frypan cook the sage leaves until crisp (about 3 minutes). Remove from the pan and place the leaves on a paper towel to cool.
To serve, heat the soup up and ladle into pretty bowls, top with the croutons and a leaf or two.
Now you can proudly say "damn I did this".
This is a wonderful way to have your 'mashed potatoes' more on the light side and even Keto friendly. Give this a try and I know you will return to make it over and over again. Don made Coq Au Vin and this was the side dish. YUM!
1 large cauliflower head cut into florets
3 tbsp. butter
3-4 tbsp sour cream
4 garlic cloves, divided
1/4 cup Parmesan cheese (or Asiago)
salt and pepper to taste
In a steamer over a large pot of boiling water, add the cauliflower and steam for 12-15 minutes until tender. Drain and cover with a lid to keep hot while you take the next step.
In the same pot, melt the butter over a medium heat and saute the garlic until fragrant- this should just take a moment.
Blend the cauliflower and garlic in a food processor. If the bowl is not large enough, do this in a couple of batches. Have the setting on high and blend until smooth.
Put the cauliflower and garlic back in the pot and stir in the cheese, sour cream and season.
Everyone will love this, especially the children. Who knew?
For some strange reason, throughout my life, I have really avoided pork chops UNTIL NOW. Don made these last night and Boy oh Boy are they fabulous. True.
4 boneless pork chops
1 tsp. salt
1 tsp. black pepper
1 tsp. garlic powder
1 tbsp. olive oil
Preheat oven to 35 degrees. If not using a frypan that can go into the oven, grease a 9″ x  13″ baking dish.
Season the chops with the salt, pepper and garlic powder. Transfer to the prepared pan.
Glaze
1/2 cup honey
1/8 cup packed brown sugar
1/8 cup soy sauce
1 tsp. chopped garlic
1 tbsp. butter
1/8 tsp. ground ginger
dash cayenne pepper (or more to taste)
Whisk the honey, brown sugar, soy sauce, garlic and butter together in a bowl and pour over the chops.
Bake in the oven for 25 minutes. Remove from the oven and let rest for approximately 5 minutes to allow the chops to soak up some of the sauce.
Add a 1/4 tsp. corn starch  mixed in a 1/4 cup of water to the remaining sauce and stir until it thickens.
Serve the chops with a stir-fry vegetable side dish and add the extra sauce.