All credit for this recipe is from The Best of Bridge group. We have used this for years and as we are celebrating, with our kids and grandkids, our 30th Wedding Anniversary, I wanted to use it again. The  2020 Covid 19 year took a toll on everyone for sure.
2 lbs. Frozen Hash Browns
1 500 ml carton sour cream
2 tins cream of mushroom soup (Campbell's)
1/2 cup melted butter
2 cups of shredded cheddar cheese
light sprinkle of onion powder
parmesan cheese (or asiago)
Thaw the potatoes slightly for easier mixing. First mix the listed 6 ingredients and place in a 9″ x 13″ basking dish. Sprinkle the parmesan cheese on top and bake at 350 degrees for about 1 1/2 hours.
This will serve 8-10 people. Double it if there are more. I think I will.
Serving can be Brunch, Lunch or Dinner. Depends on you. But be sure to say "Thank you Ladies
On Sunday afternoon we were dining at Cuckoo's in Coombs and we had this sauce. It is to die for. Total addictive. You have to try it. It will go on anything and be so wonderful.
Of course the Chef couldn't give us HIS recipe and it is beyond yummy. This is Don's and is soooo yummy.
1 lb. mushrooms, cleaned and quartered
3 cloves garlic, minced
3/4 cup fresh parmesan cheese, grated
3 tbsp. butter
1/2 tsp. salt
1/4 tsp. pepper
2 tbsp. fresh Italian parsley leaves, chopped
1 cup heavy cream
Put the butter in a frypan and fry the mushrooms without moving them around. Turn over only when they have a nice crust on the bottom. Add the garlic, salt and pepper and saute for one minute.
Add the cream and bring to a boil,  now add the cheese cooking for 3 minutes. Lower the temperature, add the parsley and simmer for one minute until thick and smooth.
OMG! Chicken, steak, fish, even toast triangles will benefit from this sauce.
When the weather isn't exactly BBQ  time, then this is a wonderful way to cook whole salmon in the oven. Don did this yesterday, and we loved it.
1 4-8 lb. wild salmon, scaled and cleaned
2 tbsp. olive oil
pinch of kosher salt
pinch of ground pepper
1 mini orange, thinly sliced
6 sprigs of fresh dill
4 sprigs of fresh parsley
5 cloves of garlic, peeled
Preheat oven to 425 degrees. Line a baking sheet with parchment paper.
With paper towels, pat dry both the inside and outside of the fish.
Sprinkle both sides with salt and pepper.
Stuff the inside with the orange slices, ill, parsley and garlic and tie the fish closed with cooking twine.
Bake in the oven for about 20-25 minutes until an internal temperature has reached 130 degrees. Note: if fish is quite thick, it may be a few minutes longer.
Remove from the oven and turn the broiler on,, then place the fish back in the oven and broil for about 3 minutes. (just don't burn it). Remove from the oven, discard the garlic, herbs, etc.
Slice the fish, place on a serving plate and let everyone help themselves. (For your information, w served with asparagus and corn on the cob (cut in halves).
It was yummy and I really liked the light 'fishy' taste. This worked.
Last night Don made this sauce for our BBQ chicken but after tasting it we joked it would be good on our eggs in the morning. Guess what? We did and it is fabulous. Don makes Paquette McMuffins every Sunday and we dobbed some on our egg and it was great.. Now he has made more for our steaks tonight.  Here it is.
1 cup ketchup
1/4 cup apple cider vinegar
1/4 cup brown sugar, Packed
1 tbsp. molasses
1 tsp. ground powdered mustard
1 1/2 Worchestershire sauce
1 tsp. garlic powder
1/4 tsp. onion powder
1/4 tsp. ground black pepper
2 tbsp. chopped fresh parsley (garnish)
Whisk all the ingredients until fully combined and smooth as silk. Cover and store in the refrigerator.
You won't have to worry about the shelf life because it won't last long enough to be wasted.
I wanted to make these for breakfast Sunday but I forgot how they grew. When done, I did not have a platter/plate to put them on and used my largest cookie sheet. But Oh so good!
20-24 frozen dough rolls
1 cup dark brown sugar (more if you wish)
1/3 cup instant vanilla pudding
2 tbsp. cinnamon
1 1/2 – 2 cups chopped pecans/pistachio nuts
1/2 – 3/4 cup  melted butter
The night before, spray a bundt pan with non-stick spray and set in the frozen rolls.
Now add the layers of ingredients and cover with a tea towel. Go to bed and in the morning…
Preheat oven to 350 degrees and bake these for 25 minutes. Leave them for about 5-8 minutes before trying to serve. Enjoy!!!!!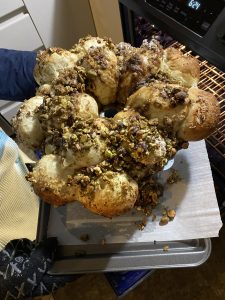 Don made this back in 2007 for his niece and I decided to resurrect it once more. It is beyond delicious and I hope you will give it a try.
12-16 Manicotti shells, cooked 10 minutes
1/2-1 lb. frozen crabmeat, flaked (mock crabmeat is just as good here)
1/2 lb. wilted spinach
1/2 cup grated Parmesan cheese
1 large egg, beaten
1 tsp. salt
Parmesan cheese sauce (below)
1/2 cup grated Asiago cheese
Preheat oven to 400 degrees. Cook the manicotti shells as directed for 10 minutes. Set aside to cool.
Spray the bottom and sides of a 9 x 13 baking dish.
In a medium bowl, combine the crabmeat, spinach, cheeses, egg and salt. Mix well.
When the shells are cool enough to handle, stuff carefully with the crabmeat mixture and set in the baking dish. Cover completely with the Parmesan cheese sauce and sprinkle with the Asiago cheese.
Bake uncovered for about 25 minutes.
Parmesan Cheese Sauce
1/2 cup butter
1/2 cup flour
5 cups milk
2 cups freshly grated Parmesan cheese
1/2 tsp. salt
pinch of pepper
3-4 drops of Tabasco
In a saucepan make a roux with the melted butter and flour, stirring until bubbling. Slowly add the milk and stir until thickened.
Add the cheese, salt, pepper and tabasco sauce, stirring again, until the cheese melts.
Call the family to the table, add a green salad and enjoy. Oh and more wine please…..
Don prepared this last night and really liked it. I think it was just because he wanted to use his new Christmas Le Creuset pieces.
1 rack of lamb
3 sprigs fresh thyme
1 tsp. dried rosemary
3 cloves garlic
1 tbsp. salt
1 tbsp. pepper
1 tbsp. chili powder
2 tbsp. olive oil
1/2 lime, juiced
1 cup red wine. We used a lovely Shiraz
Chop the thyme and garlic together, add the rosemary and place in a large bowl. Add the salt, pepper, chili powder, olive oil and lime juice. Mix well and set aside.
Trim off the excess fat on the lamb, then cut the lamb into 2 bones each pieces. Place the lamb into the spice mixture and rub it into the lamb, using your hands. Cover and chill in the refrigerator for about 30 minutes. (The lamb, not your hands).
Heat the oil in the Le Creuset skillet and sear all sides of the lamb until the meat is dark brown and crispy. When ALMOST done, pour in the red wine and then remove from the heat. Let sit covered for 15 minutes.
Serve with roasted vegetables and enjoy. Truly a real treat.
* just use whatever skillet you have.
Sometimes you try something because it sounds good and this would be one of them. It is sooooo delicious!
2 frozen pie crusts (yes, it works really well)
3 trout fillets (approx. 8 ounces each)
pinch each of salt and lemon pepper
1 beef bouillon cube dissolved in 3 cups water
1 tbsp. olive oil
1 cup finely chopped onion
1 tbsp. chopped garlic
1 tbsp. finely chopped parsley
2 cups freshly mashed potatoes
1 egg
1/2 cup heavy cream
Preheat oven to 350 degrees. Season the trout with salt and pepper.
In a saute pan, bring the bouillon water to a simmer and add the trout to simmer for 7-8 minutes. Allow the trout to cool in the water until just tepid. Remove the trout and discard the liquid. Flake the trout in a bowl.
In another saute pan, heat the oil and when hot, add the onion and saute for 2 minutes. Remove from the heat and add the garlic and parsley. Add this to the trout and mix thoroughly.
Mash the potatoes and beat the egg into the cream before adding to the potatoes. Mix well and carefully add to the trout. Carefully mix together and now spoon the mixture into the pie shell. Place the second pie dough over the top and crimp the edges to seal completely. Bake for 25-30 minutes until a golden brown.
Honest…you won't believe just how delicious this is until you make it. It is wonderful.
That sauce….Don could bottle it and become very rich. Kelly feels bartenders would also go crazy as in something like an Old Fashioned. Take out the simple syrup and use this sauce. OMG!!! Anyway, I digress. here we go.
1 bottle of a Riesling white wine
1 cup water
3/4 cup sugar
1 whole vanilla bean, split and scraped
4 firm Bosc pears, peeled but leaving the stem intact
1 cinnamon stick
1 star anise
1/4 tsp. anise
Place the wine, water, sugar and vanilla bean with seed pulp, cinnamon stick, and anise in a 4 qt. saucepan and bring to a boil.
Core the pears from the bottom. Reduce the heat to medium low and set the pears in the liquid, cover and cook for about 30 minutes or until the pears are tender but not breaking apart. Maintain a very gentle simmer. Remove the pears to a serving dish, standing upright and place in  the fridge.
Remove the vanilla bean, bring the heat back to high and reduce the syrup to about 1 cup. This should take 20-25 minutes. Do not let the syrup turn brown. Place in a heatproof dish and place in the fridge for about 1 hour to cool.
Remove the pears from the fridge and spoon the sauce over them.
NOTE: This sauce was used on waffles, pancakes and anything else Kelly could find.
Last night Don made Fish and Chips and I have to be honest….they were THE best yet. So  we agreed no more ordering in. You might be surprised at one of the ingredients but, boy oh boy, it worked.
3 large russet potatoes
vegetable oil for deep frying
1 1/4 cups flour
 2 tsp. baking powder
kosher salt
1/4 tsp. cayenne pepper
1/2 bottle chilled n.a beer
1 1/2 lb. skinless cod fillets, cut into 4 fillets
Malt vinegar, lemon wedges for serving
Slice the potatoes lengthwise into 1/4 inch sticks. Add to the ice water as you work. Let sit for 30 minutes and lift out, rinsing well and patting really dry.
Preheat oven to 350 degrees. Heat about 4 inches of oil in a large frying pan until a thermometer reaches 280 degrees. Add half the potatoes and fry until just tender but no colour. Remove with a slotted spoon to a paper lined plate. Repeat with the remaining potatoes then turn the temperature up to 365 degrees.
Whisk together the dry ingredients, using only 3/4 cup of flour, with the beer until MOSTLY smooth. Let sit for about 5-6 minutes to thicken up.
Set a rack on a rimmed baking sheet. Season the fish with salt and  working in two batches, dredge the fish in the remaining 1/2 cup of flour, then dip into the beer batter, letting the excess fall off. Fry until crisp and golden brown (about 4 minutes). Transfer to the rack and place in the oven to stay warm.
Increase the temperature of the oil for 380 degrees. Working in two batches again. fry the potatoes until golden brown, about 2 minutes. Drain on a paper lined plate. Finish the second batch and then plate and serve.
OMG!!!!n So yummy.
Don made these and my goodness, they are truly awesome. If you make them once, you will definitely make them many more times.
20 very large white mushrooms, stems removed
12 medium shrimp, tails on
1/2 cup softened cream cheese
1/2 tsp. Worcestershire sauce
pinch of garlic powder
3/4 cup s grated Parmesan Cheese
Steam the shrimp for about 60 seconds, remove and let cool enough to remove the shell and tail. Lightly chop.
Lightly grease a 9 x 13 inch baking dish. Fill a saucepan with water and simmer the mushrooms caps over a medium heat for 2 minutes, until they begin to soften. Remove the mushrooms with a slotted spoon, drain and let cool, gill side down on paper towels for about 15 minutes.
While the caps are cooling down, combine the shrimp, cream cheese, Worcestershire sauce, garlic powder in a bowl and blend well. Spoon about 2 -3 tsp. of the mixture in each mushroom cavity in the baking dish and cover, placing in the refrigerator for about 3 hours to blend the flavours and firm up the stuffing.
Preheat the oven to 400 degrees. Uncover the dish and bake for about 15 minutes until the cheese is browned and bubbling.
Serve with a glass of chilled white wine, and a couple of other nibblers for a great start to Friday night.
Absolutely divine.
Don made this for dinner one night last week and we are all still praising this dish. It is more than awesome and, trust me, you will love it.
White Wine Sauce
1 tbsp. butter

 1 tbsp.  olive oil

4 cloves minced garlic
1 cup white wine
1 cup whipping cream
1/4 cup Parmesan cheese, shredded
2 tbsp. capers, drained
1 tsp. freshly squeezed lemon juice
pinch of salt
8 oz. spaghetti
1 lb. medium sized scallops (about 16 and completely thawed, if frozen).
pinch of salt
2 tbsp. olive oil
In a medium skillet, heat the butter, oil and garlic on medium heat, cooking for about 60 seconds until it becomes transparent.
Add the wine and bring to a boil. Boil for a couple of minutes until the wine has reduced to approximately half.
Add the whipping cream and cheese. Bring just to the boil and reduce to a simmer. Cook this for a couple of minutes, stirring constantly until it begins to thicken.
Remove from the heat and add the capers and lemon juice, add a pinch of salt and pepper. Keep covered.
Cook the pasta to al dente. Drain and add to the sauce, stirring to combine.
Season with a pinch of salt
Heat the oil in a large skillet on high just until hot but not smoking. Oil should not be smoking, just rolling around the skillet.
Add the scallops but do not over crowd.
Sear on one side for 4 minutes until they are a golden colour. Please do not move the scallops around in the beginning.
Turn the scallops to the other side and cook for just 2-3 more minutes.
Remove from the heat immediately and transfer the scallops to a plate immediately.
Add the cooked scallops to the spaghetti / sauce and reheat gently, just to warm up. Serve immediately.
If you insist, you can lick the plate. These are sooooo darn delicious.